Hundreds of companies lined The Sands Expo, mostly those in the digital beauty, health, wellness and smart home realms. But in addition to the exhibitors at The Sands, hundreds of brands utilized suites within The Venetian to hold one-on-one meetings away from the hubbub. And, brands such as Amazon, created mock villages to showcase their tech, while CES highlighted the latest and greatest innovation with an Innovation Award Honoree room. Here, some of the highlights seen at The Sands Expo, The Venetian and the space dedicated to Innovation Award Honorees.
Amorepacific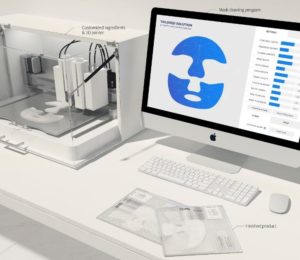 Amorepacific had quite a presence at CES 2020. The Korean-based beauty firm was named a CES 2020 Innovation Award Honoree with a Tailored Facial Mask Pack 3D Printing System, which creates a custom face mask using app-based 3D scanning and skin diagnoses technology. The app is designed to measure an individual's face and unique skin characteristics and then create a custom mask within minutes with the world's first Hyrdogel 3D printer. The result is a mask that fits perfectly to a user's face without the usual gaps and creases, and formulated to meet individual skin needs. The company is set to offer the mask beginning April 2020 as part of a tailored service program through the lab-based brand IOPE at its Seoul flagship store. Speaking on behalf of the custom mask was Mr. Sungwon Yi, Scientist at the Future Technology Lab, Amorepacific R&D Center, Korea.
Also presented at CES was Amorepacific's latest patch system, the Flexible LED Device, which is still in beta. The innovation here lies in a flexible patch that bends freely on skin contact that utilizes an LED light source. The LED patch is designed to cater to different skin concerns, including the appearance of wrinkles resulting from facial expressions, as well as other signs of skin aging. The LED nodules are arranged and programmed based on Amorepacific's research on skin structure, delivering Near Infrared Ray [NIR] LED that penetrate a deeper level of the skin for intensive conditioning; red LED for skin firming at the exterior level; yellow LED for even-tone; and green LED for skin soothing.
Micro currents are added to provide an optimized skin care effect through varying degrees of treatment for firm, smooth, healthy looking skin. Speaking on behalf of the LED patch was Mr. Hansu Kim, Scientist at the Future Technology Lab, Amorepacific R&D Center, Korea.
Perso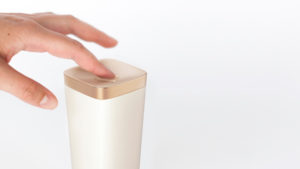 L'Oréal is proud to present Perso, one of its first innovations that personalizes smart data for at-home use to help consumers customize lip shades and skin care formulas. L'Oréal custom-built Perso's motor in-house, allowing for a myriad of formula viscosities to be delivered, from a watery serum to a thicker lipstick base. To start, a user enters the Perso app, and selects what category she wants to use. For lipstick, the user will see a number of trending lipstick shades for that day, automatically pulled from Instagram. The user can then virtually try on any of the shades they're interested in, a tech that's powered by Modiface. Users can personalize a selected shade to a warmer or cooler tone until they reach their desired hue. Once selected, the app will cue the user to load up three specific cartridges within the device, and viola, a formula is dispensed. The user then mixes the formula on a dispensing tray and applies the finished lipstick. The dispensing tray is removable from Perso and can be popped inside a purse for on-the-go reapplication.
For skin care, the app takes into account a user's environment (air quality, pollen, UV index) thanks to a partnership with Israeli startup, BreezeoMeter. The finished formula contains a combination of SPF, tint/moisturizer and actives/antioxidants. To start, a skin analysis tool powered by Modiface takes three photos of a user and lists her signs of aging. The app then explains what will be dispensed based on the user's skin analysis, and then instructs her to load up Perso with three specific cartridges. A skin care dose is then ejected for application.
"The user should be aware that their photo documents a base line. When she takes her photo every week she can compare it with past photos, and track how her skin is evolving," said Guive Balooch, Global Vice President of L'Oréal Technology Incubator.
Price and availability of Perso is still being decided, as are which L'Oréal brands will harness Perso's tech. A foundation application of the Perso technology is also in the works.
Amazon
Amazon created a mock village showcasing some of their latest tech and smart home advances, including how a child's room can utilize music via voice; how Amazon Dash can facilitate auto-replenishment via smart recorders; how Amazon earbuds work with Alexa; how the first car, a Lamborghini, is powered by Alexa; and the next generation of smart glasses, which will retail for $600.
The Ambassador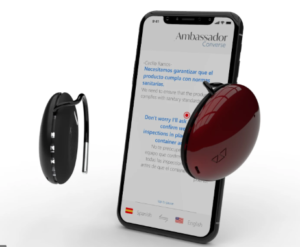 Designed to translate speech with high accuracy, Brooklyn-based Waverly Labs presented The Ambassador, an over-the-ear device that interprets up to 20 languages with 42 dialects to allow for smooth conversation. It can also provide translation via text on a smart app, and for the first time, dialogue can be broadcast live in a conference environment. Ambassador was designed as a sophisticated high-grade translation tool that addresses needs left unmet by translation apps and handheld devices, which mainly cater to short, occasional translations.
E-skin Sleep & Lounge
Smart apparel was prevalent at CES, and taking home a CES Innovation Award Honoree prize was Xenoma for its sleepwear that analyzes a wearer's sleep condition and auto adjusts a room's environment based on sleep condition results. The apparel also monitors daily movement and falls. Until now, tech for measuring these behaviors was limited to cameras and smartwatches.
DNA Nudge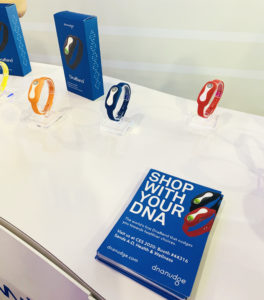 This wearable + app can help users make smarter food choices at the grocery store—based on their DNA. The device scans bar codes on food packages and lets users know whether it's the right food choice for them, based on their DNA. A quick one-time-use cheek swab is all that's needed, from which a specific SNP is analyzed (a 'snip' is a single 'letter' out of the 3 billion in one's DNA code), relating to nutrition-related health conditions. Once the test is complete (in about an hour) results are loaded onto a user's personalized wearable, 'digitizing their DNA'. This unique DNA report is uploaded to a user's app and then all DNA material is clinically destroyed to maintain privacy and confidentiality. The company's color-customizable DnaBand enables users to scan products, by which a flashing red or green light will alert whether it's a good match for a user's biology. It also monitors a user's inactivity, turning amber when someone has sat for too long. The product was founded by Professor Chris Toumazou, CEO, and Dr. Maria Karvela, CSO.
Inbody USA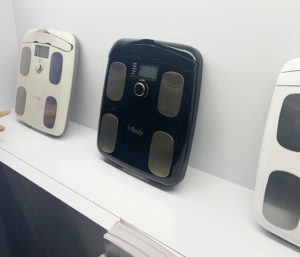 This scale doesn't just provide weight, it measures body fat, BMI and skeletal muscle mass, all of which is tracked and stored over time to measure progress via its app. InBody devices use a method called Bioelectrical Impedance Analysis (BIA) to measure body composition, which divides one's weight into different components, such as lean body mass and fat mass, to assess one's health and help guide interventions. However, unlike other body composition analyzers, it does not use empirical estimations such as age, gender, ethnicity, athleticism or body shape.
Welt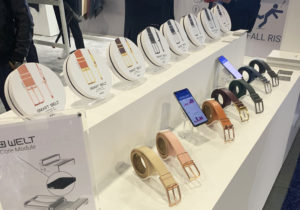 Meet Welt The Smart Belt. Accelerated by Samsung, this smart accessory was initially conceptualized to provide gait analysis and detect falls in the elderly. Today's version offers more innovative health monitoring to prevent obesity, including waist size, activity, sitting time and eating habits.
Gillette Treo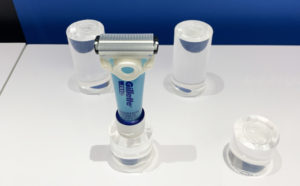 Gillette Treo is the first razor specifically designed to shave someone else. Designed with caregivers, for caregivers, the razor features a safety comb that helps protect the skin and prevent clogging, an ergonomic handle for comfort and control, and a special non-foaming gel that hydrates the hair – no water required.