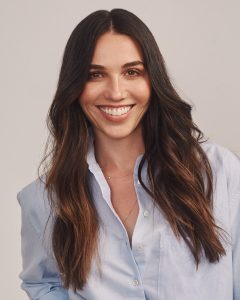 Laney Crowell, Founder and CEO of Saie Beauty, is a former content executive who launched her own brand in November 2019 with the mission of creating safe, high-performing products. She and her team regularly release new products at the request of her loyal Saie community and work with the top labs around the world to create formulas that work and won't break the bank. Here, Beauty News caught up with Laney to talk about what clean beauty means to her, how she uses community to build her brand and the thing that's been crucial to her success as a brand founder.
Beauty News: How did you come up with the concept for Saie Beauty?
Laney Crowell: I was working in publishing before moving to the brand side. I worked at Elle and Lucky magazines, and I saw the shift happening into digital. Then, I went to an online startup, pre-Instagram. It was like bootcamp, and about a year into it in 2011 I got an email from The Estée Lauder Cos. and they recruited me to be their first Executive Director of Digital Communications. I started all of their social media channels and influencer marketing initiatives, created online content, and eventually launched their editorial section that's now called Estée Stories.
BN: What spurred the move into the clean beauty space?
LC: About five years ago, I started diving into what you would now call wellness. I educated myself about nutrition and mindfulness. I started meditating and I think what happens to a lot of people in that journey is you think, 'If I'm so conscious about what I'm putting in my body, the same needs to be true for what I put on my body.' With this I created the online editorial platform, The Moment,  and from the start I had brands sending me products to review. I stored the products in bins in a beauty closet I created in my apartment.
I was going out to dinner one night and went to look for some makeup and it was such an 'aha' moment where every other bin was literally overflowing with products and the makeup bin was empty, nothing was there. I went on to Instagram that night and started asking my community questions: Are there brands out there that I don't know about? What would you create if you could create something? What are you looking for? And that was the night that Saie was born.
BN: How did the name come to be?
LC: It comes from our community saying what they want in that conversation. I stayed up until 2 a.m. talking and peppering them with questions. They said very clearly they wanted products that perform with ingredients that are good for them.
BN: Can you share more about the community feedback and requests?
LC: Clean beauty can feel very 'crunchy.' And just because you want a product that's good for you doesn't mean you don't want it to feel and look like NARS. And that resonated with me. They also wanted a brand that was thoughtful about sustainability. The part of that I hadn't recognized was that they wanted a more accessible price point. So those are what we call the Feel Good Five—the pillars that my community showed me and what Saie is.
BN: How did Saie fare in the pandemic?
LC: We launched in November 2019. And then March 2020 happened. Immediately we started thinking about our community and what our community was going through. That's really the impetus, that's how our brand started. We always think through that lens. We have a private Facebook community that's growing quickly. We launched a series there called Keep Glowing. We put content out, and we still do this series with recipes, workouts, flower arranging classes, just little things that can help you feel good. Our product, Glowy Super Gel, went viral with the tagline that it makes you Glow on Zoom.
BN: Did your distribution remain the same during the pandemic?
LC: We launched on our site and at Cult Beauty, but the interesting thing is that we signed our contract with Sephora in April 2020. So even though we were all in the middle of COVID, Sephora agreed to launch us in every single store and online. That was incredible for our brand awareness—over 500 locations. For such a small brand, it was game-changing.
BN: Did having Unilever as a backer help foster this relationship with Sephora?
LC: I actually don't even know how aware of that they were, but they saw a category that's growing quickly. One thing I've noticed in my conversations with Unilever and Sephora is that coming from big beauty, we speak the same language.  We have a great relationship. I love the entire team at Sephora and we get along while we understand vision together. And we're bringing that big beauty expertise to clean, which is really exciting for the consumer. No one can say clean doesn't work when we can't keep Slip Tint and Glowy Super Gel in stock.
BN: As for funding, you have Unilever Ventures and Gwenyth Paltrow as investors. Are you planning another around?
LC: I'm still the majority owner and we'll be doing another round of funding in the near future. We blew through our projections at Sephora—we ended up doubling those immediately after we launched, which was just incredible and totally overwhelming. We need to fund that growth.
BN: How does Saie define clean?
LC: We're actually more clean than the Sephora definition. They set new benchmarks all the time and their ingredient blacklist is becoming more strict. We won't use silicones or anything petroleum-derived. We also look at everything through the lens of whether something is biodegradable. Sustainability is such a part of our ethos. We are climate-neutral certified.
BN: What is something crucial to succeeding in your role no one told you about that you needed to learn along the way?
LC: Being nimble. My job description changes sometimes every month, three months, six months and it's about being okay with that. One minute, my job description is fundraising. A month later, it might be recruiting. We are a super lean, nimble team. I am technically the only executive; we just brought on a head of operations and an additional person in product development, but I'm currently looking for a CMO who can be a right-hand man.
BN: What are your three-year goals?
LC: To succeed at Sephora in North America and expand that growth. We're super excited to be part of the Kohl's initiative. It's huge when you think about that footprint. We'll slowly start thinking about international growth as well. We are at Cult Beauty, and Sephora is our number-one priority.
In addition to our mission to make beauty better and our high goals for sustainability, it's really important to me that everyone enjoys going to work every day. A big reason our team is so lean is that we're so thoughtful about every hire that we do. And we're genuinely having the best time. I think that shows in everything we're doing, especially in our communications with our community and the conversations we're having every day.