August marks National Black Business Month, a recognition that was created in 2004 by historian John William Templeton and engineer Frederick E. Jordan to highlight and uplift millions of Black-owned businesses across the nation. Here, Beauty News presents a selection of Black-owned beauty brands making their mark in the world of beauty.
Bask & Bloom Essentials
After experiencing severe postpartum hair loss and noticing a white space in the market for products that deal with this issue, Bahamian-native and mom-of-three Candera Thompson launched the hair care brand Bask & Bloom essentials in 2015. Candera set about to fill this gap in the market with products formulated without parabens, sulfates, or artificial dyes. It is packaged in 100 percent recyclable containers.  The brand goes above and beyond to ensure the safety of formulation by eliminating banned ingredients, such as petroleum and fragrances. Her hair care line can be found on the brand's website and via online retail sites including Amazon, Marjani, and more.
BeautyStat Cosmetics
In 2009, veteran cosmetic chemist Ron Robinson launched BeautyStat, an influencer agency that helps start-up and large beauty brands grow brand awareness, engagement, and product sales, in 2009. By 2019, Ron, a 2021 Beauty Creator Ambassador, launched the innovative beauty brand of the same name.
In 2022, the brand went from being sold in 260 Ulta Beauty doors to more than 1,300 doors nationwide. In addition to beautystat.com, the brand can also be found on Dermstore, Violet Grey, and Net-a-Porter.com.
Bossy Cosmetics
After working in the world of finance for more than 20 years, Aishetu Fatima Dozie found herself burned out and diagnosed with severe hypertension. This was her wake-up call to take a look at her life and make some serious changes. After taking a year-long sabbatical and completing a fellowship at Stanford University, Aishetu was refreshed and raring to go with the launch of Bossy Cosmetics in March 2019. Aishetu wanted to create a beauty brand that cared about the empowerment of women and change the negative mindset around women being called "bossy". Aside from bossybeauty.com, Bossy Cosmetics can also be found via online and brick-and-mortar retailers such as Knockout Beauty, QVC, and JCPenney.
A portion of Bossy Cosmetics' profits goes towards non-profit organizations including Women at Risk International Foundation (WARIF), Women's Link Worldwide, and Girls Inc.
Danessa Myricks Beauty
Danessa Myricks launched the eponymous makeup brand in 2015 when, as a makeup artist, she was unable to find brightly pigmented products she wanted to work with. Danessa got her initial start in the beauty industry when she was working in sales and marketing of a publishing company that specialized in Black hair magazines. Danessa was mesmerized by the photoshoots and makeup artists she witnessed on set and when the company shut down, she went on to work as a self-taught makeup artist and as a product developer for brands, including Benefit Cosmetics and Kiss. Her collective experience as a makeup artist and product developer led Danessa to launch her own beauty brand, Danessa Myricks Beauty, which eventually launched in Sephora in 2020. Danessa Myricks Beauty can now be found on the brand's own website, Sephora, and Sephora.com, as well as a variety of beauty retailers including Alcone Company, Camera Ready Cosmetics, Morphe, and many more.
Eadem
Eadem was founded by friends and work colleagues Marie Kouadio Amouzame and Alice Lin Glover in 2018. Aside from working together in marketing for Google, the two bonded over several shared interests such as their difficulties finding suitable skin care for women of color. Marie and Alice started Eadem, a lifestyle blog filled with articles geared toward women of color, before launching Eadem's debut beauty product, Milk Marvel, in May 2021. Milk Marvel is a serum designed to prevent and decrease hyperpigmentation without lightening skin tone, a product that exemplifies Marie and Alice's goals for the brand. Aside from the brand's website, Eadem can also be purchased on Sephora.com.
Forvr Mood
Forvr Mood was launched in August 2020 by one of Instagram and Youtube's most prominent beauty influencers, Jackie Aina. After collaborating with beauty brands throughout the course of her career and launching products with e.l.f. Beauty and Anastasia Beverly Hills, Jackie went on to launch her own luxury beauty brand, Forvr Mood. The company began with a four-candle release and has since expanded to several candle collections, silk headbands and pillowcases, and more. Forvr Mood entered Sephora's virtual and physical shelves in July 2021.
Lamik Beauty
Tired of a lack of clean beauty options available for women of color, Kim Roxie took matters into her own hands and launched Lamik Beauty in March 2020.Having clean beauty products available for BIPOC women became even more important to Kim after her mother passed away from breast cancer. After researching beauty products' ingredient lists and seeing so many harmful chemical ingredients in makeup created for specifically for women of color, Kim's drive to build a clean beauty brand heightened. Lamik Beauty products are formulated without parabens, sulfates, talc, or synthetic fragrances and are made with vegan and organic ingredients. Lamik Beauty went on to become Ulta.com's first Black-owned, clean makeup in August 2021. Aside from the brand's site, Lamik Beauty can be found via retailers including Flip, Ulta Beauty, Marjani Beauty, and more.
LYS Beauty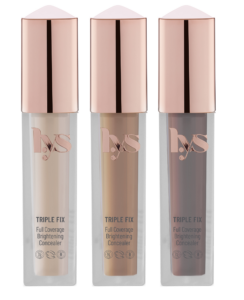 LYS Beauty was launched by longtime beauty industry professional Tisha Thompson in 2021. Tisha originally got her start in the beauty industry working as an accountant for PÜR cosmetics, before eventually transitioning over to the creative side of the company as the Vice President of Marketing and Innovation. Tisha was inspired to launch LYS Beauty after getting tired of the lack of diverse shade ranges that were also formulated with clean ingredients. LYS Beauty is cruelty-free, vegan, and formulated without gluten, talc, fragrances, and mineral oils, and is highly affordable with each product under $30. LYS Beauty is the first Black-owned clean cosmetics brand to become available at Sephora in February 2021.
The Doux
In 2018 Maya Smith launched The Doux, a natural hair care line inspired by 90s hip-hop culture, after being stationed abroad in Germany as a military spouse and noticing the lack of resources for women with textured hair. In 2008, when Maya was living in Germany, where her husband was stationed for the military, she opened The HoneyComb, a hair salon for natural-haired women. Maya used her collective beauty industry experience, spanning over two decades, as a hairstylist and salon owner to create The Doux, named to sound like the term "hairdo". The Doux products can be found on the brand's website and via online and brick-and-mortar retailers including Target, Sally Beauty, JCPenney, and Walgreens.
The Honey Pot
The Honey Pot was created by Beatrice Dixon after being frustrated with a lack of choices for solving a pesky bacterial vaginosis infection. Beatrice was inspired to launch her company after waking up from a dream where her ancestors provided her with a list of ingredients for a remedy. With roughly $700,000 amassed from friends and family, Beatrice launched The Honey Pot in 2014 as one of the first plant-based feminine hygiene lines. In June 2022, the company launched "The Honey Potluck", a sexual wellness podcast that looks to spotlight varying views about sex, the vagina, and all subjects relating to both topics. The Honey Pot can be found via the brand's website and retailers including Walmart, Walgreens, CVS, and Target.