Like most companies across the United States, CEW employees are working remote due to the uncertainties presented by the coronavirus. Here, several staff members share how they're managing routines, communicating with colleagues and practicing self-care.
Leslie Hutchings, Vice President, Membership & Strategy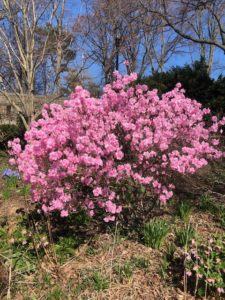 "As much as possible, I'm trying to stick to a routine that builds in time to be 'off' as much as 'on.' For me, working from home is the easy part, but it's far too easy to start the day the second I wake up and check work email. So, I'm trying to replace my commuting time with 'off' time. My yoga studio (@modoyoganyc) is doing free online classes on Instagram, and they have been the best start to the day! I'm lucky to live up near the Cloisters and Fort Tryon Park (although 2 weeks ago I would have complained about being far away from everything). Around the time I would normally leave work, I go for a walk or run. It's cliché, but the spring blooms are a great reminder that there's a lot of beauty and hope even in a time of uncertainty. I recently started FaceTiming with a friend, and we will try to walk 'together' once a week. It's great to have someone to hold me accountable for getting outside and taking a break. I'm sure this plan will evolve, like everything right now, but having two set 'off' times a day helps keep me focused, both at work, and in finding my own ways to adapt to our new situation.
Ali Saland, Senior Director, Marketing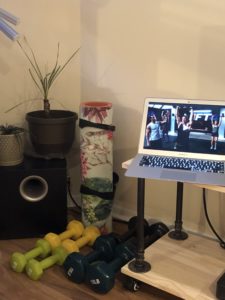 Honestly, my first thought about working remote was panic as I've aimed really hard over the years to make health and fitness a part of who I am. For the past two months, for example, I was working hard at a transformation fitness challenge at Orange Theory Fitness [OTF]. We were at the tail end of the challenge, but due to current circumstances I was unable to complete it. I didn't realize how important the OTF community has been to me until I couldn't go any more.
Being stuck at home under regular circumstances is hard enough, especially when it comes to food, so when old habits reared their ugly head in the first few days, I took immediate action.
I purchased a 'pretty' notebook to journal in each night, from food to thoughts, the good and bad. I also created a little fitness area for myself and have designated time to get workouts in from free resources and Beachbody, which I subscribe to and where I'm part of a team that's constantly chatting. I've been getting in short walks when I can during the day and have been doing 20 jumping jacks every time I stand up. Lots of nail painting and face masks are happening, too.
Outside of this, I'm quarantining with my boyfriend, which is really nice, but I'm missing family and friends  so I'm making an extra effort to keep those connections via calls and group chats.
Landree Bower, Senior Manager, Development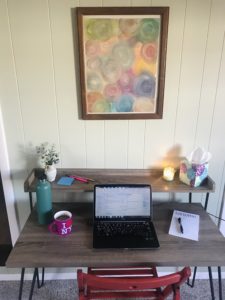 I'm currently working remote from my childhood home in Williamsport, Pennsylvania. In a time of uncertainty, I'm remaining positive and taking this opportunity to focus my attention on what I can control – work projects that have been on the back burner, physical and mental wellness, and quality FaceTime + Zoom + Marco Polos with co-workers and extended family.
I placed my desk in a bright room with natural light to boost my mood and productivity. When developing my schedule for the day, I keep in mind that I'm most productive in the mornings so I use this time to brainstorm and tackle large projects and save other tasks for the afternoon. Slack is key for connecting with co-workers! For me, it's very important to step away for lunch, take small breaks throughout the day and drink A LOT of water.
During this time away from the city, I am staying motivated and soaking up every minute of morning coffee with my Dad, afternoon walks with my Mom, home cooked meals and catching up on shows with my sister.
Morgan Tutton, Manager, Programs & Events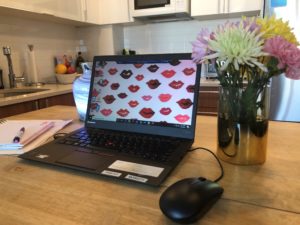 When I learned that our company would be working remotely for an extended period of time I knew that I had to create a space and schedule that would help me feel productive during the work week. Each morning I wake up at 7 a.m. so that I can take a virtual workout class, shower and make breakfast to kickstart my day. I also set up my essential oil diffuser and put on music that I like to work to (John Mayer radio is one of my favorites). I set up shop at my kitchen counter and I make sure everything is straightened up around me so that I can focus on my work. I try to treat work-from-home days just like typical weekdays to keep myself in the right mindset. I'm finding that really helpful.
Casey Curnan, Senior Manager, Development
I've been trying to keep my routine as normal as possible. In particular, getting dressed and ready in the morning as I always do has become very important to me. I set up a work-station for myself in my bedroom, but will move around my home when I need a change of scenery.  My team keeps in touch throughout the day via Slack and video conferencing, which I really appreciate as it keeps us all connected and spirits up. And because working from home is a little too quiet for me, I'm taking advantage of being by myself to play music whenever I need a morale boost (I highly recommend the curated Beatles playlists on Spotify, if you want something comforting).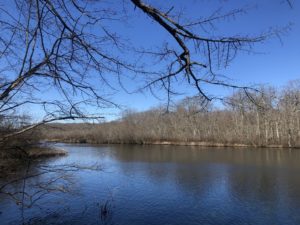 A silver lining in all of this is extra time back home with my family, so I've been taking advantage of the trails and waterfront in my hometown with my mom, and meals with my parents. As a workout class devotee, I'm now switching to online workouts every evening through my boxing gym in Brooklyn and obé. I've made a point to stay in touch with my friends via our group chats and Google Hangouts, to make sure everyone still feels connected. And finally, I think the best thing I've been doing is limiting the number of times a day I check the news. It's definitely a scary time for everyone, but I'm trying to focus on the small things that I can control.