Beauty brands are taking Pride Month in stride with a number of rainbow-hued releases and philanthropic initiatives to support the LGBTQAI+ community. From virtual parades to charitable donations, here are just a few of the beauty brands celebrating Pride Month.
Beekman 1802
In recognition of Pride Month, Jennifer Graybeal, Director of Public Relations for Beekman 1802, stated, "To celebrate Pride this year, we are donating 100 percent of profits from our limited-edition Pride Bloom Cream ($54) to the Ali Forney Center to support LGBTQ+ youth. As a LGBTQ+ founded company, Pride is more than just a month for us, it's part of who we are. And we're honored to partner with the Ali Forney Center for the second year in a row to help spread our mission of Kindness to at-risk LGBTQ+ youth." Beekman 1802 has also worked with other organizations including The Trevor Project, GLAAD, and The Human Rights Campaign.
BoxyCharm
This month BoxyCharm launched a campaign with The Trevor Project, the world's largest suicide prevention and crisis intervention organization for LGBTQAI+ youth, as part of their Beauty Mark Initiative. Launched in 2021, Beauty Mark is the brand's commitment to celebrating diversity and highlighting BIPOC and LGBTAI+ brands. For the duration of June, BoxyCharm opened the Be Proud Be You Shop, allowing allow non-members to shop from the e-commerce stores. Ten percent of all sales from the Be Proud Be You Shop will be donated to The Trevor Project.
Boy Smells
Boy Smells launched a Marble Fruit candle for Pride Month, an extension of their existing Marble Fruit Genderful Fine Fragrance which was released for 2021's Pride month. Throughout June and July, 15 percent of the sales from the Marble Fruit candle and Genderful Fine Fragrance will be donated to the Gay, Lesbian & Straight Education Network (GLSEN), with a minimum donation of $50,000.
Danessa Myricks Beauty
In May 2022, Danessa Myricks Beauty launched a limited-edition shade of her Infinite Chrome Flakes with a multi-colored flake topper titled, Pride. Between the months of May and June, the company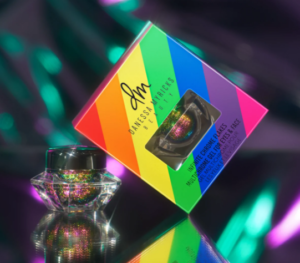 will be donating a portion of the item to the Center for Black Equity, a coalition of Black gay pride organizers who promote a multinational network of LGBTQAI+ community-based organizations. Pride Infinite Chrome Flakes was launched in connection with The Dragon Sisters, a gender-bending performance duo, and marks Danessa Myricks Beauty's first brand collaboration. The duo released a song called "Beauty Supply", featuring the multi-hued product, and the campaign for the Infinite Chrome Flakes Collection was created with an all-queer crew.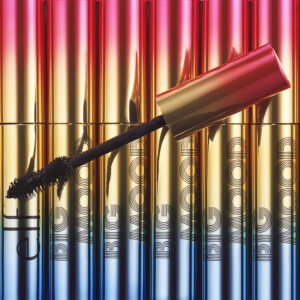 E.l.f. Cosmetic
In honor of Pride Month, e.l.f. Cosmetics released a version of their bestselling Big Mood Mascara in a limited-edition rainbow packaging. One hundred percent of all sales of the Big Mood Pride Mascara will go to It Gets Better, a non-profit with a mission to uplift, empower, and connect lesbian, gay, bisexual, transgender, and queer youth around the world. This is e.l.f. Cosmetics' third consecutive year in supporting It Gets Better. e.l.f. is also switching its Change Up tool on elfcosmetics.com to the It Gets Better Project, so when making a purchase on the site, consumers can round up to the nearest dollar with proceeds going to the organization.
John Frieda
This Pride, John Frieda continued their partnership with GLSEN (Gay, Lesbian, and Straight Education Network) for the second year in a row, this time focusing their efforts on empowering LGBTQIA+ students to celebrate prom their way, helping to raise awareness and funds for GLSEN via a virtual Twitch prom. John Frieda will also host a panel with Team Transtopia on self-expression and how it manifests through hair- from cuts to colors to styles.
Sean Johnson, Brand Marketing for John Frieda stated, "In celebration of Pride 2022, John Frieda Hair Care invites everyone to attend prom with pride and raise money for GLSEN to support queer youth. The brand will serve as a sponsor to the June 25th Twitch Prom as part of their continued partnership with GLSEN, a non-profit organization that works to ensure students are safe, valued, and respected regardless of sexual orientation, gender identity, and gender expression. As part of the campaign, the John Frieda brand will also generate awareness through an influencer campaign, social messaging, and PR efforts to drive people to this event."
NYX Cosmetics
NYX Cosmetics released a limited-edition Pride collection which includes new Ultimate Eye Paints ($10) available in  six rainbow-inspired shades, a sheer This Is Everything Lip Oil ($6); the vegan Matte Setting Spray ($9.50) in pride packaging; a Wonder Stick Blush ($14) and the Butter Gloss ($5) in a clear glossy shade.
NYX Cosmetics launched their "Paint Your Own Story" campaign, a series of digital and physical experiences throughout the month of June including the first-of-its-kind virtual meta-pride parade on June 24. To launch the virtual pride parade, NYX Professional Makeup teamed up with People of Crypto Lab (POC), a lab dedicated to increasing representation in Web3, and The Sandbox, a leading decentralized gaming metaverse. This Web3 initiative will include a series of digital NFT avatars designed to uniquely represent marginalized communities in the metaverse, showcasing diversity in gender expression, culture, and skin tones.
NYX Professional Makeup will also be continuing its ongoing partnership with the Los Angeles LGBT Center with over $150,000 having been donated to the center to date. As an additional commitment to the center, beginning June 1, 2022, consumers will have the option to round up their checkout price on NYXCosmetics.com to benefit the Los Angeles LGBT Center throughout the month of June.
Jecca Blac
Jecca Blac is a color cosmetics company created in mind for consumers who are starting their makeup journey later in life and to be accessible to transfeminine makeup wearers. One of their most well-known products is their Correct & Conceal Palette, a concealer and color corrector duo, which was specifically developed to help those looking for effective beard coverage. For Pride Month, 15 percent of all online sales will be going to Not A Phase, a charitable organization supporting the lives of Trans+ adults across the UK.
JVN Hair
JVN Hair launched a limited Pride edition of one of their best-selling products, Air Dry Cream, which retails for $24. In partnership with #YouAreEssential, a national crisis relief organization, packaging was designed by queer, Chinese-born artist/illustrator Zipeng Zhu. Jonathan said of the collaboration, "Pride is a special time of year for us to honor the legacies of all the LGBTQIA+ folks who have bravely fought for us to be here today while also coming together to prioritize plans to make LGBTQIA+ liberation the priority now and in the future."
Noto Botanics
Noto Botanics launched a set consisting of a branded tote bag in collaboration with glob.land, a sustainable bag company that uses a recyclable polyester material derived from plastic bottles, and the company's own Oil, a gender free hair and body oil. Ten percent of the set's profits will go towards sageusa.org, an organization dedicated to LGBTQIA+ elders and their caregivers. The campaign for the set features LGBTQIA+ musical artists Soko and Angel Haze as the faces of the promotion. Noto Botanics has also previously donated to organizations including the Los Angeles LGBT Center and the Okra Project, an organization that provides healthy home-cooked meals to the Black trans community.
Peace Out & Isle of Paradise
Isle of Paradise, a customizable, color-correcting self-tanning brand, and Peace Out, a top skincare brand widely known for their acne patches, teamed up together to create a limited-edition Pride set. The set features Isle of Paradise's Self-Tanning Butter and Peace Out Limited-Edition Pride Acne Dots. Both brands will be donating twenty percent of profits from the set towards The Trevor Project.
Starface
Starface continually supports the LGBTQIA+ community during the entire year through the sale of their rainbow-hued acne patches, Starface Rainbow Hydro-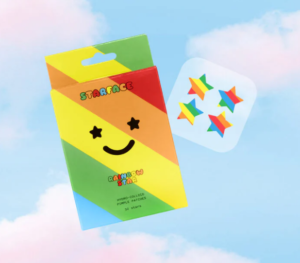 Stars, a pack of 32 patches retailing for $11. All net proceeds from the Rainbow Hydro-Stars are allocated towards charitable organizations including the Hetrick-Martin Institute for LGBTQ+ Youth, a safe place to access basic needs, mental health/physical wellness programs, academic enrichment, and job readiness training, and Black Women in Motion, a Toronto-based, survivor-led organization that empowers and supports the advancement of Black Women, Girls, non-binary, and gender-nonconforming survivors of gender-based violence.