Get ready for Cosmoprof North America (CPNA), the largest business-to-business beauty exhibition in the Americas. CPNA is the single most important networking opportunity in the U.S. for all sectors of the beauty industry—all presented under one roof. This year's tradeshow kicks off July 28 at the Mandalay Bay Convention Center in Las Vegas. CPNA is expected to once again break attendance records with more than 40,000 attendees and 1,400 exhibiting companies scheduled for the three-day event. Retailers, distributors, beauty brands and suppliers always find rich opportunities and inspiration at the event which has been the launchpad for numerous successful brands and ideas.
As a proud partner of CEW, CPNA is offering CEW members 30 percent off registration with discount code. Become a CEW member to take advantage of this offer.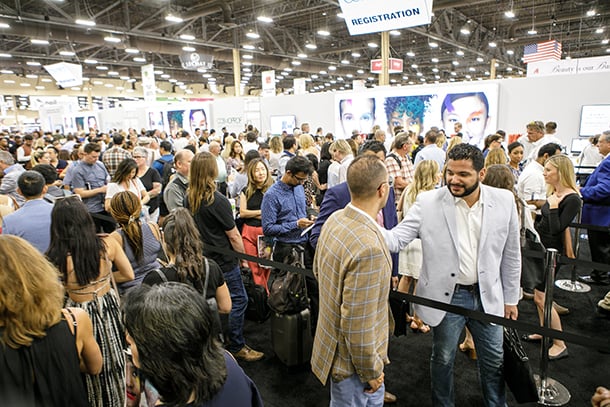 "We have a very strong relationship with CEW with many members taking advantage of the amazing opportunities offered on our floor and in our educational programs," says Liza Rapay, Head of Marketing, BolognaFiere Cosmoprof North America. "This year will not disappoint." CEW will also have a presence at the show at booth #43051 in the Discover Beauty Spotlights section.
Despite its size, CPNA makes it easy for attendees to accomplish their goals. Within three main areas, CPNA parcels out specially curated areas featuring products from around the world. Show-goers can zero in on retail beauty innovators, products for the expanding multicultural market and lines that have made being green a top priority. There are also Country Pavilions where many emerging trends are discovered.
One of the signature features of CPNA is the Buyer Program that's been elevated this year to attract some of the most influential buyers in beauty including representatives of Alibaba, Bluemercury, Cos Bar, CVS Health, Macy's and Space NK. Exhibitors are connected with buyers consisting of retailers, international buyers and professional beauty distributors from around the globe. Selected exhibitors participate in prearranged one-on-one meetings with interested buyers—a feature that has resulted in the launch of numerous blockbuster products. The Buyer Program is consistently identified as a favorite at CPNA.
New this year is Cosmopack North America which focuses on the cosmetics supply chain. Companies representing ingredients and raw materials, contract and private label manufacturing, machinery and packaging will exhibit—all important as the industry seeks to become more sustainable and efficient. The launch of Cosmopack will include a Buyer Program to foster B2B opportunities and a New Factory project showcasing the entire manufacturing process of a unique cosmetic product live on the show floor.
Intelligence at Your Finger Tips
Beyond the exhibit floor, CPNA offers rich educational opportunities. There are 25 seminars and workshops as part of its CosmoTalks programming including presentations from L'Oréal, Google,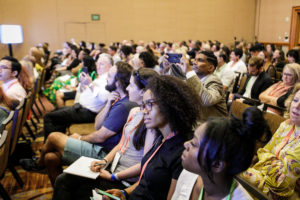 Clinique, YouTube, Neiman Marcus and Shiseido among others. Stand-out sessions include Global Cosmetic Industry's presentation "CBD and Beauty," The NPD Group's "The Beauty of Sustainability," and CEW's panel "Leveraging Facebook & Instagram to Grow Your Brand." CEW's Vice President of content Andrea Nagel will moderate a panel with Alison Hersh Pace, Industry Manager of Beauty for Facebook, and Jenna Romero, Director of Social Media and Influencer Marketing for Winky Lux (Glow Concept). "Today's empowered beauty consumer has more options than ever. In this panel, attendees will learn how businesses can win in today's ever-changing landscape by leveraging Facebook and Instagram solutions that drive relevance and scale," says Andrea. Topics slated include the importance of embracing a mobile-first mindset, how to think about the strategic use of sponsored ads, the importance of creativity built for mobile, and how brands can test, learn and optimize their campaigns to drive results. The session will occur on Monday, July 29 from 11 a.m. to 12:30 pm.
Once again, CPNA will host Boutique, a one-of-a-kind beauty sampling bar featuring products from exhibiting companies. Visitors create their own customized beauty bag created in tandem with HCT Packaging that they take home. All donations collected go to "Look Good Feel Better," a charitable foundation dedicated to improving the quality of life and self-esteem for people undergoing cancer treatment.
New this year is the Trends Corner, staffed by trend and marketing intelligence agencies, where visitors can learn about market trends to make more informed business decisions. Also new this year are the Cosmoprof North America & Cosmopack North America Awards and CosmoTrends. The Awards formally recognize the absolute best in beauty products, celebrate innovation and honor excellence in packaging design and formulation among exhibitors. Winners will be announced across 10 categories during a ceremony at the show. CosmoTrends is a post-show report on the buzziest trends and innovative products from CPNA exhibitors published by BEAUTYSTREAMS. An onsite installation will be on display showcasing trends among exhibitors generated from a pre-show report as well.
Please visit cosmoprofnorthamerica.com to register and purchase your ticket. To get 30% off, click here to join CEW or email [email protected] for more information.