Coty Inc. is indeed putting a renewed emphasis on its beauty business as the company on Monday agreed to buy a 20 percent stake in Kim Kardashian West's make-up brand, KKW, for an estimated $200 million. The deal looks to bring KKW into new beauty categories and global expansion beyond the brand's existing product lines, which include cosmetics and fragrance. Kim and her team will continue to lead all creative efforts in terms of product and communications initiatives.
Financial site Seeking Alpha cited analyst Joe Lachky on the deal.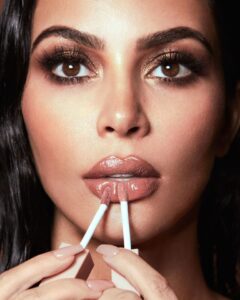 "The announcement doesn't come as a surprise as it follows Coty's June 2 disclosure that they were in discussions with Ms. Kardashian West regarding a collaboration. We do not expect the partnership will have a material impact on Coty's financials in the near ¬term given the small ownership stake, but it could become more material over time as the deal includes a licensing agreement putting Coty in charge of expanding the brand into areas outside of color cosmetics and fragrance. More than anything, the deal is a sign of the aggressive stance that new CEO Peter Harf is taking to move fast and transform Coty with an eye on accelerating top¬line growth. Overall, we view the announcement positively and expect Coty shares to trade up on the news, but remain cautious longer ¬term as the company is navigating a tremendous amount of change (portfolio carve¬out, restructuring), and continues to deal with significant COVID-19 fallout, " said Joe Lachky, Vice President Equity Research at Wells Fargo Securities, on SeekingAlpha.com.
Kim Kardashian West is a world-known personality with 300 million followers across her personal and brand social media channels. In January, Coty acquired a 51 percent stake in Kardashian West's half-sister Kylie Jenner's brands.
Coty will have overall responsibility for the portfolio's development in skin care, hair care, personal care and nail products. Through the relationship each party will leverage its unique strengths to further build a high growth, direct-to-consumer beauty brand.
Peter Harf, Coty Chairman and Chief Executive Officer, added, "Kim is a true modern-day global icon. She is a visionary, an entrepreneur, a mother, a philanthropist, and through social media has an unparalleled ability to connect with people around the world. This influence, combined with Coty's leadership and deep expertise in prestige beauty will allow us to achieve the full potential of her brands."
The acquisition is expected to close in the third quarter of FY21. All the business's products will be sold through leading luxury beauty retailers as well as owned digital channels.
Strategic firm Tiger Chark served as an advisor to Coty on the transaction.