After a successful pilot phase, CVS will begin rolling out it's shop-in-shop beauty experience, BeautyIRL, to nearly 50 new locations across the country by the end of the year. Launched in August 2018 with mini-services, brand boutiques and discovery stations, the concept will expand beyond its initial four locations to key markets including New York City, Los Angeles, Miami and Boston, with more expected to open in 2020.
"We are incredibly excited at how customers responded to our BeautyIRL format, which drew Millennials and Gen-Z customers at impressive rates and showed customer growth across several age groups," said Maly Bernstein, Vice President, Beauty and Personal Care for CVS Health. "As one of the nation's largest health and beauty retailers, we recognized an opportunity to deliver a more inspiring, interactive in-store shopping experience for our customers and we're excited to expand this format into additional markets."
The experiential format will include a focus on social and indie brands, a mini must-have shop, rotational pop-ups and new beauty services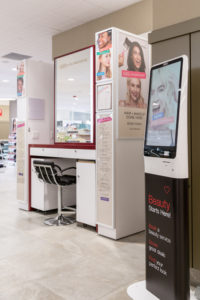 through an exclusive partnership with Glamsquad called, GSQ by GLAMSQUAD. Among the services offered are blowouts and makeup applications for $35, kids services, free lash application with purchase, and ear piercings by Studex, starting at $25. In addition to offering Glamsquad services, CVS is partnering with the company to launch a 50-sku hair and beauty tools line under the GSQ by GLAMSQUAD moniker. The items will be sold at select CVS stores across the country on CVS.com, with prices ranging from $5 to $60.
Within the BeautyIRL stores, there will be several exclusive and digitally-native brands including Basin, C'est Moi, Duke Cannon, Essence, Hempz, Karity, Olive, Weleda and Zum. Additionally, brands such as Peach & Lily, Poo-Pourri and Soko Ready will be available in the Mini Must-Have areas, where customers can choose sample-size products and receive a free cosmetics bag as a gift-with-purchase.