The nail color/care segment has given a much-needed boost to the troubled makeup category: when salons closed, consumers were forced to do their own nails, and it turns out many actually enjoy the DIY beauty service.
Even as salons open, the DIY boom continues–and is expected to endure.
"We absolutely believe that at-home nail care trends have lasting power," said Kevin Shapiro, Coty's SVP of U.S. Marketing of Consumer Beauty, on behalf of the Sally Hansen brand. To help build confidence, Sally Hansen introduced Mani Masterclasses where nail ambassadors taught tricks and hacks for at-home manicure
Consumers are discovering at-home nail isn't a chore, but an escape.
"COVID-19 ushered in a new normal for the nail care category," said Tam Tran, Founder and CEO of Anise Cosmetics, which produces the Nail-Aid brand, a leading seller at Walmart and on Amazon. "Women have discovered 'me' time, just for themselves, by taking care of their nails. The world is madness around you, but this is an inexpensive pleasure."
Deborah Lippmann, Founder of her eponymous nail line, said, "The stakes are a lot lower—screwing up an at-home manicure is not the same as screwing up your hair color or cut."
The sales spikes are evident in both mass and class and reverse a five-year decline in the category. For the final 52-weeks of 2020, IRI reported nail category sales spiked 18%.
Research from The NPD Group showed that nail care posted double-digit sales gains from March through the remainder of the year. The sales are generated both in stores and online. Nail-Aid, for example, posted a 65% sales increase in 2020 from national retail stores and 800% increase online.
To keep the momentum going, nail care brands are releasing a bevy of natural, nontoxic and vegan formulas. Quick-drying and long-lasting are other demands met with new products.
Clean Nail Color in Demand
"We will see at least double-digit growth well into 2022," predicted Barry Shields, Managing Partner for Beauty Partners.
But color stories are no longer enough, he added. Historically the category has been associated with questionable ingredients. Consumers now want cleaner options.
Beauty Partners recently launched Nailtopia, a healthy, ecofriendly, bio sourced, Leaping Bunny approved, clean and green nail color and care brand. After a successful exclusive debut at Ulta Beauty online and in physical stores, Nailtopia is now rolling out to Belk, Walgreens and HEB. This year the brand is adding Biodegradable Nail Glitters.
Launches from Deborah Lippmann tout much-need themes—Hope Springs Eternal and Love Wins from her Gel Lab Pro Color collection.
The major hues are soft and soothing including lilac, bubblegum, grey, pink, mauve, beige, oatmeal and taupe. Deborah's nail colors check off all the boxes consumers are looking for: vegan and formulated to be 10-free (free of Toluene, Formaldehyde, Formaldehyde Resin, Camphor, DBP, Diethyhexyl Adipate, Xylene, Ethyl Tosylamide, Parabens, and Methyl Ethyl Ketone. Additionally, The Gel Lab Pro Color range is a healthy alternative to salon formulas which cure colors under an LED lamp.
The Peace, Love and Sunshine Collection is Dr.'s Remedy's Spring Launch. The assortment of yellow, muted orange and pale peach shades are "the perfect mix of color during a difficult time," said Rachel Bacheler, Managing Director of Dr.'s Remedy Enriched Nail Care.

Sold on its own website and Amazon as well as doctor offices, salons and spas, the brand is dedicated to clean, non-toxic, hypo-allergenic nail care enriched with organic ingredients, vitamins, wheat protein, tea tree oil, lavender, and garlic bulb extract. It is the first-ever nail polish on the market created by doctors and approved by the American Podiatric Medical Association.
Looking to the future of nail care, Rachel sees the clean movement will morph into a "boom in high-end, vitamin packed nail polish."
Gel Break
Without access to professionally applied gels, many people decided to grow out their natural nails. Silva Nahabedian, Director of Education for Dazzle Dry, warned that doesn't mean eliminating a nail care regimen.
"Working a 'nailcation' into your self-care routine is the best way to proactively maintain healthy, happy nails. During this break, use a good moisturizing nail and cuticle oil twice per day to restore your nails back to optimal health," said Silva. 
To fill that need, Dazzle Dry created a special Valentine's Day Gift box with its four-step nail system along with a choice of colors which retails for $90.
Dermelect, which is sold on QVC, Dermstore and dermelect.com, solves the issue of damage done from removing gel or acrylic nails.
"Women who were previously reliant on their gel manicures or acrylic nails were faced with the horror of watching them grow out and being forced to remove their artificial enhancements themselves while on lockdown. Soaking in acetone, prying it off, biting it off- the stories are abundant," said Amos Lavian, Founder and CEO of Dermelect.
His peptide-infused nail treatments restore nails and were a go-to for many women during the pandemic resulting in an 1,800% sales increase in 2020 versus the year before.
New for 2021 is Dermelect Phyto Strong, a plant-based range of nail formulas that are more than 85% bio-sourced with ingredients such as soy keratin peptide, yuzu, squalene and bamboo along with being 12-Free, Gluten-Free, Vegan and Non-toxic. Prices range from $16 for a top coat to $29 for a natural nail duo of base and top coat.
Amos shared an interesting fact about the stress of COVID-19: at the beginning of the pandemic his brand saw a huge surge of its Resist Nail Bite Inhibitor.
To help consumers make the transition to natural nails, the Nail-Aid brand will introduce a first-to-market vegan nail treatment under its Vegan Pure banner at Walmart, according to Tam. Vegan Pure is made from the highest quality plants minerals and safe synthetics for maximum performance, Tam said.
For those who don't want to say goodbye to the durability of gels, Enova Cosmetics is making its debut with a one-step gel nail polish system that dries in as little as 45 seconds and does not require the time to learn technical skills associated with many at-home kits.
"Women today need new and more convenient options—that's exactly what we want to offer, especially in these unprecedented times," said Co-founder Crystal Haner of the lineup that ranges from $18.99 for individual Gel Polish Tubes to $54.99 for a full Save & Slay Gel Manicure Kit that comes with two gel nail polish tubes, an LED cordless nail lamp, Enova cosmetic bag and professional 100/180 grit washable nail file.
Nail Care Meets Wellness
Sally Hansen, the leader in the mass market, is leveraging its strength in  nail lacquers to launch a SPA Collection of skin-care inspired hand and foot masks.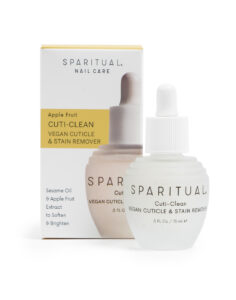 "Knowing how much sanitizing and washing our hands go through on a daily basis, we really wanted to focus on small pampering moments to give our hands  and feet some extra TLC," said Coty's Kevin. There are two sheet masks for hands and feet formulated with  Macadamia and Shea Butter as well as two peel-off nail masks in rose (for intense hydration) and gold formulated with Hyaluronic Acid to hydrate, providing instant relief to dry nails and cuticles
The wellness revolution is reaching the nail business. Sparitual is introduced a Nail Wellness Collection next month encompassing Cuti-Clean, a vegan cuticle and stain remover, Cuti-Cocktail, a vegan nail and cutical oil and Farewell Vegan Nail treatment to protect ingrown nails, hangnails, and other nail infections by controlling the spread of bacteria and fungus. There is also a fast-dry vegan topcoat and vegan nail strengthener. All items retail for $20.