The very day that Dose of Colors launched in 2013, founder Anna Petrosian received 11 orders for three pairs of lashes.
"I was screaming and yelling with excitement," said Anna, who was working as a make-up artist at the time. "I couldn't believe we sold 11 orders on the first day."
Fast forward six years, and Los Angeles-based Dose of Colors now has approximately 200 sku's, including its latest, Meet Your Hue, a foundation line offering 42 shades. It's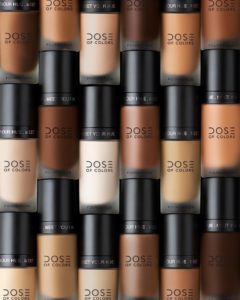 sold through more than 500 Ulta Beauty doors around the U.S., and another 500-plus doors at the L'Etoile beauty and fragrance retail chain in Russia.
The launch of the foundations, said Anna, was designed to provide even more color choices to an increasingly diverse consumer base.
"I was first going to do 36 shades but noticed I was missing some different undertones and kept adding," said Anna. "I still feel that no matter how many shades there are, even 100, you're still going to have people who don't have a perfect match."
The offering was launched on the brand's website July 17 and at a pop-up in Beverly Hills that ran for four days, beginning July 18. At the pre-opening party, plexiglass cases held a row of the foundations, arrayed as if in an art gallery, the carpets and walls of the space rendered in creamy beiges and taupes. The foundations come in six categories – Fair, Light, Light-Medium, Medium-Tan, Dark and Deep – each one encompassing seven shades. Anna said at the pop-up opening event that the foundations were designed to be lightweight and natural-matte and intended to provide medium coverage. Meet Your Hue is the brand's first complexion product. Dose of Colors is best known for its Matte Liquid Lipstick, which Anna specifies as the product that gave the company instant visibility.
"I've worked with so many different skin tones and types that I knew what I wanted," she said. "I wanted a particular color payoff and formula. Even though there are so many amazing brands out there, I felt that there was something I could change or add to create something different."
For the pop-up, she has elected to focus exclusively on the foundation, and its simultaneously-launched companion product, the Seamless Beauty Sponge.
"We want people to come in, we will have make-up artists helping them to select the right shade and some fun meet-and-greets," she said, adding that the party theme would continue for the duration of the pop-up with a DJ and gift bags.
The brand, which bills itself as vegan, cruelty-free and paraben-free, is planning to unveil a series of concealers in September, with more complexion products through 2020.
"I'm very involved in everything I make," said Anna, who gave up being a makeup artist four years ago as her company grew. "Whether it's having something pigmented or sheer, it has to be good for the skin. My background as a makeup artist helped me a lot. It helped me make fast decisions and taught me about textures and formulas and what people want."
Prices start at $14 for lashes, going up to $36 for a foundation. The sponge retails for $15.