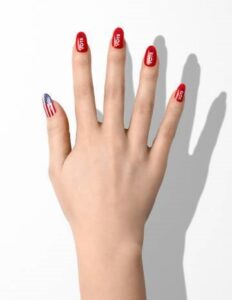 Arah Sims, Founder and CEO of Kyütee Beauty, has been selected as the recipient of ThirdLove's The TL Effect Program, a new initiative created by the e-commerce intimates apparel brand to support early-stage consumer-focused companies run by female entrepreneurs of color. Kyütee Beauty is a DTC brand that offers trendy peel-n-press nail polish art that is designed to last up to 14 days. Priced at $15 to $18, the DIY nail wraps offer an alternative to traditional salon manicures with self-expression as its core mission. The brand recently launched its VOTE 2020 nail set, which offers wearers the opportunity to use their fingernails as a call to action spelling out V-O-T-E, with a portion of the proceeds benefiting Michelle Obama's When We All Vote campaign.
"We received over 650 applications for the inaugural cohort of our TL Effect program and felt incredibly inspired by the wide variety of businesses and entrepreneurs who applied," said Heidi Zak, Co-Founder and CEO, ThirdLove. "Our selection committee ultimately chose three finalists, however as a D2C brand, we felt that Kyütee Beauty and Arah's passion for her business was a natural fit for the program. Similar to ThirdLove, Kyütee Beauty aims to be inclusive and empower people to use nail art as a form of self-expression, which we think is absolutely vital right now."
Through the program, Arah will receive a $20,000 grant in collaboration with Felicis Ventures, dedicated office space for working, meetings, and photoshoots at ThirdLove's headquarters, amplification through ThirdLove's blog and social platforms, as well as business and financial advice from ThirdLove's founders.
"As part of Arah's onboarding to the program, we conducted a diagnostic meeting which focused on the key areas where I thought she should focus her time during her TL Effect residency for maximum impact. Following that meeting, we pinpointed specific challenges for Arah to tackle with her mentors and what investments she should consider with her grant money," said Heidi. "In addition to her regular meetings with her TL Effect mentors, Arah and I will also have regular one-on-one meetings to discuss a variety of topics that impact founders specifically, such as securing funding, pitching and access to other resources to run her business successfully. "
Applications for the second cohort of the TL Effect will be available on ThirdLove's website the last week of October. And the company's diversity and inclusions initiatives do not end there.
"Promoting diversity and inclusion has always been a core part of our brand, from the products and sizes we design, to the community we build for our teammates and customers," said Heidi. "We conducted an internal belonging and inclusion survey of our ThirdLove team. Based on those learnings, we've implemented Quarterly D&I trainings, we are piloting an internal mentorship program, and we are enhancing our hiring practices through diversifying our pipeline of candidates and training our team to decrease unconscious bias in recruiting."