Every minute, Dyson sells four Airwrap multi-stylers.
The recently re-engineered, game-changing hair tool–equipped with two-barrel sizes, a smoothing dryer, and several brushes designed to curl, straighten, and wave hair without extreme heat–is just one example of Dyson's successful dive into beauty.
Known for shaking up the status quo in categories such as vacuum cleaners and fans, Dyson is bringing the same revolutionary solutions to consumer beauty wish lists.
"Dyson is committed to healthy hair and personal care," says Peggy Elsrode, President of Dyson Americas and a seasoned beauty veteran with experience at Coty Inc. and Unilever. "For the Americas region, it is our fastest-growing category."
Currently, Dyson has three products in is hair care lineup:
Dyson Supersonic hair dryer, a quick-drying blow dryer with a motor that runs five times faster than a Formula One engine
Dyson Corrale hair straightener and styler, a tool that offers enhanced styling via copper alloy flexing plates that shape to gather hair – achieving the same style with less heat – and cord-free convenience
Dyson Airwrap multi-styler, one of the most awarded hair tools of 2021—now with re-engineered attachments for increased hairstyling control
Peggy, who joined Dyson in 2019, leverages her experience in luxury beauty to drive Dyson's growth in personal care. She sees similarities between the beauty industry and Dyson's stronghold in household products.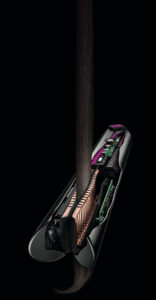 "Dyson likes to disrupt and that fits very well with the beauty industry. We disrupted the hair styling tool category, first with the Supersonic hair dryer and most recently with the revamped Airwrap multi-styler," she says.
"One of our core values is that we solve problems. Engineering and technology are at the heart of everything we do."
As an example, Dyson engineers saw how much time it takes to dry and style hair and that resulted in its first hair tool, the Dyson Supersonic hair dryer. By harnessing airflow, something the company is known for with their vacuums and purifiers, the Supersonic allows a user to dry and style quickly with less heat to reduce hair damage.
To develop breakthrough products, Dyson employs more than 6,000 engineers, scientists, and stylists – and even has its own engineering school, The Dyson Institute of Engineering and Technology. "Hundreds of Dyson engineers work on each product to meticulously prototype and test the machines," says Peggy.
Dyson brings a fresh perspective to beauty, leading with science and technology. "Our products resonate with consumers because of the quality," says Peggy.
Another point of difference is consumer education offered via its website along with tutorials from a cadre of influencers, including celebrity stylist Jen Atkin. There are even Dyson Demo Stores around the country, including New York City, Los Angeles, San Francisco, Santa Clara, and just outside Washington D.C., where customers can have their hair styled by professionals who also teach them how to use Dyson's products. In New York City, consumers can even make an appointment for a full style the way they would go to a salon for a blowout. The service cost is refunded if a product is purchased.
Questions & Answers with Peggy Elsrode, President, Dyson Americas
Beauty News: What attracted you to take the leap to a company like Dyson after years of working in the beauty space?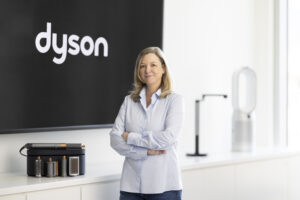 Peggy Elsrode: It gave me the opportunity to move into the technology and engineering space but keep many of the familiarities from consumer goods and personal care. It isn't that far removed; you are still making luxury products for consumers. Whether it's with a traditional beauty brand or Dyson, the consumer is at the heart and center of everything we do. I've been able to keep some old friends from beauty while making new ones in electronics. Our beauty retail partners are old friends, while our partnership with a company such as Best Buy is an example of a new friend for me.
BN: The Airwrap has been a runaway hit with rave reviews and a waitlist of 130,000 — for a tool that costs $599.99.  Even with its clear success, Dyson recently redesigned it. What prompted the update?
PE: Providing the best consumer experience possible is always our priority. Despite the popularity of the original Airwrap, we saw an opportunity to make it even better. For example, we launched the Flyaway attachment for the Supersonic hair dryer last year, which hides flyaways under longer hair. People love it, so we brought the technology to the Airwrap multi-styler by redesigning the Coanda smoothing dryer [the attachment for the re-engineered Airwrap].
Now one attachment can be used the same as the old pre-styling dryer to dry wet hair and also finish a style by hiding flyaways. In addition, we reengineered the barrels of the Airwrap so now instead of needing two different barrels depending on the direction of the curl [away from the face or towards the face] you only need one. With a small twist of the tip of the barrel you can switch the airflow direction. We also enhanced the Coanda airflow of our soft and firm smoothing brushes to shape hair with increased control.
We are constantly striving to deliver a better experience across all our Dyson tools.
BN: Are there other beauty categories where Dyson can offer a fresh approach?
PE: We're looking to solve problems and create opportunities.  While I can't give any specifics on what's next, I can tell you that we don't limit our thinking and we look well into the future. There's more disruption that can happen in this space.
BN: What's the best advice you ever received in your career?
PE: Get comfortable with being uncomfortable. It is the only way to break through average or good enough to excellent.
To find out more about Dyson's personal care products, visit https://www.dyson.com/hair-care or reach out to [email protected]