The subject of many a TikTok tutorial, the Dyson Airwrap is getting a makeover. The award-winning styling tool has been re-engineered for faster, easier styling without using mane-damaging extreme heat. As Dyson relaunches the Airwrap, the brand recently held a virtual presentation with Dyson engineers, Global Dyson Styling Ambassador Jen Atkin, and hairstylists Amy Johnson and Jon Reyman.
"Most styling tools ignore that hair types are very different – what attachment may work for one, could be detrimental to another. The advancements in the Dyson Airwrap multi-styler build on the success of its predecessor through relentless research, user trials and advancements in computational fluid dynamics," said James Dyson. "The result? Direction-changing barrels for faster and easier curling, and reengineered brush attachments for more precise shaping."
What Makes a Next Generation Heat Styler?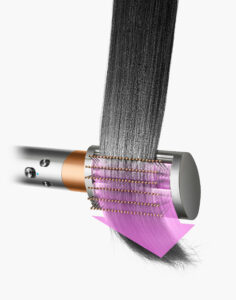 The new tool also offers an entirely new, dual-purpose Coanda smoothing dryer—the Coanda effect refers to an aerodynamic phenomenon where a jet of air attaches itself to a curved surface. "Our ability to control airflow delivers enhanced Coanda performance to curl, shape and hide flyaways – without extreme heat," said James.
The Airwrap's new styling barrels feature a rotating cool tip, making achieving curls and waves faster and easier, without heat damage.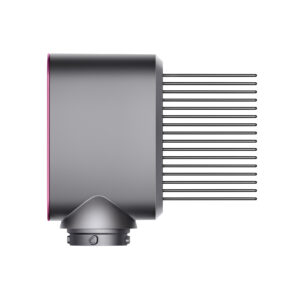 While the former version of the Airwrap featured two barrels for creating curls, this version yields two barrels with a single attachment so users can style the full head. Consumers can create clockwise and anti-clockwise curls and waves, without having to switch attachment mid-style.
An additional wide-tooth comb attachment, engineered for curly and coily hair, helps to add shape, volume, and length as the hair dries. Dyson's comb teeth are designed with soft curved tips to glide through the hair, with no sharp edges to catch, pull or cause damage.
"One of the most valuable things about the Dyson Airwrap multistyler is that it is a wet-to-dry styler," explained Amy during a demo with the new heat tool. "So instead of using extreme heat to shape the hair, we utilize the hydrogen bonds that are in the strands of hair. We use water to break them down and set them into a new position. And then we don't need to use extreme heat to create that shape," she added.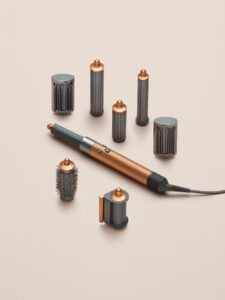 The new attachments are fully compatible with existing machines and owners will be able to upgrade.
"The Dyson Airwrap is a styling revolution and unlike any other tool—back when it first launched and still today," said Dyson Global Styling Ambassador Jen Atkin. "Now, the tool does even more, allowing owners to personalize to suit their styling preferences, personalized for their hair type. You can ensure every attachment in your box delivers your desired style, specific to your hair type. Something you thought couldn't get better, just did."
The new Dyson Airwrap multi-styler will retail for $599.99 and will be available in the U.S. beginning summer 2022 at stores including Sephora, Ulta Beauty and Nordstrom.