According to The NPD Group, the fragrance category increased by a whopping 15 percent in 2021 and was even called "the star of the U.S. prestige beauty industry" for the year by the market research agency. Bee Shapiro, founder of niche NY-based fragrance house, Ellis Brooklyn, talks post-COVID fragrance gains and growth can be attributed to a marked shift in how consumers are wearing—and experiencing—fragrance.
"The way we consume fragrance is so different now," said Bee, who is also a CEW Beauty Creators Awards Ambassador. "Back in the day it was about finding a forever scent, then buying a 50-ml, then a 100-ml when it's on sale, then gifts during the holiday, and that's it. I just don't think that's the way people wear fragrance anymore."
Bee reports that rather than seeking a "signature scent" that defines one's presence in a room, today's fragrance shopper is looking to be more expressive — favoring unique, specific scents that speak to the way the wearer wants to smell at a given moment. And, she reserves the right to change that scent as often as she wants.
"The cool part that came out of [the COVID-19 pandemic] is that we started wearing fragrance for ourselves," said Bee. "When I think about why I wear scent, it's because it's a pleasure. It's something that is not necessary, but it makes you feel good about yourself."
This idea of wearing fragrance for sheer pleasure is a shift that may have started with the pandemic, but Bee believes it will continue. "I think because in the U.S. we are constantly being marketed that scent is for attraction, we don't think about how scent is for pleasure — and that's the part that gets me excited," she said. "As nice as it is to get a compliment, at the end of the day the beauty of wearing scent for yourself is an intimate, special self-care moment."
Bee goes on to say that during COVID there was an uptick in fragrances that helped the wearer self-reflect. She mentions some COVID standouts: her brand's Super Amber, a textural blend of amber, vanilla orchid, Virginia cedarwood, and musk, which gives off the feeling of a being wrapped in a cashmere blanket; and Phlur's Missing Person and Billy Eilish's debut fragrance, Eilish — two light warm musks designed to help the customer introspect.
"When you dive deep into the pandemic there were a lot of scents coming out that were about turning inwards," said Bee, also naming [Ellis Brooklyn's] Bee Eau de Parfum as one that's perfectly designed for the COVID consumer. "I like to call Bee the perfume for falling into self-love, because it is very cozy and yummy and you can't stop smelling yourself. It doesn't project a lot, so it is really about your own self."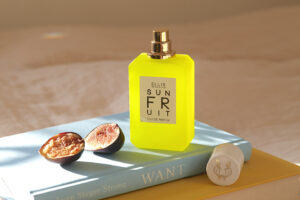 This renewed attention to self also means today's customer is looking to mix, match, and customize her scent as often as multiple times a day, or throughout a weekend. And so, customers are increasingly reaching for smaller-sized flacons and rollerballs that can easily help create a daily fragrance based on how she wants to feel.
"I've discovered that some of our clients only buy travel sprays or they keep buying the kits [i.e. Ellis Brooklyn's Fully Booked Rollerball Gift Set] over and over, because they take two or three rollerballs on a trip or [keep them] in their purse at all times," said Bee. "Yes, you can touch up [your scent], but also you can change up the way you want to smell instantly."
Because of today's personal nature of fragrance discovery, Bee said what makes a successful marketing campaign is also shifting. Rather than being influenced to buy a fragrance because of a celebrity spokesperson or splashy advertisements, Bee said what's resonating are honest reviews from micro-influencers, and juices that bring happiness to the wearer — it's that simple.
"The old ways of marketing fragrance were dying anyway, and felt super irrelevant when COVID happened," said Bee. "I think that sometimes we get so caught up in the marketing that we forget that, actually, scent is a pleasure. Whether it's subconsciously or consciously, I think during the pandemic a lot of people reached for this thing that made them happy — that could be a candle, a scented body lotion, a perfume."
Ultimately, Bee believes today's consumers are really looking to reflect their human experiences and express their changing emotions through scent. To that end, she said, with COVID restrictions finally lifting, there's an emerging trend toward transportive fragrances, featuring immersive notes from exotic places.
"I love the idea of a scent that will take you somewhere because as things are starting to open up, you really want to go somewhere, but it's still a pain," said Bee, citing COVID testing and exorbitant ticket prices as barriers to travel. "[People] want to go somewhere via perfume."
Bee names her brand's ski resort-conjuring Après fragrance, as well the recently launched Sunfruit Eau de Parfum — a bright blend of plum leaves, fresh figs, hand-picked jasmine and coconut inspired by the Amalfi Coast — as scents that uplift and transport. She also names YSL's Black Opium Illicit Green, comprised of green mandarin from Italy, Jasmine from India, and fresh fig, as an example of another transportive juice with global origins.
"It's about going outwards right now as opposed to looking inwards," said Bee, adding that she is currently working on a new scent with female perfumer, Meabh McCurtin. The scent is "decadence-inspired," and it interprets a female-outsider vision (Meabh is an Irish perfumer based in Paris) of "what decadence and addictiveness is in scent as opposed to old norms of that kind of thinking."
From a tactical standpoint, Bee's entire brand was perfectly designed for a fragrance evolution from the onset. In addition to conjuring places and moods, her collection is built on the premise of creating clean scents designed around how they wear on skin over time, rather than focusing on opening notes. By continuing to employ this approach, Bee said she can ensure a more consistent experience for the customer that reflects their fragrance wearing reality.
"If you're a big brand you need to capture the customer in that very first moment, but I can't tell you the number of times I've tried a fragrance and I smelled it in the beginning and was like this is the best fragrance ever, but you put it on your skin and 4 hours later you're like I hate this scent," said Bee. "So, approaching it from somebody who wears and lives in the fragrance is really key for us. And I think that's what keeps us modern."
Bee Shapiro is a 2022 Beauty Creators Award Ambassador. To learn more about this year's Beauty Creators Award live events visit CEW's website.