Popular fashion platform, Who What Wear, is looking to cement its authority in beauty by holding its first beauty-themed event, taking over a pop-up location on trendy Melrose Place.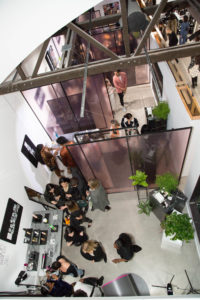 The Lineup, which ran from December 13 to December 15, aimed to welcome those familiar with Who What Wear to come in and test hundreds of products determined by the platform's editors to rank as the best-of-the-best.
"We are trying to bring the reader and the consumer our editors' perspectives," said Cassandra Lear, Creative Director of the Los Angeles-based site, which is owned by Clique Brands. "We curated this list through the year, showing what we discovered, as well as our old favorites."
Who What Wear produces trend reports, celebrity style guides, wardrobe how-tos and fashion news. The company also sells a line of fashion apparel and accessories in cooperation with Target Corp., and publishes fashion books under the Who What Wear brand.
Visitors to the two-level space (entry was free and open to the public) made their way through areas dedicated to different aspects of beauty, such as Lip Service and Brow Down. Walls were decorated with old-fashioned collages of beauty magazine clippings, products were arrayed on counters, and staffers helped guests test out options ranging from Chanel eye cream to Kosas lipsticks to the Onerta Hand & Beauty Lotion from Biba Los Angeles. Upstairs, guests could treat themselves to complimentary manicures, hair styling sponsored by Dyson, and makeup touch ups. Master classes from celebrity makeup artist Kelsey Deenihan and hairstylist Justine Marjan rounded out the weekend.
Cassandra said that between 70 and 80 brands were being showcased, with another 50 contributing samples. At a sample bar, guests could choose any six items to take home; options included Boscia's Luminizing Black Charcoal Mask, CBD Body Lotion from Lord Jones and Amika's Perk Up Dry Shampoo. Although no retail transactions were being conducted on site, guests were directed to a shoppable board on Pinterest where they could purchase the products being shown.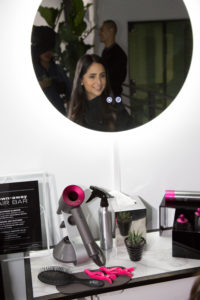 And although Who What Wear, which was founded in 2006, devotes much of its content to fashion, Cassandra said that beauty coverage was an increasingly important focus – and The Lineup was a way to drive that point – especially in the wake of Clique Brand's sale of its other fashion site, Byrdie, to Dotdash earlier this year.
"People come to Who What Wear primarily for fashion and style, but those are the same people who are also interested in beauty," she said. "To not give them that as part of the reader experience would be wrong. And we wanted to do this in Los Angeles, where beauty is so prominent."
The event was being promoted via Who What Wear's social media channels from late November. A couple of hours after the opening on Friday, the sample bar had already run out of several products.
Cassandra said that Who What Wear was hoping to repeat the event elsewhere, specifically New York.