Former beauty editor brands are the new celebrity beauty brands. Think Flesh + Linda Wells and Arrive Beauty + Zoe Brenneke. Now,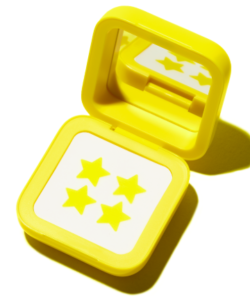 former Elle beauty editor Julie Schott, has entered the scene with her new range of pimple patches called Starface. The 10-year beauty veteran launched the brand this month alongside co-founder Brian Bordainick. The venture is funded by a handful of investors, including makeup artist and Bobbi Brown Cosmetics founder Bobbi Brown, and Briogio hair care founder Nancy Twine.
Featuring a "Starwars"-inspired website, Starface launched this month with a single sku — small, yellow star-shaped patches that work to draw out pimple innards while blocking outside bacteria from the blemish. They are also designed to help discourage picking, which is the common cardinal sin many acne sufferers commit while dealing with acne. Each set comes housed in a bright yellow pod filled with 32 stickers, which are vegan and Leaping Bunny certified, retailing at $22.
Starface has been in the works for quite a long time, Julie said. "It took much longer than we thought it would to create our first Hydro-star, but it's been worth it. We're classified by the FDA as a medical device now, which is pretty cool." The impetus to create the brand was to help normalize acne — the most common skin issue in the U.S.— and change the conversation. Acne affects up to 50 million Americans every year and the rate of acne occurring in adults is only increasing, according to a recent study by the American Academy of Dermatology. And yet, a lot of the conversation about it is still relegated to adolescents.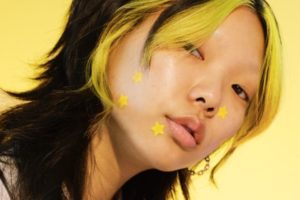 Most hydrocolloid patches on the market are designed to camouflage into the skin, but Starface is a visible accessory of sorts, designed to lift your mood. "The star shape helps grip to the contours of your face," Julie explained. "I always had trouble keeping a circle on my chin and cheeks." Starface's pod has a mirror inside for easy application. It's also refillable: Each subsequent order comes in a little envelope.
Starface's Instagram feed has been up and running, churning out content since December 2018, which now boasts 13.6K follwers. Julie's social media strategy is to ensure that Starface's feed creates a safe place to talk about and share skin in all its stages, "which is all part of normalizing acne and treating breakouts with kindness," she said.
At this time, Julie can't speak to specific sales goals for the first year of business, but the brand hopes to reach anyone who is affected by acne and wants to feel better about it. The brand is DTC right now, available exclusively at Starface.World. "We don't have specific retail plans, but we hope to reach our international friends soon."