After successfully launching personalized hair care products, Function of Beauty is tapping into a new category – body care.
"Our customers have always asked us to expand beyond hair – and body wash was a frequent request so they can flood their showers with their favorite Function fragrances. They also asked for lotion too, for after the shower. We actually started developing these products in late 2017, however, we hit pause to focus on hair. We wanted to make sure we could expand that suite to offer customers a fully customized hair experience with products that work together," explained Zahir Dossa, CEO and Co-Founder at Function of Beauty. "Once we started scaling hair, we felt confident we could create amazing body products, so we revisited our development timeline and are excited that we could debut the Custom Body Wash and Custom Body Lotion for summer. "
Launched in December 2015, Function of Beauty debuted with a hair quiz and a proprietary algorithm designed to develop unique formulas to achieve an individual's hair goals. Now, through the use of a similar online questionnaire, modeled after the original hair interface, users can create personalized body lotions and washes with the algorithm which uses six key data points: moisture level, fragrance, fragrance strength, dye or dye free and size. Customers can further personalize their products by selecting a shade for each. Once users complete the quiz, their personal formula is mixed at Function of Beauty's state-of-the-art facility and delivered directly to their door.
To market the launch, the brand will focus on its current customer base and social media.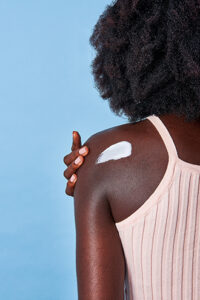 "We've shared the launch news across all of our owned channels (email, social media, blog etc) and will continue to integrate these products into our normal communication flow," said Zahir. "We've also partnered with content creators for beautiful imagery showing the products on skin. Over time, we will decide if we will add growth marketing into the mix. We hope our existing and new customers who are coming to us for custom hair products will be excited that they can now complete their shower experience with body products too."
The products are available at functionofbeauty.com and retails for $19 each.