Every year, The Global Wellness Summit (GWS) releases a comprehensive report on the trends and new directions the organization believes will have the most impact on the $4.5 trillion wellness industry. This year's report captures the impact of the events of 2020, including racial injustice, politics, economic challenges and how the pandemic has shifted wellness from a nice-to-have to a must have. From increasing inclusivity in wellness to the future of immune health, GWS has identified nine trends based on the insights of hundreds of top executives of wellness companies, economists, doctors, investors, academics and technologists­ from dozens of nations. For the first time, the report includes a megatrends section authored by Beth McGroart, VP, Research & Forecasting, GWS. To access the full report, click here.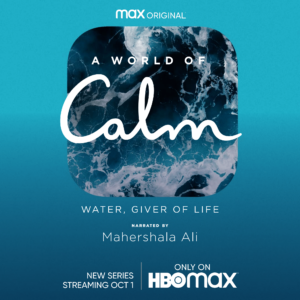 1. Hollywood and the Entertainment Industries Jump into Wellness
Music, TV and tech companies are moving into wellness programming. Smart TVs are adding wellness channels with hours of free fitness and meditation classes, and it's expected that the trend will evolve to allow users to connect wearables for personalized experiences. Additionally, meditation apps Calm and Headspace, recently scored T.V. series with HBO Max and Netflix, respectively, translating their meditative experiences into immersive television. In music, sites like Spotlify, Apple and Amazon have increased their wellbeing music offerings, and mediation apps are partnering with big artists for adult lullabies or chill-out tracks. Apps are also emerging focused on music-for-wellbeing: Muru Music Health, the first streaming platform aimed people over 60, uses AI to deliver tailor-made music to prevent brain aging, while another app Endel, pulls one's heart rate, movement and circadian data to create a constantly-changing "sound blanket" to help an individual de-stress, focus and sleep. In the celebrity realm, stars are using their influence beyond being spokespeople, but are now entering the space as founders, execs and major investors. It's expected that celebs will invest in brands that tackle serious social issues. For example, Selena Gomez's new brand, Rare Beauty, underwrites her Rare Impact Fund, pledging $100 million for mental health services in underserved communities.
 2. The Future of Immune Health: Stop Boosting, Start Balancing
Noting that the idea that "boosting" one's immunity is unscientific (a supercharged immune system leads to the body attacking itself and results in the cytokine storm that killed some COVID-19 patients), GWS predicts approaches that lead to immuno-stabilization or immuno-balance to be the next big trends in immune health. With new research and lessons from COVID, the following are critical areas of importance: metabolic heath, as people with metabolic issues were more likely to get sick and die from COVID; the microbiome, noting that 70 percent of our immune system is headquartered in the gut; and, personalized nutrition, where we will see more advanced, integrated genetic, bloodmarker, and microbiome testing to tailor nutrition plans.2021 will also see experimentation with everything from "positive stress" experiences such as high-intensity, short bursts of exercise, to intermittent fasting for immune resilience, to "immunity travel," with destinations offering more medical interventions such as metabolic and immune profile testing vs quick fixes (ex: IV drops).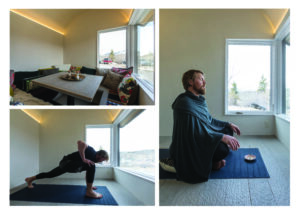 3. Spiritual and Numinous Moments in Architecture
Citing studies that have demonstrated the powerful connection between the built environment and physical health, expect a new focus on "wellness architecture." In 2021, we will see new attention paid to creating everyday spaces that can elevate our consciousness and potential. There are 4 major trends in this area: Thin places, which involves a transition space from everyday to a sacred realm; Ancient revivals, which will revive ancient techniques like orientation, proportions, astrology, placement of rooms/furnishings, and sacred geometry; "Nudge architecture" the concept of designing cues into the environment that influence behavior (ex. placing meditation coves in workplace courtyards); and A Spiritual Home, which involves rethinking common areas such as redesigning a bathroom to support bathing rituals.
 4. Just Breathe!
 This trend explores the people, techniques, places, and new technologies are pushing breathwork into exciting, new directions. Breathwork is being used for rehabilitation, fitness, community building and relief from chronic stress, trauma and PTSD. Breathwork parties and festivals are rising and breathwork apps are gaining traction and include wearables that incorporate metrics like breathing rate, pulse oximetry, heart-rate variability and habitual breathing patterns. Certain breathing techniques can help strengthen the lungs post-COVID, and there are even studies that point to breathwork as a possible therapeutic for hypertension.
 5. The Self-Care Renaissance: Where Wellness and Healthcare Converge
It's expected that two complementary yet often competing entities—healthcare and wellness—will converge. In this new era, hospitals will take inspiration from five-star resorts, yoga studios and prescriptions may be coupled with hyper-personalized guides to optimal health. At Octave's Sangha Retreat in Suzhou, China, for example, one side of the property is home to conventional medicine, and the other hosts wellness practices ranging from acupuncture to devices that measure the age of your soul. Even appointments to the dentist are being rebranded as a self-care experience with massage chairs, seasonal toothpaste and Netflix shows streaming on the celling.
6. Adding Color to Wellness
While diversity and inclusion have become popular topics in the wellness industry, mainstream wellness companies still largely ignore Black consumers and rarely market to them. This has resulted in Black entrepreneurs and wellness professionals creating their own spaces and brands.  Wellness is still seen as something that is only attainable by white, affluent people. This disparity is furthered by the continued effects of racial inequalities, such as lack of access to good health care and healthy food. Almost a quarter of Black Americans are living at the poverty level. As global consumer markets are becoming more diverse, Black and brown consumers have increased purchasing power, and the companies that provide offerings for all racial groups and income levels and work to support more equitable access, will thrive. Moreover, the industry can support Black wellness incorporating their needs into services, spaces and products and by valuing talented black wellness professionals.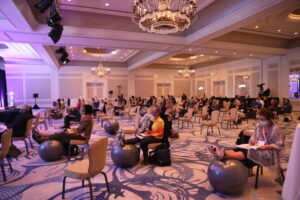 7. Resetting Events with Wellness: You may never sit on a banquet chair again
In mid-March 2020, the pandemic brought in-person events to an abrupt halt and made way for new protocols and technologies that mitigate risk in engaging ways. Hybrid events (in-person and virtual gatherings) generated the opportunity to reimagine not only how an event would take place but also how it could be healthier. For example, GWS's 14th annual Summit added a virtual aspect, allowing more people to attend, and on-site banquet seating became wellness stations. There was also mandatory COVID testing and temperature checks, and buffet breaks were transformed into carry-away snacks. The event also featured far-UVC and air purification, reducing viral load and a "Mask-erade" was held with distanced disco dancing.
8. Money Out Loud: Financial Wellness is Finding Its Voice
There is a growing financial wellness movement: financial therapists are tackling the intersection between money and mental health; financial literacy courses are simplifying complicated finance jargon; and #personalfinance content on TikTok has over 3 billion views. Conversations around money aren't just focused on quantity, but how it makes us feel and what needs to change. The dialogue is also shifting to be more inclusive. For example, Jefa, is a digital bank designed specifically for women in Latin America, and Majority, is a banking service that sets immigrants up with the tools needed for financial success.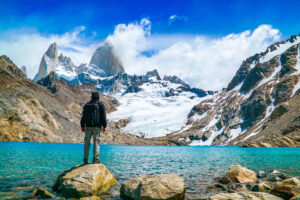 9. 2021: The Year of the Travel Reset
Looking ahead, 2021 may be the year that all travel becomes wellness travel. Health assessments – including pre-arrival COVID-19 tests–are becoming vital precursors to travel, and vaccine passports are in development. Some ways travel will be reset includes challenging overtorusim so that it doesn't overrun attractions and communities; tentative travel, which involves traveling to local and regional destinations as the confidence in international safety grows; and embracing nature, as travelers will continue to value isolation. Eventually, the widespread distribution of vaccines is expected to unleash a flood of travel.