Glow Recipe is expanding their best-selling Watermelon collection on December 8 with a skin care/makeup hybrid, Watermelon Glow Niacinamide Dew Drops. The lightweight buildable gel is designed to create a dewy, reflective finish when worn under or over makeup, offering users a number of ways to enhance skin, while treating it over time with skin beneficial ingredients.
"We've received countless customer emails and DMs on troubles with breaking out when wearing makeup under a mask," said Christine Chang, Co-Founder & Co-CEO of Glow Recipe. "While we started the development of this product last year, we feel that our customers will appreciate this treatment as a skin-friendly, easy way to 'finish' the skin when wearing protective face coverings."
The serum was purposely formulated without mica, glitter or pearl, which are traditionally seen in highlighting products. Instead, the brand harnesses a blend of skin care actives, primarily leaning on niacinamide for an iridescent glow effect.
"Niacinamide is one of our favorite ingredients because it has multiple skin benefits, including brightening and evening tone, while helping to illuminate skin instantly and over time. It also helps to minimize the appearance of pores and supports the skin barrier to keep skin hydrated and fresh," said Sarah Lee, Co-Founder and Co-CEO of Glow Recipe. "We love the instant glowing, reflective effect it has immediately upon application and knew that it would be the perfect ingredient for an amazing highlighting option that can work for all diverse skin tones, from fair to deep, as it won't leave texture residue or a gray-cast on skin that can sometimes result from makeup highlighters with these ingredients."
Additional hero indigents include the collection's OG watermelon superfruit, tapped for its vitamins A and C and skin-plumping amino acids, hyaluronic acid to hydrate, moringa seed oil meant to soothe skin, and false daisy, a Korean plant used to treat and prevent irritation. Similar to its predecessors, the bottle comes in Instagram-ready packaging that reveals its glistening baby pink formula.
Of special consideration for the rollout was the prioritization of models of different skin concerns and tones to show Dew Drops' versatility and effectiveness.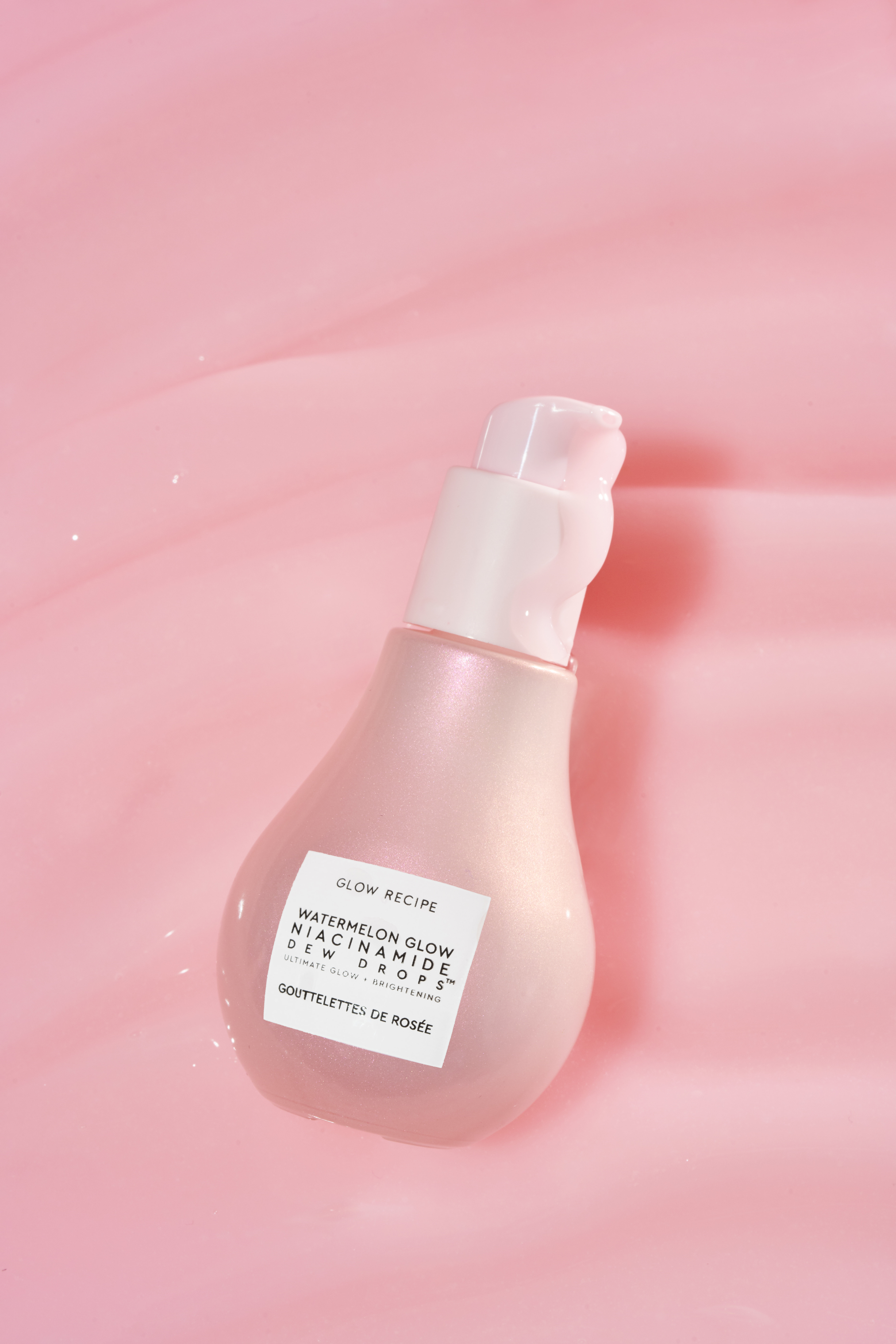 "We have always made it a priority at Glow Recipe to represent all skin types, concerns, and colors. We want our community to see real, diverse skin and perspectives in our creative and educational content," said Sarah. "As a digital-first brand, we use our platform as a means to connect the beauty community around the world and share our skin care journey collectively. Through our content and communications, we want to do our best to ensure that everyone can see how versatile this product can be for them individually, no matter their skin concern, as well as get as much open feedback as possible from varied groups."
Some suggestions for the multi-use product include applying on bare skin to create an instant dewy glow, mixed with makeup to boost radiance, applied as an illuminating primer, or placed over makeup as a highlighter. It's also ophthalmologist-tested and can be used on the eye lids or under concealer. Before the launch, the brand gifted its Glow Gang skin care community and makeup artists with deluxe samples for testing the various uses.
"We were so glad to see that both the skin care and makeup obsessed communities absolutely fell in love," said Sara. "At the end of the day, we always encourage our beauty community to find the fun in skin care, especially with this new launch. We can't wait to see how consumers choose their level of glow, whether they want to be more natural or glow all out."
The Watermelon Glow Niacinamide Dew Drops is available at Sephora and glowrecipe.com and will retail for $34.