H2O+ Beauty's CEO, Junko Gomi, is on a mission to revitalize the 30-year-old brand, which has been experiencing stagnant revenue growth. At the end of 2018, the brand's net sales diminished to approximately $18 million. After taking the helm in January 2018 as the youngest female executive to serve as CEO of any Pola Orbis Holdings brand, Junko began guiding H2O+ through its latest evolution, which included pulling it off retail shelves; updating formulas for all products with safer ingredients; sustainability initiatives; and incorporating the Japanese heritage of Pola Orbis, which acquired H20+ in 2011.
"When we decided to evolve the brand, it made sense for us to collaborate with our resources in Japan to help us think outside the box and innovate," said Junko. "We wanted something very different from anything that existed in the U.S. market so we broadened our skin care perspectives by partnering with the Japanese team to develop a futuristic, highly-creative approach to product development and to our core water technology, hydro-amino infusion."
While the brand will now rely on Japan for R+D, care is being taken to ensure H2O+ still originates products that appeal to Americans. To that end, the first launch of its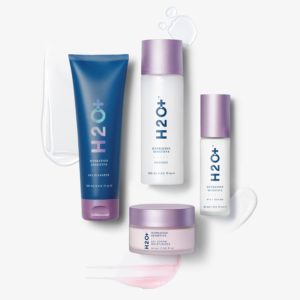 evolution phase, Hydration Sensitive System ($28-$54), includes a four-step skin care regimen designed to target skin irritation.
"We know that American consumers prefer simpler steps and may not want to adopt popular Japanese skin care rituals, such as double cleansing, so we developed the line to be simple, easy-to-use, and with instructions on the packaging," she said.
The packaging of the items is a noticeable departure from the brand's traditional white and blue plastic branding, and all are designed to be recycled. The cleanser, for example, is housed in a deep blue tube, with a luxe, velvet-like finish, and the moisturizer's light pink gel-cream is encased in a sleek, glass jar.
"Not many sensitive skin care products have a premium experience," Junko said. "Collaborating with the Japan team, we were introduced to the concept of gokan ni hibiku, which means an 'echoing of five senses,' an intentional force that drives the creation of products which look, smell, feel, and even sound a certain way. When it came time to develop the products, our teams prioritized this heightened experience."
The new line became available in late July and is only available on the brand's website, as it withdrew from its retailers, including Ulta Beauty, as part of its new transition period.
"At the moment, we are resetting and prioritizing our evolution over the course of the next three years," explained Junko. "As part of this we exited from retail while we prep the entire line to be reformulated with only clean ingredients, without compromising the product experience. We will return to retail doors when all the products are ready."
H20+ will publish its official clean beauty guidelines, H2O+ Clean Conscience, on its website in January 2020.
When it comes to marketing, Junko said the brand will focus on consumer mindset over specific demographics.
"We are a 30-year-old brand reestablishing the heritage that has been with us all along," she said. "We're leaning into what made customers interested in H2O+ in the first place: creative, vibrant approaches to skin care with water technology as its driving force. Our marketing strategy is really about bringing customers along for the journey with the goal of taking an ordinary experience, both product and marketing, and making it extraordinary."