Hair care brand Hairstory, which makes shampoo alternatives and styling products, is committed to supporting hair salon owners and hairdressing professionals across the U.S. who are experiencing loss of earnings as a result of the coronavirus pandemic. The brand recently launched an online networking platform for professionals and is continuing to maintain its affiliate program which pays professionals a 25 percent commission from sales they drive.
"Ensuring hairdressers earn money every time their customers buy has been central to our mission from day one, because we saw they were getting cut out of the retail value chain as other brands started selling online and through retailers," said Eli Halliwell, CEO, Hairstory. "We created our system to enable hairdressers to retain this important source of profitability and the benefits of this model are now particularly clear, as our hairdressers have continued to earn money during this crisis."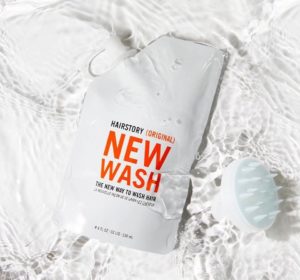 There are currently more than 1,000 professionals signed up for the program with many of them earning more than $1,000 in commissions each month, according to the company. "Paying 25 percent commissions has been part of our business model, and our financing needs have always factored these costs. We have not cut any employees during these challenging times, and have made cuts elsewhere to protect cash," he said.
Since the pandemic, inventory purchases of Hairstory products by hairdressers have fallen to almost zero, but they have been offset entirely by hairdresser client purchases. "Clients have really stepped up to support their hairdressers in a big way, and our March commissions payment is more than 50 percent higher than any commission payout in the past. So far, we are navigating the crisis with our sales intact, but we're staying cautious," said Eli.
To help stylists congregate and share wisdom, challenges and support, the brand launched an online community, "The Breakroom." As of the morning of April 8, there were 800 members, up from about 600 from the same time last week. "Feedback has been very positive, supportive and encouraging," said Eli, who recently recorded and shared a video with the group where he explains what's inside the CARES act for hairdressers and small businesses to help them navigate the government funding available. The video can be viewed here.
Keeping consumers connected is just as important to Hairstory, which has adjusted both its social media and email content to reflect that customers are now home and unable to access hair services. For example, one of the brand's recent email campaigns was titled "#Stayhome beauty tips for quarantine self-care." Additionally, the company has adjusted its 1 percent for the planet commitment, which normally funds water-based grassroots environmental organizations, to now be allocated to an organization that is directly delivering food support to people during this crisis.
Eli acknowledges the hardships of business and hairdressers having to pivot during this time and offers this guidance: "My advice for other small brands would be to cut spending and hunker down. The economy won't be shut down forever, and, while the new normal will likely be very different, the future still holds plenty of opportunity. For salon professionals, my best recommendation is to apply for the PPP Loans to help bridge this lockdown and enable them to pay for their lives in the meanwhile. We have plenty of information to help them in The Breakroom, and they are just as entitled to the government support as any other businessperson. Help is available and they need to avail themselves of it. And, if they want to join Hairstory during this down period, they can earn some extra money in commissions as well."