HatchBeauty Brands has a solid track record with more than 10 years of combining intuition and qualitative research to craft innovative brands. They see their newest partnership with Trendalytics as being the dawning of a new data era, where their intuition is guided by a more disciplined approach to understanding consumers' wants, responding to their needs, and incorporating real-time market indicators.
Always on the pulse of trends, HatchBeauty Brands has produced a portfolio of brands that represent both stylemaker and influencer-backed collaborations, alongside created and owned brands. The model has served the incubator well, driving steady growth in revenue to achieve almost a billion dollars in retail sales in the last decade , with five brands actively managed, and two more set to launch soon.
HatchBeauty Brand's next journey moves deeper into wellness incubation—a path the company is confident will fuel market growth, while serving to further differentiate itself in the market. HatchBeauty Brands saw an opportunity to partner with a resource that could layer in predictive intelligence with its already road-tested model.
That's where Trendalytics entered the picture. In 2019, HatchBeauty Brands linked with the search, social and market predictive intelligence platform to launch its Trend Lab. "The platform unlocks a five-year history of consumer market signals, and it catalogs and categorizes trends across brand, category, style and ingredient, while delivering it all elegantly for simple digestion and analysis," said Preston Bottomy, HatchBeauty Brand's President. The platform's unique ability to serve up quantitative data, while also setting the stage for at-your-fingertips qualitative analysis, attracted HatchBeauty Brands to Trendalytics.
"We knew we had to approach wellness from a different perspective," said Preston. "The landscape is complex." The wellness space can be bewildering with so many different types of products. HatchBeauty Brands seeks to align with retailers who share their ethos, and deliver products supported by data and insights.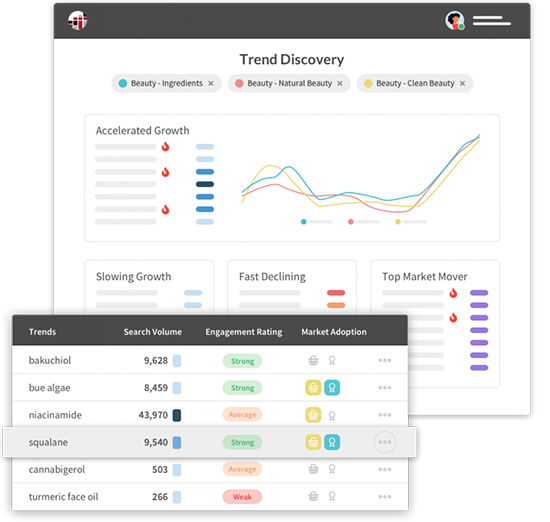 Since launching the partnership, Trendalytics has powered the HatchBeauty Brands Trend Lab through multiple product development and incubation projects. Most recently, they've collaborated on a series of trend reports, the first focused on the effects of COVID-19 on the beauty industry and the second on the rise of wellness as a driving force in the beauty industry.
Some of the findings from "Wellness for All: How the Wellness Movement is Changing the Face of Beauty Forever," are inspiring future projects from HatchBeauty Brands.
Wellness-specific searches continue to grow year-after-year with consumers looking for new products and solutions especially in the immunity category. Search interest outweighs available products, indicating numerous avenues for innovation in the category. Simple ideas, like boosting hydration via advanced electrolyte supplementation, and vitamin-C as a supershot before exposure to large crowds, will become the norm.
With detox skin care rising in interest, HatchBeauty Brands is bringing ingredients like clay back to the forefront. Changes in packaging have also emerged in a post COVID-19 world. Stick applicators and other hygienic packaging is supplanting the interest consumers once had in minimizing packaging. To keep up with demand for supplements and ingestibles, HatchBeauty Brands is eyeing novel forms like gummies and bubble pads.
In addition to product ideas, HatchBeauty Brands is already tapping Trendalytics' intelligence to recommend products for retailer assortments.
Questions and Answers with Preston Bottomy, HatchBeauty Brands President and Cecile Lee, CEO of Trendalytics
CEW: Preston, when it comes to brand incubation, how pivotal are data and consumer insights to your go-forward strategy? 
Preston Bottomy:  Consumer insights will be critical to driving our future innovation. As barriers to entry have eroded for emerging brands, the beauty and wellness landscape has become quite crowded, with products popping up to serve all varieties of niches in the market. Our ability to lean in and listen to how consumers are responding in the market allows us to better predict which categories, concerns and ingredients will emerge as the winners.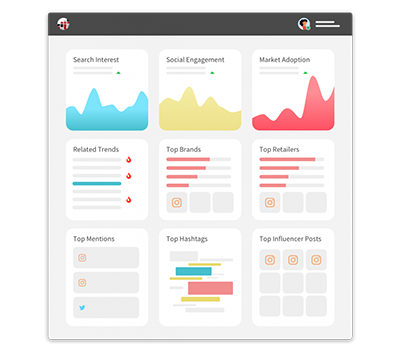 CEW: What's next for the use of search, social and market data? And how can brands use the data, and Trendalytics, most effectively right now?
Cecile Lee: The sky's the limit for our existing data sources, and we truly feel we've barely scratched the surface of what's possible. How do you proportionally tie the data sources together? For example, are some attributes more socially-driven, while others are grassroots, consumer search led? We have 10 million data science projects we'd love to work on, but our near-term goals are working to communicate how to weigh our data sources in combination and how to shorten the distance from insight to action.
Our platform is built around discovery and validation, so the most effective organizations come to us with an open mind. You may come into the platform looking to find out more information about a new ingredient, but you may end up discovering something you never heard of. On the flip side, a lot of our industry is built on pattern-recognition and, for lack of a better word, hunches. The people who get ahead, connect the dots between this influencer or that trade show, and are able to put those pieces together faster than everyone else – so the ability to put data behind something you qualitatively just know is invaluable for much of our client base. It doesn't fly like it used to, to tell someone 'just trust me.
CEW: What can data not do? Any cautionary tales for those of us who love validation but struggle to put a human touch on technology? 
CL: In the end, data points are just that: data points – and the limits of AI and machine learning are stark. The way that they're thrown around should make everyone skeptical. I read an article once that said if you can replace AI or ML with 'magic' in a sentence, you should really question it, because no computer is as sophisticated as the human brain – and our industry is built on 'art with science.' Overly cliched, yes, but descriptive: Your 'gut' is built up on a variety of inputs that are impossible for technology to capture such as conversations with other industry insiders, visually seeing influencers, or touching products at trade shows. The technology just isn't there yet to supplant humans. Technology gives signals and guideposts, but in the end, you are the expert on your own business.
For more information on HatchBeauty Brands contact [email protected].