Haus Laboratories is already a Prime Day bestseller. Just a week after announcing its September launch, consumers were thrilled to get more information about Lady Gaga's
hotly anticipated Amazon-exclusive brand, Haus Laboratories. Strategically tied to Prime Day festivities, items from the new range can now be pre-ordered at hauslabs.com, as well as for Amazon Prime members at amazon.com/hauslabs.
"Starting this Prime Day, we're thrilled to be the exclusive global retailer and home for Haus Laboratories," said Nicolas Le Bourgeois, head of Amazon Beauty. "Beauty is a category in which customers seek to be inspired and become their own experts, all with a confidence to try new things – Amazon Beauty, like Haus Laboratories, strives to embody this. This collaboration allows us to continue empowering all customers, Prime members and little monsters alike, to discover and buy their favorite beauty products online."
Haus Laboratories touts its offerings as self-expression tools, organized into six collections and nine limited-time duo sets. Said to inspire consumers to write their own beauty rules, the makeup products are all about high-impact payoff. The makeup was formulated by Lady Gaga, along with her product development team and her longtime makeup artist Sarah Tanno, who also serves as Global Artistry Director for Haus Laboratories.  Many of the products are multi-use. For instance, the Glam Attack liquid shadows, which can be used on the eyes, lips, or cheeks. There is also a lip liner duo.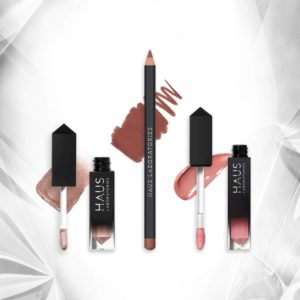 Priced at $49, the six Haus collections include HAUS of Chained Ballerina, HAUS of Goddess, HAUS of Rose B*tch, HAUS of Rockstar, HAUS of Dynasty and HAUS of Metal Head.
Each HAUS Collection includes a Glam Attack Shimmer Powder Duo, RIP Lip Liner, and Le Riot Lip Gloss. The first is a richly-pigmented, all-over facial powder featuring dimensional finishes. The second is a lip liner with the finish and comfort of a lipstick and the precision of a liner. Last, the lip gloss is high shine, designed to be worn alone or over a lipstick.
Retailing for $36 each are the Limited-Time Glam Attack Shimmer Powder Duo Sets. These are available in three shades: Speed Queen, Give 'Em Heaven and Downtown Punk.
The Le Riot Gloss Duos retail for $32, and come in three hues: Laced, Seductress, and Hypocrite.
The RIP Lip Liner Duos are $26 each and come in Floor it, Royally, and Slay Me.
Products ordered this month will ship to select locations across the globe in September.