Trailblazing female founders discussed their brand stories during "The Power of Us: A Women's History Month Experience. The summit was hosted on March 26 by 25 Black Women in Beauty, which supports Black women in the industry through networking, career placement and advocacy.
"In creating this organization, platform and event, it is my goal to ensure that Black women who are looking to hold a stake in the beauty industry find the inspiration, empowerment, knowledge and network to thrive from 25BWB. Attendees came to be inspired and I'm confident we delivered," says Ella Gorgla, CEO and Co-Founder,  25BWB.org.
Speakers included: Erica Culpepper, General Manager of Carol's Daughter/Softsheen, along with brand founder Lisa Price; beauty and lifestyle content provider Jackie Aina; Anastasia Soare, Founder and CEO of Anastasia Beverly Hills; Rahama Wright, CEO and founder of Shea Yeleen; Jamika Martin, CEO and founder of Rosen Skincare; Hannah Diop, CEO and founder of Sienna Naturals and Melanie Bender, President of Versed Skincare.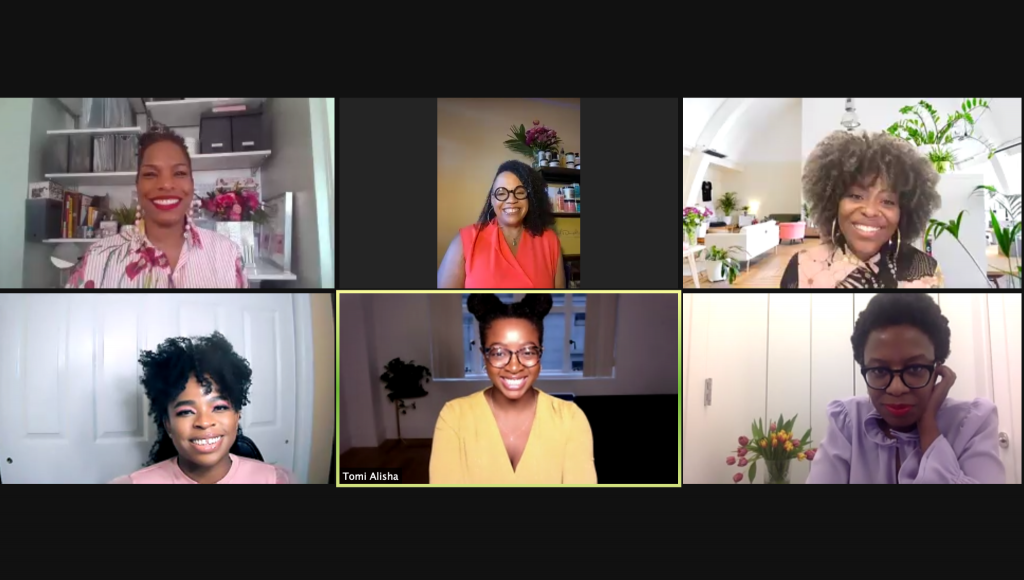 The overarching theme of the day's virtual event was a call for greater financial backing, as well greater acceptance from retailers and consumers of all ethnicities.
"Black women are incredible founders of beauty businesses because we have to solve our own problems ourselves. We have to be creative and innovative. Black-founded beauty brands are for everyone," said Hannah of Sienna Naturals during a conversation called Brands on the Move with three entrepreneurs. She created Sienna Naturals when she couldn't find effective and clean products for textured hair.
Rahama of Shea Yeleen echoed the sentiment that Black women know how to do beauty. "We know what we are doing, and we've done it with fewer resources, and we are still performing," she said, adding access to capital is crucial.
Rahama encountered pushback for her plan to help female African shea producers compete in the global market. As a Peace Corp. volunteer in Mali she discovered Black and brown people did not have equal opportunities.
"I became concerned with the way ingredients are sourced and how historically that has kept women in Africa at extreme levels of poverty. Black women are overlooked yet their labor contributes to every market," she explained.
Undaunted, she built Shea Yeleen into a business model that incorporates grassroots community development and produces high quality shea butter skin care products. Shea Yeleen is among the brand's featured in Macy's Black-owned brands focus online and in stores.
She continues to fight for support for nascent brands who are challenged to compete against multinational companies. "Give Black brands more money and maybe throw in a free endcap," she added.
Jamika of Rosen Skincare rounded out the discussion with her founders' story that dated back to making acne remedies in her dorm room. "Those with breakouts were left behind with legacy brands that hadn't updated packaging or formulas in 20 years," she recalled. Her self-created brand is now available at Target, along with Urban Outfitters and Nordstrom.
Putting yourself first was a clarion call from Lisa Price and Erica Culpepper of Carol's Daughter who shared the stage during their segment, The Beauty of Our Journey.
The duo shared personal stories of how they made sure they were healthy in order for business to flourish. "You have to create boundaries and you can't be afraid to delegate," advised Lisa, one of the pioneers of Black women entrepreneurs. "When you're an entrepreneur, you are your brand. You have to take care of yourself—don't miss doctor's appointments, take time to exercise—for your brand to grow."
Lisa and Erica discussed their unique relationship. Lisa praised Erica for always advocating for the brand; Erica called Lisa "a national treasure."
Offering advice for those to follow in her footsteps, Erica encouraged people to have a clear roadmap, but take "digestible" steps. She's now helping others who are working their way up in the business. "I'm trying to be a servant leader and help those behind me get to the next level. I want to take the lessons I've learned and give back."
Paying it forward is also top of mind with Anastasia Soare who shared her story of arriving in the U.S. with no money to become one of the most famous entrepreneurs in the business. Her company recently announced the winners—some of whom were in attendance at the virtual event—of the company's $450,000 grant initiative to support and mentor Black-owned small businesses. ABH also pledged $1 million to fight against institutional racism, oppression and injustice amid the Black Lives Matter protests last year.  "At this point what makes me happy is to give back," Anastasia said.
Melanie Bender, President of Versed Skincare, one of the fastest growing clean brands in the U.S. with sales soaring 210 percent over the last year, discussed the importance of allyship. Versed, she said, was one of the first beauty companies to participate in the Pull Up for Change challenge. "We are not Black-owned but we can be an ally."
Jackie Aina provided a glimpse into her world of beauty and lifestyle content creation including the challenges and opportunities of being a Black woman in the business. She had to convince women that although a different skin tone, she still could offer expertise on beauty brands.
She encouraged Black women to stop feeling guilty about luxury purchases. Her tips for those building businesses: "Don't ask people for advice if they don't have the experience to give it."