The microbiome, our skin's living protective layer of microflora, became a beauty buzzword before the pandemic hit. Now, maintaining a balanced, diverse microbiome has become a priority to keeping skin healthy. Here, Beauty News presents a range of new brands that are exclusively focused on protecting the ecosystem of the skin.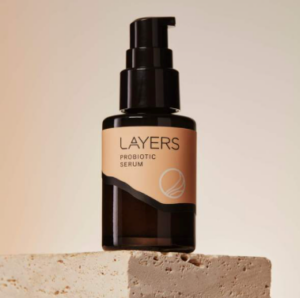 Layers
Brand positioning: Layers is a probiotic skin care line based on microbiome science. Founder and CEO Rachel Behm's vision is that our bodies have a symbiotic relationship with bacteria, directly affecting skin appearance. Layers aims to nourish this gut-skin connection for skin that glows from the inside out. The brand partners with leaders in microbiome science to source ingredients with clinically-proven skin results.
Product portfolio: Layers' supplements are formulated with five probiotic strains and ceramides to fuel the gut-skin connection and hydrate the skin. The Probiotic Serum is formulated with a blend of lactobacillus ferment and plant extracts to speed skin surface turnover, and increase lipid and protein levels for stronger, luminous skin.
Signature ingredients: Layers' probiotic strains include lactobacillus plantarum (a beneficial probiotic strain that improves hydration); bifidobacterium lactis (improves digestion); lactobacillus rhamnosus (aids with digestive health), and lactobacillus longum (alleviates inflammation). The brand formulates without parabens, mineral oil, petroleum, silicone, phthalates, sulfates, formaldehydes, triclosan and gluten. Products are packaged in recyclable glass bottles and jars.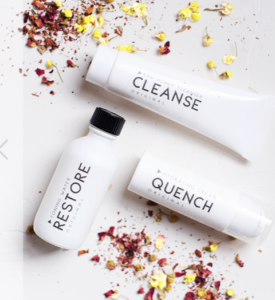 Concur
Brand positioning: Concur specializes in 100 percent organic microbiome protection. The brand's tagline is "conscious and holistic science for our bodies." Brand founder Lindsey Moeller has a degree in biology and molecular genetics. Several years ago, Lindsey's mother was fighting environmental cancer. Lindsey was determined to help her mother bolster her immune system and fight the disease. Today, holistic healthcare, and combining the best of nature and science, remains Lindsey's focus.
Product portfolio: Concur's Microbiome Recovery System consists of a Raw Honey Cleanser (including variants with charcoal and butter), a Toner and Cream (including rose tea) that work synergistically to restore the health and balance of the microbiome. The products can be purchased separately or as part of a subscription.
Signature ingredients: Concur only uses raw, organic ingredients with no preservatives, stabilizers or fragrances. All products are made to order to preserve the freshness and potency of ingredients, and invigorate the skin.
Symbiome
Brand positioning: Symbiome's skin care is inspired by "ancestral microbiomes." Founders Larry Weiss and Vicki Levine believe that the ancestral microbiome (which once produced many of the nutrients, vitamins and biomolecules needed to ensure skin health) has deteriorated due to city living and disconnection from nature. Together with a team of microbiome scientists, microbiology PhDs and dermatologists, Symbiome has created products with minimal formulations and that are also minimally processed, in order to bring skin back to optimal health.
Product portfolio: Each Symbiome product is created with fewer than 10 clean, organic and sustainable ingredients. The brand believes that limiting the total ingredients used simplifies the skin's response. The Postbiomics collection, for example, contains fewer than seven ingredients per product. (Most of the products have just four ingredients).
Signature ingredients: Symbiome's ingredients are sourced from an organic farm in Brazil. The brand's proprietary Postbiomic Fermentation of natural ingredients from the Amazon rainforest utilizes a blend of ancestral, native microbes that optimize the bioavailability of nutrients and enzymes. BioIntact Emulsion is a proprietary cold-emulsion process that creates bio-intact creams with as few as three ingredients, and that preserves the potency of the natural ingredients.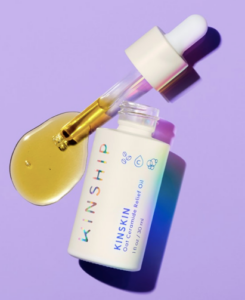 Kinship
Brand positioning: Kinship is focused on protecting the skin barrier. The brand uses a proprietary microbiome technology – a plant-based pre-biotic – derived from the fermentation of lactobacillus to support a strong, natural skin barrier. This promotes resilience, minimizes skin sensitivities, balances oil, and allows skin to flourish with its own healthy environment.  Kinship champions a democratic approach to skin care.
Product portfolio: Kinskin is an oat ceramide relief oil. The bestselling Self Reflect is a probiotic moisturizing sunscreen zinc oxide with SPF 32. The brand's products are clean, cruelty-free and Leaping Bunny certified.
Signature ingredients: These include the brand's Kinbiome probiotic, natural fruit enzymes, antioxidant superfoods, omega fatty acid oils and bioavailable vitamins. Kinship excludes 1,300 ingredients banned by the EU.
Mother Dirt
Brand positioning: Mother Dirt believes that traditional skincare has scrubbed, peeled, and stripped good bacteria from our skin. The brand's mission is to restore the skin microbiome and activate the transformative power of probiotics, revealing biologically balanced and vibrant skin. Mother Dirt's proprietary ingredient, live ammonia oxidizing bacteria [AOB], interacts with elements naturally found in sweat to product two powerful byproducts: nitrite and nitric oxide, which are both essential to a balanced skin microbiome.
Product portfolio: Mother Dirt's flagship product, AO+ Restorative Mist, is a live and active probiotic mist that combats blemish-causing bacteria and maintains healthy skin. The brand's Active Probiotic System is formulated to work together "to repair the damage caused by traditional skincare and restore your skin microbiome." The Peacekeeper is an active probiotic system starter kit. The Difference is an active probiotic system acne treatment kit.
Signature ingredients: The blend of probiotic extracts in the AO+ Restorative Mist primes the skin.
Gallinée
Brand positioning: Gallinée is a skin and hair care line dedicated to the health and wellbeing of Planet You. Founder Marie Drago is a French doctor in pharmacy whose research is focused on microbiology, especially the skin's microbiome. All the brand's products are dermatologically tested and formulated for sensitive skin.
Product portfolio: Skin & microbiome is a skin care supplement that fights the signs, as well as the causes of skin sensitivity and inflammation. It contains lactic acid strains, selenium-enriched yeast and vitamin B2. The supplement is the brand's bestselling item in France. In addition to face and body products, Gallinée also features a hair care and scalp range, including Scalp and Hair Serum, that contains fermented rice water together with the brand's signature microbiome ingredients.
Signature ingredients: Gallinée's products contain a patented complex of prebiotics (promote good bacteria), probiotics (live microorganisms that keep the body healthy), and postbiotics (help regulate the skin's natural bacterial ecosystem).
Beekman 1802
Brand positioning: Beekman 1802's goat milk + probiotic skin care range was created specifically for sensitive skin and the microbiome. When the probiotics are combined ingredients like goat milk – an optimal source of nutrition for probiotics – it feeds the skin with the natural sugars and lipids that allow the skin's microbiome to stay balanced, healthy and radiant. In addition to being clinically tested safe for sensitive skin, the brand takes it one step further and has its products tested by MyMicrobiome AG, which measures the impact and efficacy of the product on skin's microbiome. The brand is the first and only skin care brand at Ulta to be officially certified as microbiome-friendly.
Product portfolio: Beekman 1802 offers a diverse range of products from eye serums to soap bars, designed with a milk-sourced probiotic complex that aims to help feed the skin with the healthy bacteria it needs. Bloom Cream is its best-selling moisturizer and features the unique probiotic complex that aims to mimic the natural skin barrier in order to help maintain healthy microflora and deliver deep hydration.
Signature ingredients: The goat milk + probiotic skin care line was formulated by co-founder Dr. Brent Ridge, a physician who specializes in aging and the microbiome. Products feature a complex blend of goat milk, probiotics and potent antioxidants. The brand is certified cruelty-free.