Artificial intelligence and data-driven algorithms are heralding a new era for the fragrance industry, which is being transformed by machine learning. CEW's Beauty News presents the newest ways that AI-powered technology is reshaping the world of perfumery.
Symrise's Philyra
What it does: Symrise's Philyra, created in partnership with IBM Research, analyzes thousands of formulas in order to identify patterns and discover innovative fragrance combinations. The system's algorithms accelerate the fragrance creation process by designing formulas that have never been seen before. This includes algorithms that learn and predict raw material substitutes and complements that can be used in a formula, appropriate dosing for a raw material based on usage patterns, 'likability' factor (whether the fragrance will be well received), and novelty of the fragrance when compared to commercially available fragrances. Philyra's data-driven approach also leverages data on fragrance families, historical data, and industry trends.
Why it's a game-changer: Philyra uses machine learning to discover whitespaces in the global fragrance market and create new formulas. Symrise's perfumers add the final touch by finetuning the creations, for example, by emphasizing a certain note or improving the long-lastingness of the fragrance.
Where it's used: Philyra created two millennial fragrances that launched in 2019 for Brazilian personal care company O'Boticario.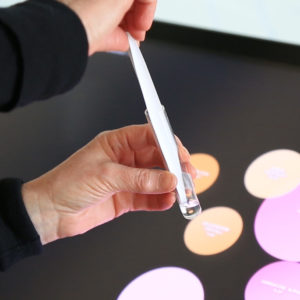 Givaudan's Carto
What it does: Givaudan's Carto is an AI-powered tool that is designed to reinvent the way perfumers create, with the added benefit of accelerating perfume development. The AI program invites perfumers to imagine and create new fragrance accords using an interactive touch screen (creating their formulas differently from the traditional spreadsheet or olfactive pyramids). The program can cross-reference the fragrance house's own market research, research and development, consumer data and historical formulas. Carto also includes an instant-sampling robot that accelerates the production of fragrance trials.
Why it's a game-changer: Carto enables perfumers to experiment with creative concepts by using the playful AI interface, which is supported by an extensive data library of fragrance formulations.
Where it's used: Carto is being used in Givaudan's fragrance creative centers in all regions.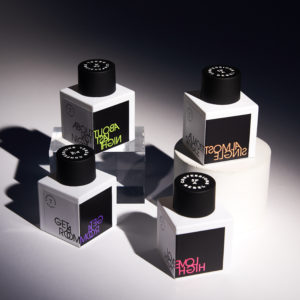 Scentbird's Confessions of a Rebel
What it does: When direct-to-consumer Scentbird launched new gender-fluid sub-brand Confessions of a Rebel, it used AI, consumer data and reviews to create its four initial fragrances. (Confessions of a Rebel defines itself as a 'next-gen fragrance brand, ready to push boundaries'). Scentbird leveraged over a million data points from its 300,000 subscribers to conceive the directions and fragrances. Instead of using typical fragrance categories such as floral, woody, or citrus, Scentbird asked consumers to select their own descriptors, that included 'fresh', 'clean' and 'sexy'.
Why it's a game-changer: AI software gives Scentbird immediate access to patterns within its extensive subscriber data base, enabling it to create fragrances by way of user reviews, consumer preferences, and fragrance note preferences.
Where it's used: Confession of a Rebel's four gender-fluid fragrances, including Get A Room, Love High, About Last Night, and Almost Single, launched in mid-July.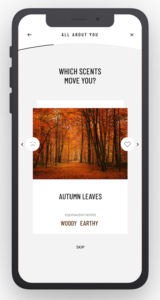 Sommelier du Parfum
What it does: Sommelier du Parfum is an AI-powered fragrance app that helps users find their ideal fragrance. Algorithms analyze responses to a questionnaire, learning about users' tastes and lifestyles in order to make recommendations from its database of over 30,000 fragrances. After users select perfumes that they want to test in-store among the app's shortlist, nearby retail stores are identified (consisting of both large beauty retailers and independent boutiques). Fragrance information includes olfactory notes, the perfumer and fragrance's history, and ingredients, together with a toxicity assessment.
Why it's a game-changer: Sommelier du Parfum, as the name implies, educates consumers about the breadth of fragrances in the marketplace, and makes the selection accessible to them within a user-friendly app.
Where it's used: Sommelier du Parfum helps consumers find their next fragrance which they can buy in 8,000 stores in the US.
Algorithmic Perfumery
What it does: Algorithmic Perfumery invites users to create their own personalized fragrance made by artificial intelligence. The system uses AI software and a variety of data (together with a sampling robot) to create a personalized fragrance for each person who interacts with it. Algorithmic Perfumery is refined all the time as new users continue to train the creative sensibilities of the AI system, and it adapts and learns from every exchange. Dutch founder Frederik Duerinck, who started the Netherlands-based company Scentronix, has presented Algorithmic Perfumery at film festivals and art exhibitions throughout 2019.
Why it's a game-changer: Duerinck's goal is to change how users interact with fragrance, and for every user to have their own unique fragrance. This includes fragrances with under-explored olfactive categories that are not typical of commercially successful fragrances.
Where it's used: Algorithmic Perfumery has been on tour this year throughout Europe and North America.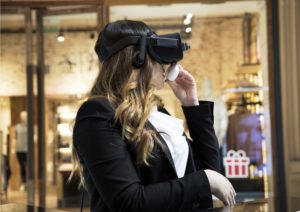 Coty's VR Experience
What it does: Coty's fragrance-focused, multi-sensorial virtual reality experience, launched in Argentina with retailer Julieraque, is powered by AI. The immersive experience uses touch, smell, sound and sight to help consumers find their perfect fine fragrance match. Shoppers wear a virtual reality headset, and pick up a scented stone which activates a short video. Each stone is tied to a broad fragrance category, such as 'citrus watery', 'floral fruity' or 'oriental spicy', as opposed to a particular perfume or brand. At the end of the video, consumers can receive up to six recommendations from eight Coty luxury brands based on their favorite fragrance concepts.
Why it's a game-changer: The VR technology can be scaled and adapted to suit a variety of markets and brands. The experience merges physical and digital worlds, and helps users navigate the world of fragrances.
Where it's used: Coty is planning on bringing the VR experience to additional markets, and tailoring the experience to specific brand universes.