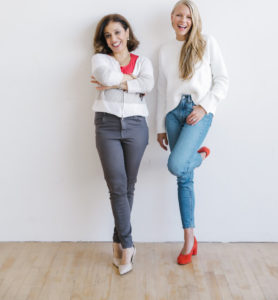 "We're not that typical beauty brand that was started by a makeup artist. Our roots are in Silicon Valley," explained Jaleh Bisharat, Co-founder, NakedPoppy. Last year, Jaleh, who formerly ran marketing for Amazon, EventBrite and OpenTable teamed up with Kimberly Shenk, who previously served as the data scientist in the U.S. Air Force, to launch NakedPoppy, a clean beauty website powered by an intelligent proprietary technology. Prior to its launch last month, NakedPoppy secured $4 million from prominent venture capital investors, including Cowboy Ventures, Felicis Ventures, Khosla Ventures, Maveron, Polaris Ventures and Slow Ventures.
The subscription-free site is meant to serve as an online destination for women who are overwhelmed with beauty choices and want to feel confident they're purchasing luxury products that have been vetted as cruelty-free, low in environmental impact, ethically made and free of harmful chemicals.
"There are 12,500 chemicals approved for personal care in the U.S. The EU has 7,000. We've only let in 700, because we look at them one by one. It's a real investment for a small company but we feel it's our DNA, so we follow the precautionary principle which means if it's suspected as harmful, we don't take it," said Jaleh.
Customers take a three-minute online assessment. The site's technology instantly assembles an ideal recommendation and aggregates it into a personalized, shoppable clean makeup boutique.
"The algorithm looks at a wide range of considerations to simplify the process of finding just the right products," said Jaleh. "We ask if you care to share whether you're pregnant because your hormonal changes can affect your skin needs. Or, if you're vegan you can select this to make sure that you only see vegan products. Consumers are also asked to indicate their hair color, skin undertone, allergies and beauty goals so the final products shown will be shades and formulas that would specifically work for them."
The products in the individual's boutique are accompanied by a score that indicates the degree to which they will be an ideal match, with 100 percent being the best match.

"Everything is in inventory. I come from Amazon so anything that comes in has to go out the same day. If an order comes in at 4:30 p.m., it hits the post office by 5 p.m. because I firmly believe that faster matters. Our goal is to have women say, 'That was as fast as Amazon,'" said Jaleh. "Also, shipping and returns are both free. We don't get that many returns but when we do it's actually a gift because it helps the algorithm get smarter."
Our goal is to have women say, 'That was as fast as Amazon,'" said Jaleh.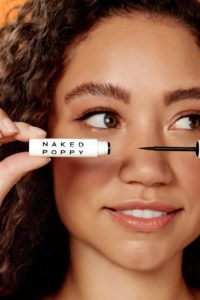 In addition to carrying 400 SKUs, NakedPoppy released its first branded beauty product, NakedPoppy Clean Liquid Eyeliner ($18).
"We did formulate in the white space," said Jaleh. "When I went clean I couldn't find anything that didn't run or dry out and finally we found a formulator in Italy who got that we wanted it to be clean, glide on easily and wash off without the use of solvents."
While Jaleh remains mum on the number of NakedPoppy users she has to date, she noted, "It's been well received and growing. We do very little advertising, mostly word of mouth. You want to make sure you have something that solves a real problem, so even though I've been in big companies with big budgets, we pride ourselves on the fact that we are spreading organically," she said. "We do have an Instagram feed, but where we're most successful is Pinterest. In fact, they noticed how well our account is doing and contacted us."