As people across the country protest racial violence and call for justice in response to the death of George Floyd, beauty brands are also taking a stand, taking to social media to announce their support to the cause.
In an Instagram post over the weekend, Glossier pledged $500,000 to organizations focused on fighting racial injustice, including Black Lives Matter, The NAACP Legal Defense and Educational Fund, The Equal Justice Initiative, The Marsha P. Johnson Institute, and We The Protesters. The beauty brand allocated another $500,000 in grants to black-owned beauty businesses, noting further details will be released in the coming weeks. "We stand in solidarity with the fight against systemic racism, white supremacy, and the historic oppression of the Black community. Black Lives Matter," said a statement issued by the brand.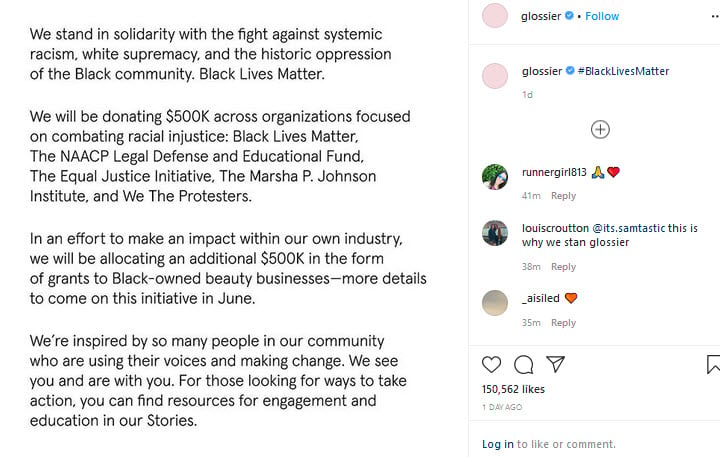 Tula, which has donated to the NAACP Legal Defense and Education Fund, announced that its staff will be observing "Blackout Tuesday" on June 2 saying, "As a team we are now going to be OOO recognizing 'Blackout Tuesday' to create space to process, reflect, and stand against racism." The brand continues, "We encourage others to check in on your communities."
Sunday Riley committed $50,000 to the NAACP Legal Defense Fund, and noted that they are also looking to do something in the brand's hometown of Houston. "George Floyd and I are both from Houston. We actually both went to Lamar High School, though he graduated from Yates," wrote Sunday on her brand's platform. "We were separated by time. We weren't the same age, we weren't in the same year. But we walked the same hallways, maybe sat in the same classrooms, albeit at different moments in time. We had entirely different lives, different opportunities, and faced different challenges. Had we both been in the exact same situation, at the exact same moment, I think it would have ended differently for me. Actually, I know it would have. That reality pierces me to my core."
DECIEM is donating $100,000 across Black Lives Matter and The NAACP Legal Defence & Educational Fund. "Our team have been actively sharing their voices in the fight against racism and inequality, and from tomorrow, our Instagram Stories will become a dedicated space to continue this conversation," the brand stated inviting followers to submit one-minute videos or words that will be share on its Instagram platform.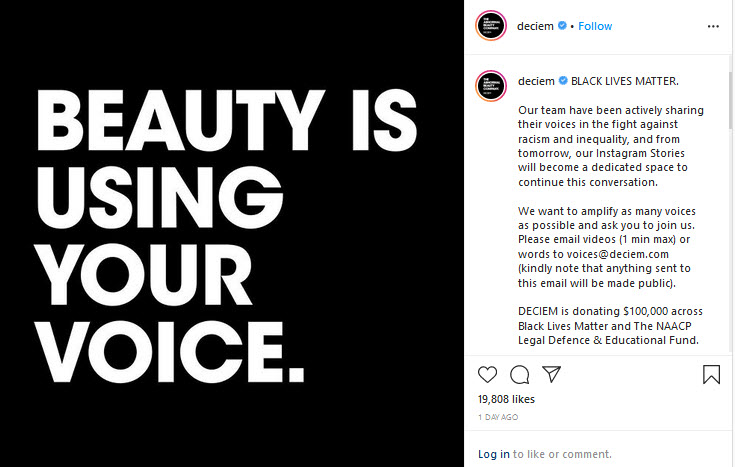 Kosas has pleged $20,000 across Black Lives Matter, Black Lives Matters LA, and Color of Change. "We will not be silent. We stand in solidarity with all those fighting against social injustice," the brand said in its statement.
Mented Cosmetics announced that for the month of June, they will be donating a portion of every sale to support protesters around the country, starting with bail funds in New York City. The brand will also be giving their team every Friday this month off to promote mental health. Herbivore Botanicals announced that 100 percent of its profits from this weekend will be donated to ACLU, Black Lives Matter, and the Minnesota Freedom Fund. During the month of June, Nails Inc. will be donating 100% of all US profits from nailsinc.com to Black Lives Matter. Beautyblender will donate all profits from Sunday's sales on beautyblender.com to the Equal Justice Initiative, and wellness brand Golde donated 100 percent of its profits to the NAACP Legal Defense Fund through June 1.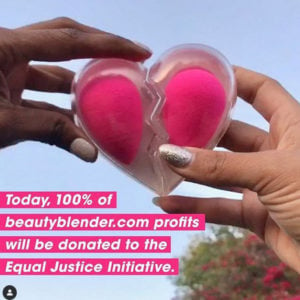 Summer Fridays made undisclosed donations to Black Lives Matter and the Minnesota Freedom Fund saying, "We need to do better. Educate yourselves, even if it's uncomfortable. Sign a petition. Make a call. Donate if you can." The brand also offered several resources individuals can utilize to educate themselves as well as ways to help.
Peach & Lily has made donation to ACLU, saying "Peach & Lily is a safe space for EVERYONE — regardless of race, religion, gender, sexual orientation or age. As a business, and as individuals, we are speaking up and standing up for what's right. We encourage you to do the same. WE STAND WITH YOU." Cocokind has also donated to ACLU saying, "We are appalled to constantly hear stories of the pervasive, violent racism that plagues America. Our voices and actions matter, today and every day… now is the time to speak up and act."
Among the many other companies who have pledged donations to organizations fighting racial injustice include, but are not limited to:  Biossance, Bite Beauty, Boscia, Charlotte Tilbury, ColourPop Cosmetics, Coola, CoverGirl, DevaCurl, The Detox Market, ELF Cosmetics, Farmacy, Fekkai, First Aid Beauty, Follain, Fourth Ray Beauty, Fur, Glow Recipe, Honest Beauty, Juice Beauty, Hero Cosmetics, Innisfree USA, Illia Beauty, IT Cosmetics, Kiehl's, Lorac Cosmetics, Living Proof, Marc Jacobs Beauty, Morphe, Maybelline, NYX Comsetics, Ole Henriksen, Origins, Orly, Paula's Choice, PATTERN, Peter Thomas Roth, REN, Supergoop, Soko Glam, SkinFix, Tarte Cosmetics, Then I Met You, Tower 28, Urban Decay, Versed and Youth to the People.
.