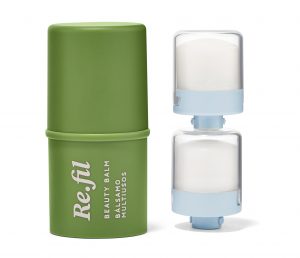 Focused on sustainability, Birchbox recently launched a new in-house brand, Re.fill. The brand currently has one SKU, Beauty Balm, a multi-use blend of natural oils, squalane, ceramides and chamomile designed to be used on lips, cuticles, elbows and more. The idea for the product was born after Katia Beauchamp, Birchbox's Co-Founder and CEO, realized that as an avid lip balm user, her containers were joining the estimated 1 billion lipstick tubes that end up in landfills each year. Re.fil was then developed as an alternative to help replace this everyday essential with a sustainable option to help reduce waste within the beauty industry. The Beauty Balm is sold in a reusable case made from 100 percent recyclable post-consumer recycled (PCR) plastic for $12, and once finished can be replaced with a refill pod (two for $8). The product is among the many initiatives Birchbox has planned for accountability and action to become more sustainable. Here, CEW Beauty News spoke to Katia Beauchamp, Birchbox's Co-Founder and CEO, to learn more about the line and the company's sustainability goals.
Beauty News: How will you generate consumer awareness for Re.fil?
Katia Beauchamp: All subscribers received the Re.fil Beauty Balm in their April boxes so Birchbox subscribers had the first opportunity to try out the balm. We'll be sampling it again later this year for new subscribers who join. Otherwise, we're looking to make a lot of noise through social media, email, and influencer and ambassador marketing to start and build from there.
BN: Other than the balms, what other products are planned for the Re.fil line?
KB: We're starting to think about other refillable alternatives, but for now are focusing on the all-over beauty balm. It was important to launch with this product; there's an exciting opportunity to make a meaningful impact with this product. Hundreds of millions of people buy (and re-buy) lip balms every year, and a majority of those tubes end up in landfills. If people switched to Re.fil, they would have a refillable alternative for not only lip balm but an allover salve that works on brows, cuticles, dry patches of skin, and as a highlighter. That small tweak could make a massive difference in the amount of plastic tubes that are thrown out.
BN: Talk about the sustainability efforts Birchbox has in the works.
KB: We plan to tackle sustainability from multiple angles:
Reducing waste through the launch of Re.fil.
Removing 70 percent of unnecessary packaging from samples featured in boxes by end of year.
Partnering with more brands that have sustainability at their core (we've committed to ensuring that 10 percent of samples by end of year and 10 percent of full-size products sold in the shop by 2023 will be from sustainable brands).
Partnering with more brands to create reusable box transformations.
We're committed to creating a recycling program to make it easy for our community to recycle their empty samples and products.
We are also increasing recyclability through finding a recyclable alternative to the foam insert in subscriber's boxes (after which, 100 percent of Birchbox-produced packaging will be recyclable), and seeking recyclable alternatives to brands that Birchbox produces by 2025 (ex. Arrow Beauty, Love of Color).
Finally, increasing education and awareness of the proper ways to reduce waste and recycle.
BN: How did Birchbox manage over the past year?
KB: During the height of the pandemic, we did see upticks in subscriber acquisition and shop sales, particularly in the skin care and self-care categories. Our business was fortunate to have been stable through the last year, so we spent a lot of our time and energy being there for and giving back to our community of customers and brand partners in as many ways as we could.
BN: What else can we expect to see from Birchbox?
KB: On the sustainability front, we're focused on making good on our commitments and are in talks to put a partner into place that will make it possible for us to create a recycling program that we're hoping to launch in 2022.
Related story: Meet Beauty Creators Ambassadors: Katia Beauchamp, Ron Robinson, and Nancy Twine