Founded in September 2016, luxury hair care brand Saints & Sinners broke into the hair care market with the goal of offering professional quality products free of harmful chemicals. The self-funded brand, owned and operated by Michael and Diana Wilson, is sold direct-to-consumer on its website, as well as in salons. As a result of salons shutting down, the brand has had to develop new ways to engage consumers outside of the salon chair, including hosting Zoom happy hours for fans to show off their best Saints & Sinners "going nowhere" hair for the opportunity to win prizes. Here, Diana talks about how the brand is responding to the company's current challenges and marketing strategies, as well as her goals for the industry.
BN: How are you helping your network of stylists during this time?
DW:  Our Sinnergist Team (hairstylist distributors) have been given affiliate codes in order to supplement their temporarily lost income by continuing to receive revenue on product sales.
BN: How have you adjusted to meet the needs of consumers?
DW: For customers, we have waived shipping fees on all online orders and will include samples with every order. We are beginning a series of online tutorials and Q&A forums to connect with our stylists and clients to provide them with the tools they need to recreate styles and feel and look fabulous – even if it's at home for family members.
BN: What has been your biggest challenge?
DW: Right now, our biggest challenge is keeping our families (home and work families) healthy and safe and while also making a living.
BN: Describe the marketing/communications plans to reach your target consumers.
DW: It's a multi-level, layered approach to raising awareness and delivering the brand message.  First, we're expanding our Sinnergist Network.  Sinnergists are hairstylists who organically love the brand, do great hair and assist in everything from campaigns and social media. They are our sounding boards for ideas and development. We've also just promoted one of our Sinnergists to Creative Director to assist in the growth and expansion of not just the Sinnergist network, but the brand as a whole.
We developed a Sinfluencer Program in which we'll be partnering with key influencers across all social channels. And in some truly exciting news – Saints & Sinners is in negotiations with a top A-List Celebrity Stylist to take on a global role representing the brand.  We can't wait to announce who.  And of course, we are tapping into all media: print, digital, broadcast, etc. We also have a great PR team, K3 Media Collective.
BN: How are you able to finance these initiatives? What is your cash management strategy? Where have you made cuts?
DW: My husband and CEO of Saints & Sinners, Michael Wilson, hails from a background in finance and he's always created long-term, viable cost structures not just for our brands, but for other brands in need of this skill set.  Even in the wake of salon and distributor closures, Saints & Sinners has not had to terminate, furlough or end any vendor partnerships.
BN: What is your goal for the brand/industry?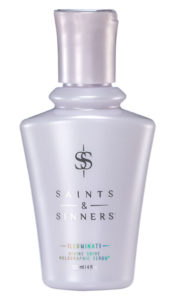 DW: Brands take on the persona of their founders—and it shows.  If you care about people and your industry, it shows.  If integrity matters to you, it's reflected in your brand.  What we would love for the industry is to provide safe, high performance products that stylists are proud to use, that clients love, and that the trust from stylist to client remains intact.  We'd love for clients to purchase brands directly from stylists and salons and keep the dollars in the industry when they reopen.
BN: What is your advice for other small brands who are struggling?
DW: This experience is so personal for every brand owner – we're all affected similarly yet differently. We are all watching and learning from each other as each day passes. Our advice is to do what is ultimately best for your brand and your work family.  There is one goal – to get through this unprecedented event with one's health intact – that is truly all that matters.