Pacifica Beauty is kicking off its 25th anniversary with the launch of two new collections designed to cater to pandemic-driven skin and fragrance trends. Both launches will be supported by digital-first campaigns, utilizing social media and virtual events.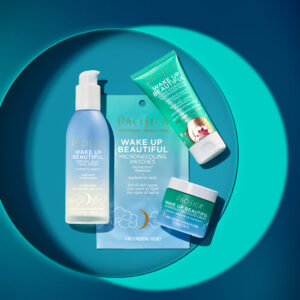 The first collection, Wake Up Beautiful, debuted this week on pacificabeauty.com, featuring three anti-aging products inspired by the healing power of night and sleep: Overnight Retinoid Cream ($24), Dream Jelly Face Wash ($12) and Microneedling Patches ($15).
"Although I developed these before the pandemic, I think quarantine has really brought into focus the importance of self-care, understanding ingredients, and overall wellness," said Brook Harvey-Taylor, CEO and Founder, Pacifica. "Sleep issues and stress have been magnified."
The Wake Up Beautiful collection was inspired by an existing product, Wake Up Beautiful Overnight Mask, which has been a cult favorite for years, said Brook. "The success of the overnight mask showed us how interested our consumer is in effective, natural ingredients they can sleep in, which really pushed me to innovate further with clean ingredients that are great for overnight repair."
Powerhouse ingredients include a petroleum-free retinol, melatonin that aims to combat free-radicals, and apoptogenic mushroomss meant to promote hydration and help address irritation and puffiness. Additionally, products are packaged in PCR plastic as part of Pacifica's mission to eliminate its use of virgin plastics.
The campaign for the launch will be supported with storytelling on social channels, a night-themed virtual PR event with influencers and editors, and an influencer box that will be distributed in February to support the in-store launch at Ulta Beauty. Pacifica is also partnering with a diverse group of lifestyle influencers, athletes and models who will "torture test" the collection on their skin. Influencer content will be amplified across Instagram and Facebook and the brand will also partner with these influencers to launch its biggest Tiktok media campaign. A viral moment around the Microneedling Patches is also planned.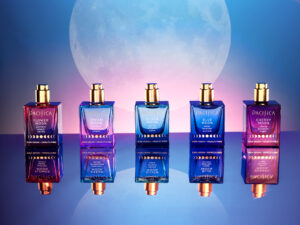 The second launch, Moon Moods, is a new fragrance collection that becomes available January 21 on pacificabeauty.com and exclusively at Target. The line caters to the growing use of scent as a transportive experience and features deeply layered fragrances with moody top notes created from 100 percent natural raw materials. Scents include Cherry Moon, Dream Moon, Silver Moon, and Flower Moon + Blue Moon, which are encased in dreamy glass packaging inspired by the night sky.
"Having started out in aromatherapy and perfuming, the Moon Moods collection is a nod to my early roots," said Brook. "I drew inspiration from the different phases of the moon, with each scent uniquely capturing the symbolisms behind some of the most powerful moons and translating their stories into beautiful, transportive moments."
The brand will unveil all five fragrances across its social platforms, discussing the inspiration and scent notes for each. Since the launch syncs up with the first full moon of the year (January 28), Pacifica will partner with an astrological expert for a social takeover to explain what the full moon has in store and to help followers set expectations and resolutions for 2021. Outside of social, Brook will introduce the full collection to editors and influencers through a live smelling session, which will be held as part of the nighttime PR event that features the Wake Up Beautiful collection. Moreover, the brand will also be partnering with a squad of micro-influencers to go into Target stores and capture the Moon Moods tester display.
In addition to new launches, the brand will be celebrating its 25-year anniversary with a new campaign to build awareness of its core brand value – compassion – for the planet, animals and people.
"Across our owned and paid social channels, we'll be championing some of our original cult products, continuing to launch new clean and vegan innovations with the most innovative ingredients, and supporting the causes we care about – animals, justice, equality," said Brook. "Most of all, we're excited for our next 25 years – and our mission to push the industry towards a place that better serves the planet."