Consumers are looking to brands to help them reduce 120 billion-plus units of packaging created by the beauty industry. A poll by Futerra reveals people are trusting brands to help them recycle more, but 43% feel companies could do more to ease the process. The picture is blurred by market confusion. What is recyclable? What's not?
The challenge for beauty brands that are trying to stay ahead of the market is how to manage day-to-day business and stay on top of the latest in packaging innovations. As sustainability moves to the forefront, brands are seeking packaging partners to deliver the latest breakthroughs.
The APC Packaging Difference
Celebrating its 15th year supplying packaging solutions for global beauty and skin care brands, APC Packaging has the experience to guide beauty brands. The company's roster includes both large and emerging brands including Clinique, GLAMGLOW, Dr. Brandt, Peter Thomas Roth, Kate Somerville, and BeautyStat.
APC matches brands with innovative and sustainable packaging. All projects at APC Packaging go through a thorough process from material selection, design, ease of use and cost effectiveness. The wide-ranging menu includes refillable components, polypropylene, glass, paper, polyethylene and acrylonitrile butadiene styrene. APC Packaging can also incorporate PCR into most products.
APC's innovations go beyond industry standards. The company's most recent breakthroughs include:
Airless Refillable System: Incorporating a recyclable and replaceable inner cartridge, the Airless Refillable System is one of APC Packaging's most sought-out innovations toward sustainable packaging.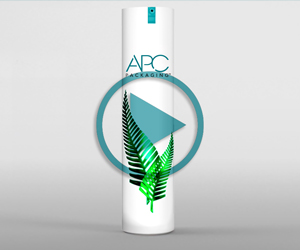 Refillable Jars: APC Packaging's Patented Refillable Jar represents an evolution in sustainable packaging for the skin care industry.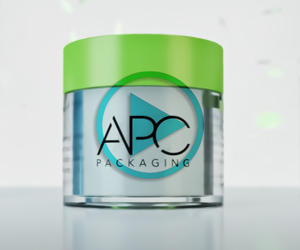 Mono-Material Jar: This true mono-material jar delivers an elegant, yet sustainable option that can be produced in a glossy, matte or clear jar. This 100% PP [polypropylene] jar offers brands both beauty and value while being environmentally friendly.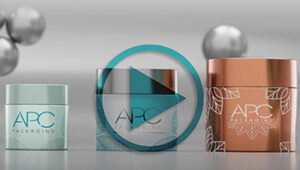 "The white [color] is excellent for 100% PCR," says Robert DiPalma, Executive Director of Global Package Sustainability, Estée Lauder (referring to how it can be challenging to get a white hue with PCR).
Mono-Material System Dropper:  All components, the bulb, collar, pipette, and bottle, are made of polypropylene so they don't need to be separated, and can be recycled as one single unit.  As an extra bonus, each piece can be colored to match branding.
APC is a one-stop solution offering private molds, customized and in-stock beauty packaging, along with engineering, project management, logistics, accounting, sales and marketing—all from its U.S. headquarters.
The company's commitment to the environment starts at its own facility where wastewater is filtered, solar panels are used in the factory that produce 10% of the power required to run production, and an injection cooling system boosts output while reducing the number of defective products. A series of multi-cavity molds allow production to conserve energy and save 10% on raw materials.
With so many questions swirling around sustainability, APC features educational webinars and monthly blogs to keep its brand partners up to date.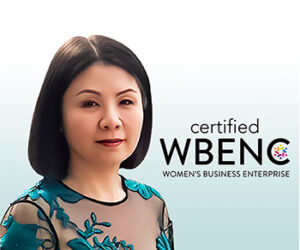 Founded by Chief Executive Officer Lisa Lin, along with her sister, Christina Lin, who serves as President, APC recently achieved the Women's Business Enterprise National Council (WBENC) certification. "It's an honor to be recognized as a certified women-owned business, as women here in the U.S and woman around the world continue to inspire the beauty industry and remain accomplished business leaders globally," says Lisa.
APC Packaging's New Website Spotlights Sustainability, Innovation
APC's refreshed website spotlights advancements in sustainability and innovations, and also serves up an improved UX for brands. It is loaded with new and valuable information.
New content, such as New Innovations, highlight APC's unique packaging solutions.  All Points Covered emphasizes the company's mission, while highlighting the reason why APC is the perfect strategic packaging partner. Sales Process breaks down a brand's customer journey with APC, to clarify expectations for services. These additions increase engagement, enhance communication, and portray APC's value to their brand partners.
"Our new design and format add an extra element to our brands' personality and solidifies our mark in the beauty industry as an innovative and sustainable packaging partner. Our focus has always been our clients, and our website is the first step towards that connection, so we are extremely excited to enhance that experience," says Lisa.
Visit APC's new website apcpackging.com to explore unique sustainable offerings and check out the Sustainable Education link for information on webinars, blogs and more.
Questions & Answers with Lisa Lin, Founder & CEO, APC Packaging
CEW: Why is sustainability important to APC?
Lisa Lin: Sustainability in the beauty industry encompasses every aspect of the supply chain: sourcing, formula, production process as well as product packaging. It's our responsibility at APC, to reinforce how we treat our environment and our universe, to ensure that they are kept beautiful.
CEW: What are your competitive advantages?
LL: Innovation and responsiveness—and we concentrate on our areas of expertise.
APC Packaging has spent the last 15 years perfecting the art of packaging and in doing so we have recognized some key aspects that are very important to our brand as well as beauty brands. The actual idea of what innovation means has been defined by our company and felt throughout our leadership at APC. This results in the patented Airless Refillable System, the patented Refillable Jar JRA series, the elevated design of our Mono-Material GSPP Jar series and now our latest innovation: a patented Mono-Material System Dropper & Bottle.
I also feel that responsiveness is key to a relationship with our clients. Our U.S. and China teams include engineers, project management and logistics. Our China location focuses on QA and QC, and our U.S. headquarters targets sales and customer service. Since we have teams in both locations working together on a daily basis, we are able to provide quick follow ups for samples, quotes and answers to questions.
CEW: Crystal ball time: What does the future look like for the beauty industry? What will be its biggest innovations?
LL: The future looks bright for the industry as well as APC Packaging. We are seeing several brands looking for refillable options such as our Airless Refillable System and our Refillable Jar that not only save the environment by reusing a portion of the package, but can also incorporate PCR into the product.
Our latest GSPP mono-material jar series brings a fresh look at sustainability not only through the use of PCR, but also by maintaining the user experience and the cost structure our clients require.
In Q3 of this year, we are introducing packaging that is recyclable and mono-material as well, while enhancing the user experience and performance expected by Global Brands.
See APC Packaging's new Mono-Material Dropper Series. Since the bulb, cap, pipette, and bottle are all PP, they don't need to be disassembled and can be recycled using Recycle Code 5 as one single unit.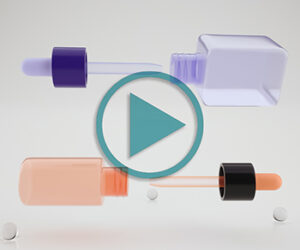 "APC Packaging has been a great partner to us. They offer a great variety of component options at a competitive price as well as offering more and more sustainable options," says Ron Robinson, Founder & CEO of BeautyStat.
For more information on our sustainable offerings, visit: https://apcpackaging.com/sustainability/ or call us at 954-978-4567.
Follow us on social: