In a beauty market previously dominated by color cosmetics, skin care is the segment to watch. According to The NPD Group, in the first quarter of 2019 alone, sales of skin care jumped to $1.4 billion, with continued growth expected for 2020. Statistica estimates 3.5% annual increases through 2023, with the market reaching a predicted $180 billion in global spend by 2024.
In this fast-paced, dynamic business climate, how can marketers keep up? Waiting for sales numbers to come out might be too late. Are there other utilities and resources to stay on the pulse and even ahead of the trends?
Enter Influenster.
Known as a product discovery platform with an impressive collection of 40 million-plus product reviews penned by 6 million-plus members, Influenster has unparalleled access to a wealth of first-party data that can help brands better understand their consumers, what gets them talking and why. That's accomplished through frequent analyses of organic, non-incentivized reviews across color cosmetics, facial and body skin care, hair care and fragrance: 6.5 million reviews in the past year alone. With this deeper understanding of trends across beauty products in prestige, mass and indie retail channels, marketers are equipped with fresh insights to help build their business in the year ahead.
Influenster's community reviews are aligned with current market trends showing sales declines for cosmetics, and growth of skin care: of the 7.9 million skin care reviews on the Influenster platform, 2.1 million were generated in the past year, an increase of 8% vs. 2018. Meanwhile, although color cosmetics drove a slightly higher volume of reviews on Influenster at 2.4 million, the category declined 20% vs. 2018.
Bye Lip Color, Hello Lip Care
Within skin care, there are a number of sub-categories gaining traction, notes Influenster. Reviews of lip care products soared 15% compared to 2018. Brands such as Burt's Bees and Vaseline, which are known for natural formulas and soothing qualities, respectively, were top drivers in this space. With a collective 90,000 reviews in the past year, this demonstrates base business products — vs. new launches — can still create a buzz. Conversely, lipstick reviews declined dramatically by 40%.
Crackdown on Cleansing Routines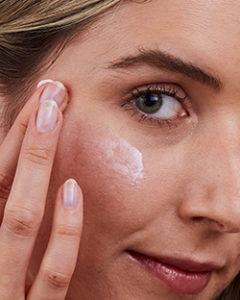 Are the days of dual cleansing, popularized in the K-Beauty craze, behind us? The review data might indicate as much, with reviews for traditional cleansers down 19% year-over-year.
But, simple and effective one-step products are on the rise. One such example is micellar water, which grew 297% in reviews, propelled by a massive influx of reviews for a single product: Garnier Skin Active.
And it's not just do-it-all micellar waters seeing an uptick. Facial scrubs are having a moment with a review increase of 121%, even compared to an increase in 2018, as well. Today's constantly on-the-go consumer, who craves simplification, might also be a factor in the buzz around another top category: facial wipes, up 13%. Wipe reviews are trending up as more companies have developed new technology.
Wait, What About SPF? 
Following the streamlined-beauty-solutions trend, hybrid makeup that fuses SPF and color is emerging. That's one theory on why there has been a decline in reviews of facial sunscreens, which saw a 52% downturn. As more products outside of the sunscreen category begin to include SPF, it's possible consumers are turning to non-traditional options to get UVA/UVB protection.
Body Care Bounces Back
What's more, skin care is moving beyond the neck. In fact, body care products attributed to 8% of the overall skincare review volume in 2019, with lotions and moisturizers specifically driving review volume: 131,000 total reviews in the past year, with year-over-year growth at 140%. Consumers just might be shifting the attention from their faces to their entire body.
Furthermore, Influenster's data reveals there may be market opportunities in niche body care products. As people extend their skin care routines to their body—and with many publicly showing off more skin in social media photos—shoppers seem to be zeroing in on specific issues like cellulite—up 252%—and adornments like tattoos, with tattoo care reviews spiking 549% this year.
Face Masks Are Faltering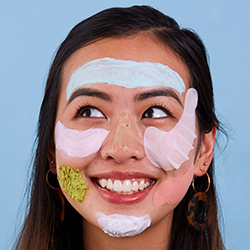 But not even social media and "skintertainment" trends can keep the momentum going for some categories such as facial masks. In 2018, facial masks were reigning with 471,000 reviews that year and a whopping 144% growth. This is quite a contrast compared to 2019. Influenster found face mask reviews in a 44% decline.
This downward trend for face mask review can be attributed to several things. For one, saturation: consumers may simply have too many masks in their stash and are now looking for alternatives such as LED masks or microneedle patches, which boast more serious formulations. But that's not to say masks aren't generating some chatter. Data suggests those masks that are highly reviewed – such as Dr. Brandt Skincare Hydro Biotic Recovery Sleeping Mask, Summer Fridays Jet Lag Mask, and Ahava Hydration Cream Mask – offer specialized benefits like nighttime rejuvenation and travel recovery.
For the most recent 90-days tracked, the below are the top brands and products by review volume and review growth. Volume is driven by mass and indie brands, while growth by indie and prestige.
Review Volume: Brands
1. Neutrogena
2. Dove
3. Clinique
4. Burt's Bees
5. Bath & Body Works
6. Vaseline
7. St. Ives
8. The Ordinary
9. Garnier
10.Olay
Review Volume: Products
1. Burt's Bees Beeswax Lip Balm
2. Laneige Lip Sleeping Mask
3. Vaseline Jelly Cocoa Butter
4. The Ordinary. Hyaluronic Acids 2% + B5
5. St. Ives Naturally Clear Apricot Scrub
6. Bath & Body Works PocketBac Sanitizers
7. Neutrogena Makeup Remover Cleansing Towelettes
8. Eos Organic Lip. Balm Sweet Mint
9. Drunk Elephant Protini Polypeptide Cream
10. Garnier SkinActive Micellar Cleansing Water All-in-1
Review Growth: Brands
1. Blistex
2. eos
3. The Ordinary
4. Burt's Bees
5. Peter Thomas Roth
6. Laneige
7. Olay
8. Vichy Laboratoires
9. Kate Somerville
10. Dr. Brandt Skincare
Review Growth: Products
1. eos Organic Lip Balm Sweet Mint
2. The Ordinary Hyaluronic Acid 2% + B5
3. Vaseline Intensive Care Essential Healing Lotion
4. Vichy Mineral 89 Hyaluronic Acid Face Moisturizer
5. Peter Thomas Roth Water Drench Hyaluronic Cloud Cream
6. Dove Purely Pampering Shea Butter with Warm Vanilla Body Wash
7. Clinique Moisture Surge Eye 96-Hour Hydro-Filler Concentrate
8. Burt's Bees Beeswax Lip Balm
9. The Ordinary. Natural Moisturizing Factors + HA
10. Bite Beauty Agave+ Daytime Vegan Lip Balm
Looking for more data on which categories, brands & products are growing or declining? Contact us at [email protected] to request full trend reports.