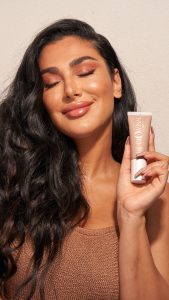 Huda Beauty isn't just about full-face glamour anymore. GLOWISH, the brand's first collection of makeup-skin care hybrids, is set to launch June 1 both online and in-store at Sephora, as well as on HudaBeauty.com. Designed to accentuate – not mask – one's natural skin, GLOWISH bridges the gap between the brand's full-coverage, Instagram-ready product offering, one that helped skyrocket the digitally-native brand to global success in just a few years, and the pared-back, clean-formulated skin care line that launched their third sub-brand, Wishful, in 2020.
Formulated with a minimum of 80 percent naturally-derived and skin-nourishing ingredients, the vegan and cruelty-free collection will debut with two main SKU's: the MULTIDEW Skin Tint, a waterproof sheer-coverage pearly tint, and the Soft Radiance Bronzing Powder, which is launching in five shades to accommodate light to rich skin tones. Two complexion brushes are also included in the range.
In addition to diversifying its complexion offering, GLOWISH also represents Huda Beauty's first holistic approach to sustainability, from ingredient sourcing to both primary and secondary packaging. The collection's star ingredient, red bell pepper extract, is sourced solely from misshapen fruits that are discarded from public consumption. Post-consumer recycled materials are then utilized to create all product tubes and compacts, while all carton material is made with FSC-certified and 100 percent recyclable paper.
Founder and Chairwoman Huda Kattan spoke to CEW Beauty News about how Wishful inspired the ethos behind GLOWISH, the evolution of Huda Beauty's brand identity, and how GLOWISH will develop over time.
BN: When did the idea for GLOWISH start taking shape at Huda Beauty? Was it in direct response to the pared-back beauty routines we've seen during the pandemic?
Huda Kattan: It's been a few years in the making but honestly, the development of Wishful is what really started an unexpected complexion evolution for me. Over the past couple of years, I have felt less inclined to cover-up and rock a cake-face all the time. With Wishful, I quickly realized my skin was living its best life and I started choosing a lighter coverage look some days. Don't get me wrong, I still have full-beat days, but having the confidence to choose my foundation coverage level was so freeing. Through embracing this newly-found freedom I was able to deeply connect and newly inspire my community to do the same. From my own vulnerability came demand from my consumers for makeup that helped them enhance and celebrate their ability and desire to be vulnerable in their own skin. So, GLOWISH was born. It harnesses the effortless weekend vibe of glowing, flawless, healthy-looking skin every day and for everyone.
BN: Who is the target customer for GLOWISH?
HK: The Huda Beauty consumer at-large is effortlessly confident in her skin, embraces her uniqueness and owns it, but like to enhance it. Within that, we have the GLOWISH consumer that is constantly on-the-go, juggling all facets of life and they expect products to perform all day. They still want the high quality and performance which is the bread and butter of any Huda Beauty product. The GLOWISH consumers crave that maximum impact but with a very "less is more" minimal approach.
BN: Are you anticipating cross-over with Huda Beauty and Wishful customers, or do you anticipate that GLOWISH will bring a whole new audience to the brand?
HK: We're expecting a bit of both. Some current customers who appreciate our product quality and performance but just want a lighter coverage foundation/bronzer are going to gravitate towards these products. While that is the case, it also opens up new doors to recruit new consumers who haven't had a chance to experience the quality and performance of our products because they don't identify with full-face. It's tough to find a light-coverage foundation formula like this MULTIDEW Skin Tint that is so natural and glowy but still high-performing and high-quality.
BN: How does the MULTIDEW Skin Tint and Soft Radiance Bronzing Powder differentiate from other products in the same categories? 
HK: The great thing about the GLOWISH product offering is that it comes with the same high-performance qualities of our Huda Beauty products but with the skincare ingredients and ethos/purpose of Wishful. GLOWISH truly serves products unlike any other on the market because they last so long and give you a beautiful and natural, healthy skin-looking finish. The Bronzer and Skin Tint both have Damascus rose oil which is used in some of the Wishful products. This ingredient is known to soothe skin, clarify complexion and lock in moisture to really give you that effortless glow. The products contain naturally-derived ingredients, are vegan and cruelty-free and come in recyclable packaging. I guess what I'm trying to say is these products do everything: they feel good, they look good and they do good. Oh, and they stay-on.
BN: Tell us about your star ingredient, the red bell pepper extract.
HK: I am obsessed with this ingredient and its inclusion in these products could not have come at a more opportune time. When I discovered what it does for the skin, I couldn't stay away from it. Red bell pepper extract is known for its defense against the effects of digital pollution, which we've all gotten way too much of in quarantine. This includes blue light emitted from newer technology which can lead to aging, dark spots and even sleep deprivation. Sourcing vegetables that no one wants to consume as food is also a large part of our sustainability efforts for GLOWISH that we're continuing to focus on.
BN: Does GLOWISH mark the beginning of a shift away from the glamorous brand identity and fuller coverage products that built Huda Beauty? Or will the collections continue to co-exist?
HK: Absolutely not. They will 100% co-exist. Everyone is different and everyone wants different coverage and/or qualities in makeup, especially when it comes to complexion. The beauty consumer has evolved so much, and many don't just stick to one formula or one finish anymore; they like to change it up. I can definitely relate; one day I am looking for a full-coverage full-beat and another day I want the glowy "weekend skin" look that GLOWISH provides. We want to be an inclusive, well-rounded brand that can offer whatever our community is looking for and that starts with an exceptionally diverse assortment of complexion products. GLOWISH is that; our community asked for this finish and we're giving it to them. Skin is personal and we want them to know that we get that, and we're here with a top-notch product that will over deliver for them.
BN: What can you tell us about how the GLOWISH line will develop over time?
HK: We definitely have plans to grow it so it's just a matter of time. Since GLOWISH is our newest baby, we will watch it grow as people use the products and begin sharing their feedback. From that, they may ask us for new, better, different things – we don't know yet – and we will take it from there. We always strive to give people the best formulas for the right price that suits their needs.