With an obsessive fan base for her makeup line, beauty titan Huda Kattan felt responsible to deliver only the very best for in her first skin care product.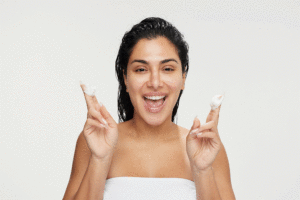 "There was both internal and external pressure that made this launch a challenge," said Huda, a beauty blogger turned cosmetics magnate, from her home base in Dubai. "I'm always hard on myself because I have a really high standard and always want to make my followers happy."
Huda's debut skin care product, Yo Glow Enzyme Scrub, is the first from her new brand Wishful, and hit the market February 4; currently there's a waiting list for the $39 product, demand no doubt fueled by the brand's vast social media following (41M on Instagram alone). Speaking shortly after the launch, Huda said she had to fight the prevailing belief that a color cosmetics brand couldn't win in skin.
"We had a lot of hesitation with stakeholders in the beginning. But when we shared our brand vision and our industry approach, we really shocked people and got them fully on board."
The idea of debuting skin care with an exfoliant was, she concedes, unconventional.
"A lot of people thought it was very strange that I was launching my skin care line with a single scrub. But when you think about it, it makes perfect sense." Ultimately, she wanted to create a product that would most effectively prime skin for everything else to follow.
"It very effectively removes dead skin and dirt that builds up over time and prevents foundation from going on smoothly," she said. The scrub – bromelain enzyme is the key ingredient- is made in a facility in Korea.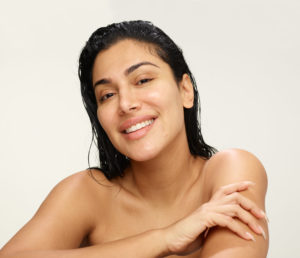 Huda, who launched her beauty brand in 2013, said that while Yo Glow has been in development for more than two years, she has been wanting to segue into skin care "forever."
"Most people don't know this about me, but I think I care more about skin care than makeup. While I started with color, I actually used to post a ton of content online about my DIY skin care hacks and products before I even started on the makeup application process. It's so important for those who love makeup to care equally about their skin for the best results."  Some of her hacks incorporated pineapple, from which the bromelain enzyme is extracted.
"(They) help break down dead skin cells while pineapples are also rich in vitamin C to brighten skin," she said. "I took this with me when I was creating our Yo Glow Enzyme Scrub, which is why the packaging is light yellow."
Ultimately, Huda said that Yo Glow – and all her "big plans" for Wishful to follow, will be for offerings she believes are not already out there.
"I won't create new products if I already feel strongly about an existing product that another brand is doing really well."