Earlier this month Il Makiage launched an initiative to create an online beauty school to provide support for makeup artists impacted by brick and mortar store closures as a result of COVID-19. In less than two weeks, the brand developed an online platform to offer its customers free 45-minute, virtual, one-on-one makeup tutorials with the goal of employing artists online until they can return to their previously held retail jobs. Within a few hours of the announcement, more than 2,000 makeup artists applied for the opportunity, which only has a few hundred slots available.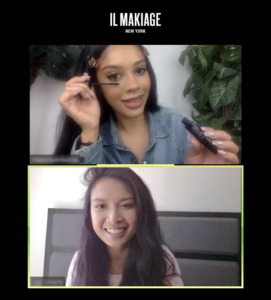 "Due to the overwhelming demand, we had to stop processing new applications for now," said Oran Holtzman, CEO and Co-Founder, Il Makiage. "Our in-house talent team is sorting through all 2,000 applications and will be video interviewing each potential candidate, one-on-one, to make sure the classes will provide the best experience for our customers."
Makeup artists will be paid $25 an hour to host sessions on the soon-to-launch automated scheduling platform, which integrates Zoom video. Once classes start, the brand will begin marketing the program to its user and customer base to sign up for classes.
Il Makiage is backed by L Catterton, and is expected to generate $100 million in sales in 2020.
"When we launched Il Makiage two years ago, we decided to build a digitally native, DTC beauty brand since we truly believed that the beauty category is ready for digital disruption. Of course, we didn't foresee this unprecedented pandemic that accelerated the shift to online, but we happened to be prepared for this challenging time," noted Oran. "We've invested a lot in technology and regardless of the current situation, we generate over 90 percent of our revenue online via IlMakiage.com. Therefore, we have inherently less exposure to retail, and acknowledge how fortunate we are at this moment. As such, we want to help and support the makeup artist and beauty communities. Since the company is profitable, it can carry this expense for the next couple months."