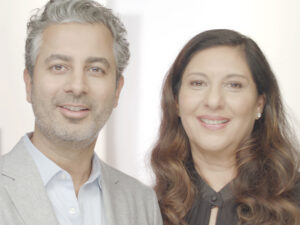 Rooted in traditional Ayurvedic ingredients, Avya Skincare is looking to bring exposure to an underrepresented beauty segment, In-Beauty, a nod to products established from Indian roots. Avya Skincare's founders, Deepika Vyas and Dr. Tanuj Nakra, launched the line last year specifically tapping ancient botanicals with the goal of targeting the most critical skin concerns of melanin-rich skin, which includes pigment irregularity, melasma, age spots and uneven complexion. The anti-inflammatory powers of neem, peony and turmeric are combined with a proprietary technique of microencapsulation that allows these ingredients to become bioavailable to the skin. The line debuted with a five-piece collection priced from $26 to $88, and is available at Amazon and Macys.com, and avyaskincare.com Per industry resources, the self-funded brand's sales revenue is under $1 million. Here, CEW Beauty News spoke to the founders to learn more about the rise of Ayurvedic trends in the beauty and wellness space, the need for skin care that addresses melanin, and the challenges of launching the brand.
Beauty News: Describe "In-Beauty" and why you believe Ayurveda could be the next beauty trend?
Deepika Vyas: I truly believe that In-Beauty, or beauty from India, which incorporates Ayurvedic elements and ingredients as well as other Indian beauty rituals to achieve a balanced skin care routine, is the new K-beauty. We are seeing more and more everyday products—whether it's our turmeric lattes, peony candles or neem body oil—formulated with these nutrient-rich botanicals, medicinal herbs and healing spices that have been used for thousands of years. What these ancient Ayurvedic ingredients have in common are their anti-inflammatory properties that can be used to treat a variety of conditions while also helping the body achieve balance. With the wisdom of the past combined with today's latest advances in molecular science, the possibilities with Ayurveda in the cosmetics industry are truly endless.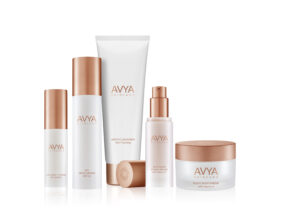 BN: Talk about the importance of having skin care products that address melanin.
Dr. Tanuj Nakra: Melanin, a protective pigment, serves as an umbrella over the nucleus to absorb UV light, block UV radiation and protect DNA from damage. In short, precious melanin plays an instrumental role in keeping cells healthy and helping to prevent skin cancer. All skin types found on the Fitzpatrick Scale are susceptible to experiencing melanin issues. Whereas other skin care lines have not focused on melanin in their lines, it has been at the core of Avya Skincare since the beginning with a no compromise approach. So many diseases and skin issues–acne, hyperpigmentation, melasma–are a result from inflammatory issues. Avya's skin care formulations address inflammation while it also works hard to protect melanin. We are thrilled to combine ancient Ayurvedic ingredients known for their anti-inflammatory properties and combine them with the latest advances in molecular science to provide visible results that go beyond the surface.
BN: Who is your target audience?
TN: Ayva Skincare is optimized to support the health of melanin for all skin tones, and suitable for all skin types and conditions, even for people who have sensitive skin conditions, are experiencing inflammation or have a compromised skin barrier. The target consumer enjoys luxury skin care products yet desires medical-grade efficacy with results provided with the advanced Ayurvedic formulations.
BN: What has been your biggest challenges launching the brand?
DV: Developing the products just as we had envisioned them to be and finding the right chemists and manufacturers who could help us achieve this vision and deliver on the formulations was a learning process with a few learning curves along the way. After a four-year journey formulating the products, working with three manufacturers, and testing hundreds of samples, we are so happy and proud with the result. Being one of the first cosmetic companies to incorporate the microencapsulation technology to stabilize the product formulations and deliver delivery deeper into the skin, which is a technology previously used in the pharmaceutical industry, was extremely exciting for us and a huge milestone in achieving our unique formulas.
TN: Getting our brand messaging right was a long road, but we are so happy with where we are today. It took some time for us to sharpen our message, effectively communicate and share who we are as a brand. A little trial and error in the beginning, but the journey has helped us figure out who we are as a company.
BN: What advice do you have for someone starting a brand?
DV: The road to entrepreneurship is a long one, so be prepared for it. It can take up to five years before you can begin to break even, so don't go into it just for the money, it must come from a place of passion and love for what you do. It is a journey, but the mistakes are just as important as the wins because it helps us learn, evolve and grow. I would also recommend that entrepreneurs starting in the beauty industry really need to have a good understanding of the digital ecosystem and all the resources that are available today. Lastly, it's important to be open-minded, nimble and understand that you need to pivot when things are not working.
TN: Focus on the integrity and quality of your product first and foremost. It's so important to get the formulations right before you launch. I'm a firm believer that you should never cut corners in product development. That's the upside of being an indie brand is that you have no one to answer to but yourself. You can ensure the formulations, packaging and product performance are perfect, and at the end of the day, you are proud to stand behind your finished products.