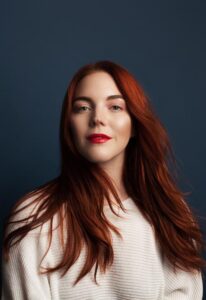 After several years as a fashion and media personality and influencer, Allison McNamara decided it was time for a new venture – entrepreneurism. In 2018, she launched Mara, a clean, algae-infused line of skin care products inspired by the ocean with just one SKU, Universal Face Oil ($72). The product quickly took over social media feeds with its captivating blue glass bottle and superfood-packed formula that promises healthy, glowing skin. Now, the self-funded brand is sold across the U.S. at themarabeauty.com, Credo Beauty, The Detox Market, Amazon and Bluemercury; internationally, it's available at Cult Beauty. Since Mara's debut, four more products have been added to the lineup: Algae Retinol Face Oil ($120), Algae Enzyme Cleansing Oil ($58), Sea Vitamin C Sérum ($96) and Sea Vitamin C Glow powder supplement ($38). Here, Allison, who is currently balancing dual roles of beauty brand founder and Editorial Director of Mane Addicts, spoke to CEW Beauty News about creating Mara (which according to industry sources generates under $5 million in sales), mentors who have inspired her, and hints about what we can expect to see next from the brand.
Allison McNamara: Describe the white space were you looking to fill with this brand.
Beauty News: As a beauty editor and digital influencer, I was always on the hunt for clean, active and effective skin care products that were sustainably made and ethically-sourced, so I made my own. Back when we started formulating in 2015, most face oils were using a handful of the same ingredients and base oils, and none of them were delivering the results I was looking for. We spent two years crafting our proprietary algae blend that is used throughout the line and then I challenged our team to create an unexpected ingredient profile for the main base. We landed on moringa, an ingredient I found deep in research, that was a huge point of difference from other face oils on the market. It's the most nutrient dense plant on Earth—92 nutrients, 46 antioxidants and vitamins A, B, C, D, E and F—and is incredibly sustainable. Moringa is the main ingredient in Universal Face Oil, and also a key ingredient throughout the line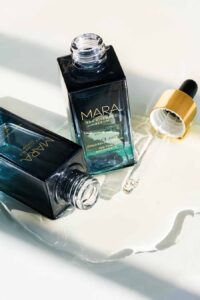 BN: How has mentorship played a role throughout your career leading up to the launch of Mara?
AM: I have worked for so many incredible female entrepreneurs and all of them are so different. I've taken learnings from each of them along the way and am grateful for all the lessons learned. I got my start at WhoWhatWear where I worked for Katherine Power and Hilary Kerr—I was always so inspired by Katherine's leadership and Hilary's editorial acumen. I worked for Lisa Sugar at Popsugar for nearly six years, she believed in my talent as an on-camera host from the very beginning and opened up doors I had only dreamed of, like co-hosting the Oscars pre-show for ABC. After that, Christene Barberich at Refinery 29 gave me their platform to delve into more investigative beauty journalism with my series, Skin Deep, that I created, hosted and produced. Because of these opportunities, I was able to build a platform on social media which definitely helped with launching Mara. And currently, I have had the privilege of working with Jen Atkin for the past three years, overseeing her editorial site, Mane Addicts. She has helped me in more ways than I can even list — just being in her orbit you learn so much on how to juggle countless jobs and responsibilities with grace and humor. She's so calm all the time and she gives really good advice. My dad [former Global President of Neutrogena, Michael McNamara] is also a big mentor for me—I am lucky to have someone who has decades of building big beauty business in my corner. It was his belief in me plus the idea for Mara that ultimately led me taking a big leap of faith to do it.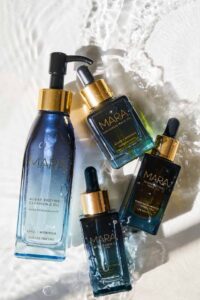 BN: How are you raising awareness for Mara?
AM: I was lucky to have a social media presence prior to launching the brand, and a decade's worth of contacts ranging from publicists and beauty editors to the top glam teams in the world. We raised awareness the old-fashioned way, word of mouth and sending people product, hoping they would fall in love with it and share. We just started digital marketing ads in Q4 of 2020, so everything prior to that was totally organic. We have been lucky to snag organic shout outs by Chrissy Teigen, Olivia Munn, Addison Rae and Molly Sims, to name a few, which rapidly increased awareness last year. We continue to build relationships with new influencers and are active daily on all social media channels.
BN: How many staff members do you employ?
AM: We have two members full time on the brand and loads of contractors ranging from public relations to manufacturers, product development and graphic design.
BN: Can you share any future plans for the brand?
AM: In March we will reveal our first product that is not oil-based. I can't say much more than that for now, but I am incredibly excited to share the launch with our fans and very proud of the formula, which stays true to all of the Mara ideals. We also took our first dip into the wellness category last year with our Sea Vitamin C Glow supplement, and plan to build out this category more this year.
BN: Who is your target audience?
AM: Anyone who wants to have great, healthy-looking skin. All ages, all genders, all ethnicities.
BN: What advice do you have for someone starting a brand?
AM: The amount of work that goes into launching a brand on your own is more than I could have ever imagined. Luckily, I am so passionate about what I do that it doesn't feel like work. That being said, make sure you are so obsessed with your idea/brand before you launch and you can't imagine life without it because it will become your life. Make sure to refine the brand over and over again — it has to be unique, have a distinct POV and say or offer something new or envision something the customer is used to in a new way. Look at the competition but don't become obsessed by it — what you give attention to has power. Don't copy other people, have enough faith in yourself and your idea to create something original.