In 2007, Jean Seo opened a clean beauty boutique, Vert on Abbot Kinney, followed by another store in 2010, Evolue, located in Beverly Hills, CA. While her stores carried many luxury brands, she identified a white space in clean beauty: effective anti-aging products.
A UCLA graduate with a master's degree in Library Science, Jean utilized her skillset to research the cause of aging skin, as well as the best ingredients and formulas.
"I discovered that our skin ages due to a depletion of natural moisturizing factors. We droop because of loss of collagen and elastin, and wrinkle because of sodium hyaluronate or sodium-PCA depletion," she said. "I also learned that skin thins and becomes irritated because most products and procedures designed to get rid of dead and damaged skin cells are too harsh. Armed with this knowledge, I went on a mission to source the cleanest ingredients around the world that replace fatty acids, moisture, oils, collagen, and elastin that we lose with age. For example, I would go to Switzerland to gather the best lipids, I flew overnight to Madrid and back to ensure freshness and quality of the collagen, and I buy milk from New Zealand that is only auctioned off twice a year." Currently, all of her travels are limited to virtual  meetings and Zoom auctions.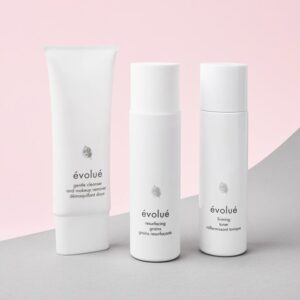 In 2015, she launched her anti-aging line Evolue Skincare, a range priced between $40 and $400. The brand has generated more than $3 million in sales since its debut, and its hero product, Super Oil Face Serum, has sold 300,000 units since launch.  In 2016, she added a sister brand, Lue by Jean Seo, an accessibly-priced line with $15 to $35 price points comprised of organic skin care basics targeting Gen-Zers with issues such as acne and oily skin. Lue currently boasts a 70 percent repurchase rate. Both brands live under the parent company, Evolue.
Over the past three months, Jean says her B2C sales channels grew by almost 155 percent.
"2020 was a year tinted with negative disruptions. However, to my surprise it was Evolue's best year in terms of milestones and achievements," she said. "We were recently awarded the prestigious President's E Award 2020. This award, presented by the U.S. President of Commerce, rewards firms that have made significant contributions to the expansion of the export trade of the United States."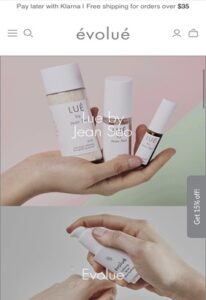 Currently the brand's 20 SKUs are available in several worldwide locations including Costco in the U.S., St. Regis in Mexico and Harvey Nichols in Asia.
To keep up with her company's growth, Jean employs a staff of 15,  and recently hired a full-time marketing team, which she said gave second life to the Evolue brand.
"Last month the team relaunched our website and Evolue's PR strategy has always relied on word of mouth and referrals," she explained. "The website has thousands of organic backlinks on blogs and high-authority websites like Instyle or Vogue. Our current web strategy is also focusing on boosting organic growth through paid media and social media sponsorships."
After securing the company's first round of private investment in 2014, Jean said the privately-owned brand is not looking for any more investors and is ready to spread its wing and soar.
"I am hesitant to open the company up for more investments. Many private equity firms have approached me and told me I only have to go to events, shows, and have expensive dinners with celebrities while they take over logistics and outsource making products to private labs," she said. "I personally believe my most important jobs are customer service and making products. I prefer being a lab mouse."