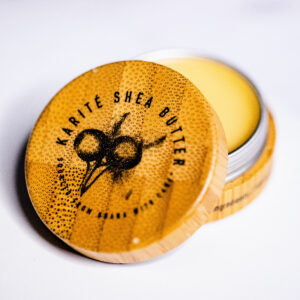 All shea butter products are not created equal — that's the sentiment echoed by three sisters from Ghana, West Africa which led them to launch their skin care brand, Karité, in February 2017. With diverse backgrounds that include dermatology, marketing, sales, law, and economics, Naana Boakye, M.D., Abena Slowe, and Akua Okunseinde set out to recreate the traditional formulas they knew and used to in Africa. The resulting formulations feature raw, unrefined shea butter and palm oil sustainably sourced directly from Ghana (in contrast to the highly processed, refined products in the space.) Karité products are formulated with 30 percent shea butter, one of the highest concentrations on the market.
"Shea trees are native to Ghana and West Africa, and they thrive with minimal water and without the need for fertilizer or pesticides. No trees are destroyed in the harvesting process, and once the fruit is picked it grows back season after season," said Abena. "We also work with women-led collectives in Ghana which gives them the opportunity to support their families and communities through the natural resources that surround them. Additionally, our family's palm oil factory in Ghana generates its own electricity so it is 'off the grid.' Our palm trees live just a few miles from the factory so transportation-related carbon emissions are minimal. We also oversee all oil sourcing so we know our production process prevents deforestation or harm to animals."
The collection currently includes three SKUs: Baume à Lèvres Lip Balm ($25), Hand Cream ($36) and Hydrating Body Cream 9 ($46). In addition to shea butter and palm oil, the products feature a multitude of high-quality natural ingredients such as coconut oil, rooibos leaf extract, sunflower seed oil and rosemary extract. Co-founder Dr. Boakye is a top-ranked, board-certified Dermatologist in New Jersey who utilized her expertise to spearhead the brand's ingredient curation and formulation. When it comes to the packaging, everything is 100 percent recyclable, and bamboo is used for all of the caps because this sustainable crop grows quickly without the need for fertilizer or much water.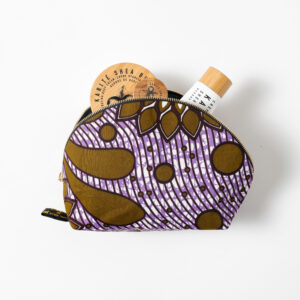 Currently, Karité is sold direct-to-consumer via the brand's website, and in about 40 retailers across the United States and Canada, including The Detox Market, Thirteen Lune, and Shen Beauty. As a small brand, the three sisters rely mostly on partnerships, social media marketing and blog content creation.
Recently, Karité's offerings expanded by branching into accessories with a limited-edition Carryall Bag designed and handmade in Accra, Ghana, in collaboration with luxury menswear designer Atto Tetteh.
"Atto Tetteh passionately tells stories through his designs which are known for bold color, stripes and structure," said Akua. "The fabric we collectively chose for our Carryall Bag was purchased at the famous Makola Market in the heart of Accra. The purchase of the fabric directly supports the women vendors in the market, their families and the surrounding community. This multifunctional Carryall can be used as a makeup bag, Dopp kit, clutch or pouch within a large tote/diaper bag/overnight bag. And fun fact: this bag fits all three Karité products perfectly."