Irene Forte didn't set out to become a beauty entrepreneur, but her path to founding her eponymously named skin care brand has set her apart in the crowded category.
"I'm a hospitality girl turned skin care expert," joked Irene, who grew up working in her family's business—Rocco Forte Hotels. When Irene couldn't find a beauty line that fit her vision for the hotel's spas, she created her own Mediterranean diet-inspired range featuring ingredients from her family's organic farm in Sicily.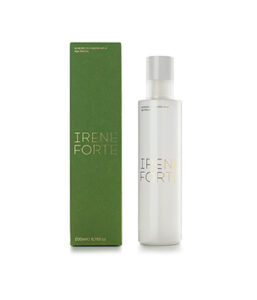 Launched in the U.K. in 2018, Irene is expanding stateside with her 29-sku range, priced between $42 and $343 at Nordstrom. Additionally, in the U.S., Irene Forte Skincare is available on its own newly launched website (Ireneforteskincare.com), as well as Net-A-Porter, Shen Beauty, and with a pipeline of other retailers in the works. The U.S. market is expected to achieve as much as one-third of the company's sales. "I think Italian-made products have a great image with American consumers," she said. "We're excited to engage directly with our American audience."
Unlike many founders who get into the beauty game, Irene had the foresight to team up with a scientist to properly formulate the range. "I needed a brilliant scientific mind to help me formulate—I came across Dr. Francesca Ferri who has been formulating skin care for over 35 years," Irene said.
Dr. Ferri is known for using an organic cosmetics matrix to treat dermatological conditions, including harnessing the benefits of Mahonia Aquifolium (holly-leaved berberry) to treat psoriasis, along with pioneering the process to extract resveratrol from red grapes to address psoriasis and dermatitis.
The duo worked for three years on formulas, testing them out with the professionals in the Rocco Forte spas, a discerning group that helped tweak the line.
During the formulation process, it was critical to Irene that the products remain effective, yet gentle. The lab-created fragrances (versus essential oils used by many natural brands) were screened for 26-known allergens and all facial items were clinically tested for sensitive skin. "We are plant-based, intelligent skincare for all skin," said Irene.
Her original plan was to limit distribution to her family's spas, but a global exclusive with Net-A-Porter offered retail experience – and a huge benefit when COVID-19 struck and closed spas. "We lost the spas for a year and a half, and started to diversify," she explained. During that time, she left her role at the hotel chain to focus on growing the skin care line. As a result, her ecommerce sales soared three times over the year before.
Irene admits the transition to retail comes with hurdles. "I was naïve, I made a lot of mistakes and I am still making mistakes," she said referencing an early issue with product lids. "I had to manually adjust 5,000 lids because we forgot to topcoat our initial lids to keep the paint from coming off. There are lots of stories that are funny—now."
What she has on her side, she added, is a brand focused on organic ingredients and with sustainability in its DNA. When she first launched, her minimum orders stymied her from utilizing some of the more eco-friendly packaging she wanted to incorporate into the line. The line now features more glass and refillable product containers, among other eco-friendly moves the company is making to double down on sustainability.
While the line is plant-based, Irene is in tune with the confusion over natural and clean in the beauty industry, but notes that natural does not always mean sensitive. "I'm not totally for 100 percent natural because I think natural is less predictable and can be reactive on skin," she said. "Everyone wants natural, but they want it science–backed."
Over the next year, Irene has nine products slated to launch, a higher number than usual as launches were on pause during COVID. These new products include a Triple Level Hyaluronic Serum, a Pistachio Face Oil with Phytomelatonin, and an Olive Eye Cream with a Penta-Phyto Complex, and over the next few years, body care will play an increasing role in the product portfolio. Current bestsellers include Hibiscus Serum, Hibiscus Night Cream and Prickly Pear Face Cream- known as the Myoxinol regime. In clinical trials, this regime delivers visible wrinkle reductions that become more and more noticeable the longer the products are used.
The brand's Pistachio Face Mask a finalist in in this year's CEW Beauty Creators Awards. To see the full list of 2021 finalists, click here to visit the Product Finalists page.