Irene Forte is the founder of Irene Forte Skincare, a prestige beauty brand that launched in 2018 and aims to reflect her Italian heritage using ingredients from an organic farm based in Sicily. Irene created the line to fulfill the needs of her family's business, Rocco Forte Hotels; the farm is home to Verdura Resort, a property owned by the luxury hotel chain. Irene first visited Sicily in 2003, and when the resort and farm opened in 2009, she devoted a year to working there, falling in love with the people, culture, food, and natural spirit of the island. Here, we caught up with Irene to learn more about the inspiration behind developing a skin care line, her brand's point of difference, and how she's working with content creators to publicize product results.
CEW Beauty News: Tell us a bit about your brand.
Irene Forte: I launched the brand about two and a half years ago. It was initially intended for my family's business, which is a hotel chain. I'd been working there for almost a decade running HR and learning and development. That led me to doing wellness for our staff. Then I thought about also doing wellness for our guests. I started looking after the spas in addition to my job and noticed we were using a lot of different brands. I wanted to create a unified thread, so I began looking for an Italian brand, because I'm Italian and our hotels are predominantly based in Italy. I was looking for something natural that was also backed by science, but I couldn't find the right brand. So, I had the crazy idea to do it myself. We have an organic farm in Sicily, which I thought would be a wonderful base, and I set about trying to find an Italian lab. After meeting with several of them, I came across one in Trento run by a pioneer in formulating with an organic cosmetic matrix. It took us three years to formulate, test, and launch the products. We launched with 26 items—if I could go back I definitely wouldn't do that again. The products are certified vegan, clinically proven, and clinically approved for sensitive skin because unlike a lot of natural brands we didn't go down the route of essential oils. It was a brand that I built from the start with sustainability as one of my key pillars. We are also about to be B Corp certified.
BN: What was the most valuable lesson learned in creating your own brand?
IF: There are challenges every day so what you learn is how to be resilient, how to pivot, and how to be ready to change your model. You can't be too pigheaded and too fixated on things being a certain way. You have to learn by doing.
BN: What is your brand's point of difference?
IF: It's a true natural brand but with high science. In other words, it is natural skin care made better by the guidance of science. There are brands that do natural incredibly well and brands that do high science incredibly well. But there's a very gap in there, that's what we're trying to fill.
BN: What is your distribution?
IF: We're currently at 35 retailers predominantly in the U.K., Europe and now in the U.S. There, we're in Nordstrom and Amazon Luxury Stores. We're about to launch at Bergdorf Goodman. We're also in Shen Beauty in Brooklyn, New York. We are launching at C.O. Bigelow soon, as well. Next up is the West Coast.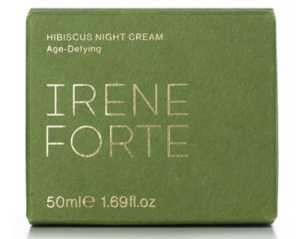 BN: What are your goals for the coming year?
IF: I launched my brand just as COVID hit, so it's exciting to have secured this retail distribution. We created new refillable packaging this month. We've invested heavily in clinical and consumer trials and have achieved great results. So now it's about taking the brand to the next stage and starting to become a recognized brand for sustainability and incredible performance. We've also got three new products launching in 2022, a Triple Level Hyaluronic Serum, a Pomegranate Hand Cream and an Olive Eye Cream.
BN: How is the brand funded?
IF: I funded it myself initially. During the first lockdown I managed to close a raise. I have one individual investor, an angel investor, who founded an advertising agency that was sold, but he didn't want to retire. So, he invested $5 million in my brand to use over the next five years.
BN: How are you marketing the brand?
IF: We have great PR in the U.K. and U.S. We're also working with a digital agency to run campaigns with creators, rather than influencers. The first campaign is around our Hibiscus Night Cream, which is our top-selling product. The results from our consumer trials were just astounding; people looked years younger in just 10 days. Now we've got creators doing the 10-day trial; they've been briefed to share content over the 10 days. That's our first campaign.
We have a CRM program, and email newsletters, as well. We're still a very small team, so we're trying to do as much as possible as quickly as possible, but those are the key things other than SEO and Google and social ads.