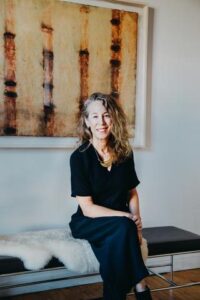 With the goal of producing luxury green formulations while providing economic independence to the Berber women of Morocco, Kahina Giving Beauty is more than just a beautifully packaged beauty brand. Founded by Katharine L'Heureux, who's experience includes building luxury sustainable businesses, the concept for Kahina Giving Beauty was ideated after Katharine was introduced to argan oil while on vacation in Morocco.
"After experiencing its benefits on my own skin and learning the story of its unique production methods, I fell in love with this simple, organic ingredient and decided to introduce it to the U.S.," she explained. "Following several subsequent trips to Morocco to source the highest quality oil, I discovered a village of 100 women creating small batch, artisanal argan oil high in the Anti-Atlas Mountains."
It can take one woman up to eight hours to crack nuts for one liter of oil. In collaboration with cooperatives and local NGOs (non-government organizations), Kahina Giving Beauty donates one percent of its proceeds towards support local educational, environmental, agricultural, and clean water initiatives, and pays fair wages to the women. "For these women, the hard work of extracting argan oil offers them their only means of financial and social independence," said Katherine. "While many brands connect themselves with charitable organizations, Kahina has philanthropy at its core."
Sustainability is also a core brand value. The brand's packaging is created from 100 percent recycled paper and the bottles are made from recyclable violet glass. Its natural and organic ingredients are also ethically sourced.
Katharine and her husband collaborated with an experienced chemist to develop Kahina Giving Beauty in 2009 with just four products, using the argan oil, which has been certified Fair Trade and Organic by Ecocert. Today, the lineup consists of 27 skin and body care SKU'S as well as a candle, which are available at Net-a-Porter, The Detox Market, and kahina-givingbeauty.com. An initial investment of $40,000 helped get the company on its feet. Currently, the business is self-sustaining and isn't seeking outside investment.
Here, Katharine spoke to CEW Beauty News about the brand's philanthropic mission, its biggest challenges and passing the torch onto her daughter.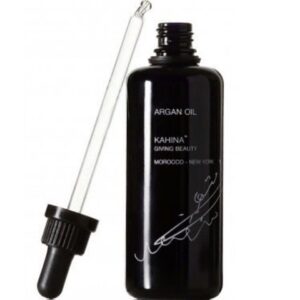 Beauty News: What difference in the market were you looking to make with the launch of this brand?
Katharne L'Heureux: I had been searching for high-performing natural skin care that offered an experience similar to the traditional luxury brands that I had been using. While there were a couple of honorable brands that stood out at that time, such as Dr. Hauschka and Ren, natural skin care was mostly relegated to the shelves of health food stores and was not considered luxury. Too often, the scents were considered hippy-ish and preservative methods were unstable. As for traditional skin care, some of the ingredients used were potentially harmful and its production was a major cause of environmental degradation and the exploitation of women and farmers around the world. I also felt the marketing was not inclusive and played on women's insecurities. I wanted to offer a better way of doing things – natural skin care that was not harmful to consumers health, was sensitively produced, and spoke intelligently to women.
BN: Who is your target audience?
KL: Our skin care range is ideal for anyone with dry and/or sensitive skin, but our primary audience is women aged 35 and older.
BN: How are you raising awareness?
KL: Although we have been operating for more than 10 years, we still consider ourselves a discovery brand. We believe in the power of word of mouth. By creating consistently excellent products and providing superior customer service, we are continually growing our loyal clientele. Our reviews are our most powerful sales driver.
BN: How has your business been impacted by current events?
KL: We had begun to rethink our brick-and-mortar retail strategy prior to the pandemic to focus on a select few valued retail partnerships in the U.S., while widening our international distribution and strengthening our own website. As a result, our business has not been negatively impacted by the pandemic. Our marketing messages have always been inclusive, and we rarely use models of any kind, focusing instead on the indigenous women of Morocco who work to provide our precious raw materials.
BN: What has been your biggest challenge(s) launching the brand?
KL: When we started, the biggest challenge was to convince retailers and consumers that organic products were synonymous with luxury. Now that that belief is widely accepted, we face the opposite challenge of an oversaturated market for natural and organic cosmetics. It has become hard to break through the noise in the space, and to compete with the deep pockets now participating.
BN: Can you share future plans? 
KL: We recently launched a new Moroccan Beldi soap with argan oil. The traditional Beldi soaps are one of our most popular products and are especially near and dear to my heart because they truly capture the traditional Moroccan Hammam experience – a ritual for cleansing the body. For me, the Hammam is the ultimate expression of the beloved Mocorccan beauty rituals that I wanted so much to share with people around the world.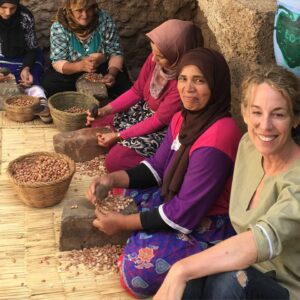 BN: What are your proudest accomplishments?
KL: Every new product we launch is very carefully considered, as we are focused not only on sustainability but also on our giving back mission. We want to leave a lighter footprint while continuing our philanthropic mission to help the Berber community. We have been able to create real impact with our social initiatives in Morocco. The women of the small village in Morocco where we source our oil now have electricity and running water in their homes, which they didn't have before Kahina began sourcing their oils. We have provided funding for the room and board for girls in rural Morocco so they can attend school in the cities, allowing them to continue their education beyond the third grade. We have planted trees for community-run nurseries, allowing for economic opportunities in impoverished areas in rural Morocco. These are just a few of the initiatives we have enacted in the past 10 years.
BN: What are you looking forward to with the business?
KL: Being a family-owned and operated business allows us to create products and programs that we honestly believe in. My 27-year-old daughter has taken over much of the day-to-day operation of the company, and I am looking forward to expanding her role in 2021. I am thrilled to be able to work closely with her. Really, I simply hope to continue on the path that we've been on!
BN: What advice do you have for someone starting a brand?
KL: Come up with a unique point of view, communicate it clearly, and work tirelessly.