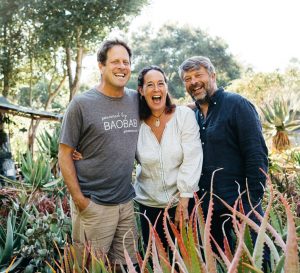 With its brand positioning of "Rewilding Your Microbiome," Kaibae Beauty & Wellness is looking to preserve biodiversity, not just of the planet, but also for the skin by harnessing the power of wild plants to support good bacteria. Launched two years ago by Dr. Luc Maes; his wife, Barbara Berger Maes; and Thomas Cole, the self-funded line includes supplements and skin care products bolstered by what the brand refers to as "lost crops" with a special focus on the baobab tree, which grows wild throughout the African Savanna.
"About 10 years ago I became passionate about baobab," explained Dr. Luc. "First for its nutritional and skin care value, but then I came to learn that it was underutilized and undervalued for its benefits, and it grows in abundance where poverty is widespread. We saw the economic impact the ingredient could make for people in Ghana as well as the ability to strengthen biodiversity and the ecosystem."
Kaibae, which means, "Hello, how are you? Are you well?" in Kusaal, the language spoken by the company's harvesting partners in Ghana, launched two divisions: Beauty & Wellness and Ingredients.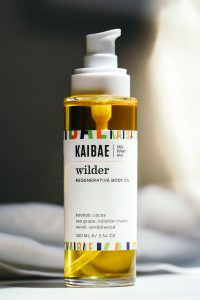 It's Beauty & Wellness department distributes products such as Microbiome Mist ($68), which aims to support natural microbiome balance with wild plant polyphenols, hydrating prebiotics and postbiotic peptides; Face Oil with Lost Crops Complex ($84), which is designed to improve skin barrier health and skin microbiome balance with baobab seed oil (African Savanna), cacay seed oil (Colombian Amazon) and kappaphycus seaweed extract (Zanzibar); Wilder Beauty Oil ($72), which is meant to soften, tone and bring skin closer to its native state using baobab, kalahari melon (African Savanna), cacay seed oil, seagrape (Asian Pacific) and jojoba (Sonoran Desert); and, baobab powder ($26), a naturally sweet and tangy superfood rich in prebiotic fiber, vitamin C, polyphenols, calcium, magnesium and potassium that's is wild harvested in direct partnership in Northern Ghana. A wellness tea ($17), sets of soap on a rope ($24-$44) and a gut/skin supplement ($68) round out the line.
"What's unique about our brand is that we feel that skin needs to be addressed from within and topically. We're learning that living in a modern and urban environment has caused a loss of diversity in the skin and gut microbiome, greatly accelerating skin aging and conditions such as eczema and acne. So, we've developed products that aim to rewild or replenish what we've lost living separate from nature," said Dr. Luc. "We're aiming to be the Patagonia for health and beauty."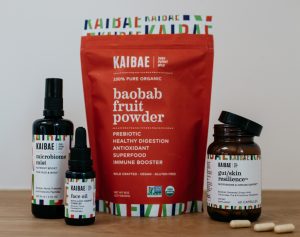 Kaibae's Ingredients arm supplies manufacturers and CPGS in food, beverage and beauty with baobab oil, powder, tea, seed meal and other wild African ingredients. During the pandemic, its ingredient sales declined but its direct-to-consumer sales soared.
"Prior to the pandemic, our baobab ingredient sales were over 60 percent of our revenue. While many of the innovation projects came to a halt in Spring 2020, those innovations and new manufacturer and CPG relationships have picked back up again," said Barbara. "On the retail side, with the pandemic we saw an immediate spike nearly tripling our Kaibae Beauty & Wellness line on e-commerce.  We attribute this to the fact that people were quickly focused on self-care and immune health for which baobab is one of the best ingredients to improve resilience due to its high prebiotic, polyphenols and vitamin C content. Thus far, in 2021, we have doubled our 2020 Amazon sales reinforcing consumers attention on baobab and the continued focus on microbiome wellness, from gut to skin, with immune health."
To promote the brand, the founders participate in podcasts that focus on sustainability, agriculture or regenerative practices for wild harvested ingredients. But as a small business, they mostly rely on word of mouth and public relations.
When asked about the potential extinction of baobab trees as a result of habitat loss and climate change, Dr Luc said, "I think any tree is endangered. We work with local communities to become stewards of their ecosystem. By adding economic value to these trees, we can preserve them. Do we lose them to deforestation? Yes. If there's no recurring value attached to them, then we will be losing those trees but the whole premise of Kaibae is to identify these wild plants and find ways to preserve them."