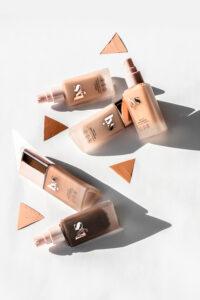 LYS Beauty is the first clean cosmetics brand founded by a woman of color available at Sephora. Tisha Thompson, Founder and CEO of LYS Beauty, is a beauty industry veteran whose mission is to redefine beauty standards and make clean beauty accessible for all skin tones, skin types and textures. Her line's concept is to maximize performance with ingredient-rich, vegan formulas at affordable prices. The collection includes a serum foundation; primer with niacinamide and AHA; a translucent setting powder; a matte bronzer; a satin matte cream blush; a mascara, brushes and more. Here, CEW Beauty News caught up with Tisha to talk about her new line, which launched this month.
Beauty News: Describe the brand's point of difference.
Tisha Thompson: LYS Beauty is truly at the intersection of clean ingredients, high-performance products and wide shade ranges, which has been a white space in the industry for quite a while. In my 15 years' experience, I have seen a growing demand for products that give the unmatched vibrancy and color payoff that we all want, while simultaneously tending to various skincare concerns, like hyperpigmentation, visible signs of aging, blemishes, uneven texture, etc. I built this line to give everyone an opportunity to access clean, affordable products that cater to all skin tones so that people who have been overlooked in this space can finally find beauty solutions that fit their needs. From the first product on, we will never compromise on: cruelty-free practices, uber-clean formulations, vegan lifestyle, non-conformity, accessibility and plant-based ingredients.
BN: Talk about the brand's aesthetic.
TT: I truly believe giving your skin what it needs is a luxury we all deserve. While the formulas take center stage, I wanted the packaging to reflect just how luxurious these products are. For many of us, our beauty routines are a small piece of our day dedicated to ourselves and I wanted customers to get excited about grabbing the components and packaging. Additionally, I add the Delta symbol (which means change) throughout packaging, marketing and visual elements to reinforce our brand messaging that at any given moment, you can positively change the relationship you have with yourself. I wanted our packaging to reflect our mission and I'm excited to continue innovating in this area.
BN: Who is your target audience?
TT: When it comes to clean beauty, you're never too young or too old to start promoting a healthier-looking complexion. That said, LYS Beauty truly speaks to today's highly diverse, evolving beauty consumer who no longer wants to compromise their skin health for performance. Our ingredient-savvy demographic falls within the 22 to 45-year-old age range and is focused on achieving overall skin health.
BN: How are you raising awareness?
TT: Social media is an incredible tool for getting real-time feedback from your consumer. Since LYS is launching this month, social media has been integral in building general brand awareness and brand affinity prior to launch. Additionally, we are launching various influencer marketing and traditional media strategies to ensure proper education around our products. As the brand continues to grow, we want to become a destination for consumers to learn more about their skin's individual needs and the ingredients that can help them reveal a healthier-looking complexion.
BN: What kind of special considerations did you take into account when developing the line?
TT: Launching a brand that aligned with my personal beliefs of clean, high-performance products was imperative. In addition to ensuring each product expands evenly across each shade category, I took a hard look at the most troublesome skin care concerns and wanted to find ways to target those within each formula. I have taken the top consumer feedback throughout my career and relayed that to the lab to create skin-first products to  help address concerns, like blemishes, visible signs of aging, hyperpigmentation, excess oil and uneven texture and tone.
BN: Who is funding the brand?
TT: I personally funded the brand, alongside angel investors, who are strategic partners in leveraging and supporting our infrastructure to meet the demands of our powerhouse exclusive retailer, Sephora.
BN: How has your business been impacted by current events?
TT: Launching LYS during the current climate presented challenges from operating fully remote to pivoting key launch strategies. However, launching during the beauty industry's cultural reset has allowed us to gather the most pertinent wants and needs of the beauty consumer to ensure we are filling gaps in the market where there is a demand. Luckily, the beauty industry thrives digitally and there are many ways to connect with your audience through social media, blogs, virtual events, live content, etc. and we look forward to exploring those opportunities.
BN: What has been your biggest challenge when launching the brand?
TT: Throughout this process, we have dealt with many unforeseen challenges from navigating lockdowns and foregoing in-person launch events to corresponding virtually with our teams. Additionally, as we analyze the realities of work from home accommodations, social distancing guidelines and CDC mask recommendations, the daily need for makeup has certainly declined; but e-commerce success across the industry shows the consumers' enthusiasm to engage with their favorite brands. Fortunately, our formulas double as skin care, providing a guilt-free beauty experience for our customers. Whether someone is still committed to full glam or opting for a simple routine, there is something in this line that will resonate with everyone.
BN: What advice do you have for someone starting a brand?
TT: As with any new venture, my biggest piece of advice is finding your 'why'. Entrepreneurship is a difficult, yet rewarding process and it's important to have a solidified reason behind your work. I am driven by my desire to diversify the clean beauty space and knowing my driving factor allows me to effectively ideate, formulate and market to my target audience. When it comes to beauty specifically, I recommend taking time to perfect your formulas and create a collection of products that truly complement one another. Today's consumer is inundated with new product launches, so it's worth the time to truly innovate and develop a finished result that approaches beauty from a problem-solving standpoint.