If Monika Blunder isn't on your list of rising indie beauty stars, she should be. Monika moved to Los Angeles from a small town near the Austrian alps at age 23 to pursue a career as a makeup artist. Amazingly her first jobs landed her with such famous faces including Rebecca Romijn and Molly Sims, and soon she was calling movie and TV stars Megan Fox and America Ferrera regular clients. Eventually Monika became best known for creating "dewy" skin, but like many makeup artists, she wasn't satisfied with the products available on the market.  By integrating her Austrian roots to formulate a botanically-infused clean line, and taking inspiration from her mother who always used natural beauty products, Monika created Monika Blunder Beauty in 2020. Here, indie beauty up and comer Monika discusses her entrepreneurial journey, why she produces all of her products in Germany, and her new distribution at Nordstrom, which launches today.  
Beauty News: What inspired you to launch your own line?
Monika Blunder: My dream was always to create my own products. I think a lot of makeup artists have that dream. I remember being at Barney's New York and seeing all the big makeup artists at Stila, NARS and Bobbi Brown. I thought maybe one day I could do my own line. I was lucky enough to do it two years ago. My focus is to create beautiful, quality, curated products using my knowledge from trying out so many things. It can get overwhelming; people get confused. My goal is to create quality products that are easy to use.
BN: What was your first product out of the gate?
MB: I launched my brand in 2020 with Blunder Cover [a foundation/concealer hybrid] and a correlating face brush. It was quite challenging to launch in COVID with a complexion product that you can't try on in person. The reason I decided to launch a complexion product first is because I feel people in Hollywood know my makeup style, which is natural, and which is also the philosophy behind my makeup application. It has done incredibly well; people really love it.
The follow-up product we launched is a moisturizer called Undercover Face Crème. The reason I decided to do a moisturizer is because I am a still a working makeup artist and have so many women come to my chair and ask what I use under makeup. I noticed women want a clean formulation; they want something that is fragrance free and no fuss. I said why not create a moisturizer. My parents, who were into natural and clean living, were my inspiration to bringing arnica and edelweiss into my formulas.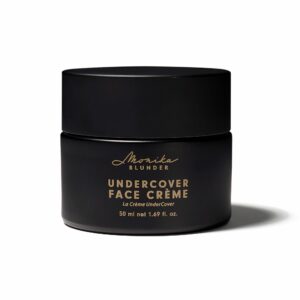 When I decided to do this moisturizer, I knew I had to find a place to make it where they really understand clean formulations and stability and that is why I chose Germany. The manufacturers there are a little more advanced; they ban many more ingredients than the U.S.
BN: What's next in your pipeline?
MB: We are keeping what's next under wraps for now but you can expect to see several color launches coming this summer. I am really into multi-functional products because women on the go don't have a lot of time, so they want things that work well, are quick and efficient. The launches will reflect this.
BN: Tell us about your distribution.
MB: We are in sold on our ecommerce site, Amazon.com, NeimanMarcus.com, ThirteenLune.com, and KnockoutBeauty.com. Today we are expanding onto Nordstrom.com and into 15 of their select flagship stores including the Downtown Seattle, Manhattan Tower & Grove locations.
BN: Are you self-funded? What are the challenges of being a beauty entrepreneur in this environment?
MB: We are still, proudly, self-funded. I don't have big investors directing what we do and I'm trying to keep it that way as long as possible. I'm sure we will eventually need support. What's most challenging is the business is really like a puzzle of getting everything on time. Supply chain issues, especially with products coming from Germany, can be challenging. But I feel there's an angel helping me get it all done.