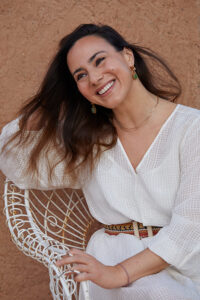 Hind Sebti is both a brand founder and an investor of up-and-coming beauty brands. Earlier this year, she launched whind, a beauty and lifestyle brand that blends science-backed innovation with sensorial indulgence. Whind believes in making beauty effective through what it calls Warm Science, a combination of high performance and clinically proven actives that are fused with scents and textures inspired by Hind's Moroccan heritage.
Whind was developed as part of Waldencast Ventures, a holding company and investment fund that incubates and accelerates early-stage beauty and wellness brands. Hind is Founder and COO of Waldencast, the brand development platform that identifies, conceptualizes, launches, and profitably scales brands. She co-founded Waldencast two years ago with Michel Brousset, former L'Oréal President of the Consumer Product Division for North America. In addition to whind, Waldencast has invested in Kjaer Weis, Manual (UK), Sallve (Brazil), C16 Bio and Revea, but has also invested before in The Nue Co and Costa Brazil.
Moroccan-born Hind has 20 years' beauty experience. She has built brands across all beauty categories at Procter & Gamble, including Olay, and has held various marketing and management positions at L'Oréal on brands such as L'Oréal Paris, Maybelline, Redken, and Essie. Hind is a board member of CEW UK.
Recently, Hind talked to CEW Beauty News about her dual focus: growing her fledgling brand and fueling growth of next-generation beauty brands.
Beauty News: What was the drive behind developing whind?
Hind Sebti: I'm Moroccan and have spent the last 20 years working in the beauty industry. I started at Procter and Gamble and then L'Oréal, where I worked on wonderful brands including as general manager for Maybelline and Essie. I was having lots of fun and considering my next move, wondering whether it should be a continuation of the usual corporate roles, with bigger, different geographies, and so on. And I realized that I was hungry for something a bit different. It was a desire to create something from scratch, where you can own the vision from A to Z. The entrepreneurship bug caught up with me.
I have worked a lot on skin care. It's a wonderful category, but there is also a lot of product. What I was missing as a consumer, and what a lot of consumers told me, is sometimes you have performance that is achieved at the expense of product experience. When I started on skin care, I learned that the number one driver of results is consistency, as with anything you do. And the number one reason why consumers stop using a product, even if it works on their skin, is because they don't enjoy it. They don't like the texture or the scents. So the best way to have superior results is to start with a great product, and make sure that the delivery system is as enjoyable as possible to encourage consistent use. It was on a trip to Morocco, where my family still lives, and when I was in a hammam, that I realized what is missing in the category: this idea of how beauty makes you feel. For me, that means strong emotions linked to ingredients like amber, orange blossom and rose. I decided that if the science side of the story, the formula, was inspired by my science head and all that my career had taught me, the sensorial side would link to how I grew up and all my transportive Moroccan experiences.
Whind is not a Moroccan brand because these are not my grandmother's recipes. The number one thing about the brand is performance, and it couldn't be achieved at the level that I required with a grandmother's formula or a locally-made formula. However, I infused my origins and Moroccan roots in the experience of the brand, such as how the packaging feels, the ingredients, and the storytelling.
BN: How did you come to create Waldencast?
HS: I was talking to my business partner, Michel Brousset, who used to be Head of the Consumer Product Division of L'Oréal North America. When I told him that I wanted to create my own brand, I thought he was going to tell me that I was crazy. Instead, he said quite the opposite: that he wanted to launch not just one brand, but create a platform for the beauty brands of tomorrow, and that it would be great to do it together. So, I had two babies at the same time. We created Waldencast, which is a beauty platform to create and nurture beauty brands, either through investments, incubation, or acquisition.
That was in March 2019. We began as Waldencast Ventures, which is like a venture capital company, investing in early stage brands that have the potential to be globally successful brands. What we brought as part of our model was, of course, the investments and, most importantly, operational expertise because that's what we know how to do. A lot of brands have great DNA, but they do not scale up because of lack of operational know-how at an early stage. So that's what we did for the first year. We met more than 500 brands, a lot of them through my CEW connections. It was amazing. Out of that, we invested in seven brands over the last couple of years.
BN: What kind of brands have you invested in?
HS: Kjaer Weis was one of our first investments. We did Costa Brazil, which we exited already, same with The Nue Co. We invested in Revea. We also created Waldencast Incubator where we create brands from scratch. More recently, we did a SPAC under Waldencast Acquisition Corp, to do a bigger acquisition in the beauty space, to complement our portfolio."
BN: When you are looking to invest in early-stage brands, what are you searching for, especially regarding the brands that you have already invested in?
HS: We tend to do early stage, Series A. Brands that have a turnover of $1 million to $15 million. Our average check is $5 million when we do a venture investment. We tend to be a lead investor. What we like, what you cannot manufacture, is the brand magic.
BN: Are you the majority owner of the brands?
HS: Waldencast is now the majority owner of Kjaer Weis.
BN: What makes a magical brand?
HS: It needs to be unique. It needs to have a feeling. In beauty, that comes from a combination of product, promise, and beauty point of view. When you look at a brand, even without the logo, you can recognize the brand and its higher purpose, why it exists. For whind, we wanted to bring this 'best of' performance and sensorially, and a warmer vision of beauty in terms of the benefits, the glow. Kirsten Weis launched Kjaer Weis 10 years ago, even before clean, organic, and sustainable was trendy. Kirsten noticed that the first thing models did after she made up their faces was take the makeup off. She wanted to create makeup that's good for skin, and she did that by combining her amazing makeup artistry with organic formulations that feel skin-like. The brand has an authentic story that cannot be replicated. That is what we love.
BN: When did whind launch and where is it sold? 
HS: Whind launched globally in April 2021. We are in a soft launch mode. We decided on e-commerce only for the time being. We wanted to have control over the story on our own platform. In due time, we want to extend into brick and mortar, and play a little bit with local differences and trends. We want to build the brand and business model for each geography before we decide to go into this retailer or that region. This is exciting to me from a business point of view..
BN: What should brand owners be thinking about as it relates to the consumer mindset?
HS: Consumers are always expecting to use a product once and that it's going to work straightaway. We need to educate consumers about consistent use. The second point relates to brands that are global and express different beauty points of view. They bring so much richness and diversity to the world. I have a lot of passion for that.