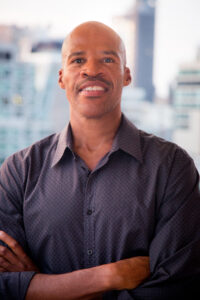 BeautyStat founder, Ron Robinson, knew he had a viable brand on his hands when he discovered a stable form of vitamin C, delivered in a great texture, and backed by independent clinical testing. Ron, a trained cosmetic chemist, is his own toughest critic.
"Stable vitamin C is the holy grail in beauty," said Ron, whose hero product, Universal C Skin Refiner, is formulated with 20 percent pure vitamin C (L-absorbic acid). The product, which launched in spring 2019, features a patented, encapsulated delivery system, with no degrading of color or formula, that looks to create smooth, even-textured skin and collagen synthesis.
"The name 'universal' is intentional because our vitamin C product is designed and tested for everyone. Many brands use derivatives of vitamin C to stabilize it. We use vitamin C in its purest form, and our patents encapsulating it protect from oxidization. Our vitamin C stays pure and potent from the first drop to the last," said Ron.
BeautyStat first launched direct to consumer, following by landing retail partners including Violet Grey, SkinStore, QVC, Bluemercury, C.O. Bigelow, UK-based Cult Beauty, and most recently Neiman Marcus and Nordstrom.
The road to brand owner from cosmetic chemist was unlikely for Ron, who spent 15 years working for brands including Clinique, Revlon, L'Oréal and Avon. In 2019, he started a beauty blog, BeautyStat, where consumers could connect with beauty experts to learn about what products did and didn't work. "The mission was to publish expert beauty content and product reviews so that consumers could learn from insiders to help them make better educated beauty purchase decisions, as well as give them an opportunity to share their beauty experiences with other beauty fans," he said.
While growing the BeautyStat community, which Ron also spun off as a social media agency 11 years ago, friends and colleagues suggested that he launch his own beauty brand. However, Ron's answer was always the same, "The world doesn't need another beauty brand. When I left the brand side, I never planned on launching my own brand. I wanted to help consumers cut through the clutter as there are so many beauty brands out there."
All that changed when Ron began researching a new vitamin C technology with a chemist colleague from his Estée Lauder days. The BeautyStat blog and community, which now counts 150,000 beauty consumers, was the venue for crowdsourcing and gaining consumer insights, including where Ron discovered that searches for vitamin C products were the most popular of all.
When Ron found a way to stabilize pure vitamin C, he tested the concept of launching a vitamin C serum with his own consumer database, applied for patents, and initiated independent clinical testing. "The results turned out to be amazing, and I thought this was breakthrough. Right there, the brand and product were born."
Since the launch of BeautyStat's star vitamin C product, a full 10 years after the BeautyStat blog was born, the brand launched a moisturizer, the Universal Pro-Bio Moisture Boost Cream containing hyaluronic acid, ceramide; and an eye cream, Universal C Eye Perfector with CBD.
Despite the advent of COVID-19, BeautyStat has forged ahead, however, the month of April was challenging for the brand. "I shared all my emotions with my consumer base, and consumers really responded, being candid about the tough times we've all been going through," Ron said. Despite it all, the brand was intent on giving back and delivering products to healthcare workers.
The Black Lives Matter movement helped fast-track BeautyStat into retail stores. "As an African American-owned business, we have received a tremendous outpouring of support for Black-owned companies from both the press and retailers, so what has been a tough year in so many ways has also been an opportunity for us to break out and be noticed."
Recently, BeautyStat entered Bluemercury. "They were very interested, loved the product, but their initial feedback was that our brand was too small as we only had two sku's, Universal C Skin Refiner and our moisturizer. With the Black Lives Matter movement, Bluemercury recognized that they didn't have enough Black-owned brands, and they made a corporate commitment to change that. They know that I am a Black founder, they already loved the product, so they fast-tracked us, and we just launched with them a couple of weeks ago."
Next up, Ron said BeautyStat will focus on the cleansing category.
"We have a team of cosmetic chemists. We have developed a lot of products in our lifetime for a lot of other brands. We have seen what works, what is mediocre, and what is really special. It's that experience, that knowledge of ingredients and technologies, together with our standards for testing, that makes us poised to continue delivering high quality products that answer consumer needs."
Ron continues to run the BeautyStat blog and brand reviews, but he has made it less prominent on his website, focusing instead on developing products and product storytelling, user-generated content on social media platforms, and supporting his brand's retail partners. The team consists of seven core people, and growing. There are no outside investors. "I own and bootstrapped the company 100 percent myself. I have shareholders as well, but I am majority, and bring in funding," he said.
BeautyStat will be looking to expand in Europe and Asia in 2021. "The brand's mission is to search and scour the earth for the best ingredients and technologies to make the best products that are high-performing and make consumers want and love and need them."