Since its debut in 2016, direct-to-consumer skin care brand, bioClarity, has quietly amassed a loyal following with its natural approach to treating acne using plant-based ingredients. Building on the momentum of topline revenue surging 350 percent between 2017 and 2018, the company is now building out larger marketing initiatives and introducing new items, tapping into the $13 million investment it secured in mid-May. Prolog Ventures, a venture capital firm that backs early-stage, high-growth health and wellness companies, invested $6 million to lead the round, which also included existing investors.
Headquartered in San Diego, CA, the brand was introduced under the umbrella of Adigica Health, a biotech firm established by Rick Sliter and David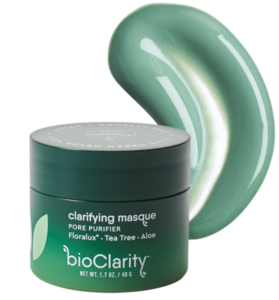 Hale, with products that center around the company's patented Floralux, a form of chlorophyll designed to help reduce the appearance of redness and pore size. It launched with Clear Skin Routine, a three-step regimen designed to fight acne, and has since expanded to include two additional skin care routines, face masques, a serum, body wash and beauty supplement. More products and line extensions are expected to launch by the end of 2020, with more sku's than in all prior years combined.
"BioClarity reaches Gen Z and millennial consumers who care about the products they put on their face and body. They think about them as carefully as they think about the food they eat," said Melissa Reinking, Chief Marketing Officer, bioClarity. "These consumers are looking for effective, clean and green beauty products at an affordable price point (products range from $9.95 to $32.95), which is exactly what bioClarity provides."
To reach additional consumers, the brand expanded beyond its DTC model and entered Urban Outfitters at the end of 2018 as part of a pilot. While Urban Outfitters aligned well with bioClarity in terms of consumer demographics and lifestyle, the partnership ended. BioClarity took their learnings, especially how to connect better with consumers when they're not immediately surrounded by testimonials and brand content, and is now focusing on its DTC business, while promoting the brand through a mix of digital-first owned, paid and earned media.
"I'm very optimistic about the brand's future potential," said Melissa. "As with any up-and-coming brand, it's never a straight line from A to B. It's about the journey and what we discover along the way. BioClarity makes it a practice to listen, learn, react. This allows us to create even better branded experiences and products that we know our consumer will just love. Yes, we will face challenges. All businesses do. It's all about how you react and turn those challenges into future opportunities."