Barbara Paldus is looking to set a new standard in organic luxury skin care with the establishment of Codex Beauty, a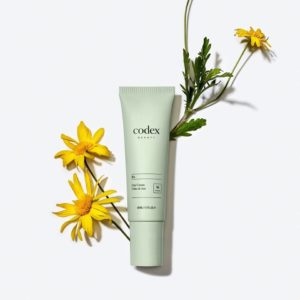 bioscience-led beauty company that serves as both a brand and investment firm. The entrepreneur who earned her Ph.D. in electrical engineering from Stanford University, spent two decades in the biotechnology world, eventually cofounding two Silicon Valley companies, and is now applying her knowledge to distribute formulations with natural ingredients, pharmaceutical-grade processes, clinical trials and sustainability.
She came up with the idea for Codex Beauty after noticing that the extraction techniques, stabilizing methods and delivery systems for natural ingredients used in beauty products are not on the same level with the biotechnology and food industries. So, she pulled together a global team of scientists, technologists, botanists, cosmetic chemists and dermatologists to help foster a collective of under-the-radar global beauty brands she discovered on her travels. "I knew that if we combined their on-the-ground knowledge with the latest technology, we could take these beautiful lines to the next level of efficacy together," Barbara said.
In August 2018, the company acquired its first brand, Bia Beauty, from Ireland-based herbal scientist Tracey Ryan, who partners with expert formulators and scientists to create skin care solutions based on the expert knowledge of Ireland's local herbalists.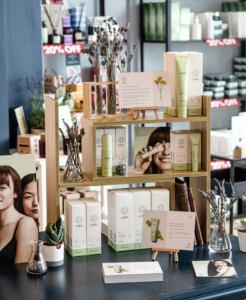 "Bia Beauty is currently available DTC and in select retailers in Ireland. DTC sales are doing really well right out of the gate (we launched the website end of June). Being from Silicon Valley, I have very high expectations for first-year sales. There are benchmarks out there, and we intend to beat them," said Barbara. "Interestingly, we will launch in European retail before the U.S. Europe instantly 'gets' what we are about, appreciates, if not requires, all the work that we have done on the third-party certifications and is craving a scientific clean beauty brand. We are still working on the best strategy for the U.S. This is actually quite consistent with my last startup where 65 percent of our revenue came from outside the U.S. We don't emphasize science and facts enough over here."
When a brand signs on with Codex, they receive a host of services, including formulation support, quality and regulatory support, operating/financial services support, as well as digital marketing and PR. When it comes to Bia Beauty, not only is the original founder involved in every aspect of the business, but she will be creating a new product line based on her learnings. She is also involved in the line's expansion which includes five new products launching in the fall and five additional products launching in early 2020. But, becoming a part of the Codex family is no easy feat.
"Brands go through a due diligence process that starts with a review of intellectual property and science behind the brand's products. 98 percent of brands fail this step because there is little to no science other than 'this ingredient works' without support from scientific literature or efficacy studies in an established testing clinic like Essex Labs or Dermscan," explained Barbara. "Once a scientific basis is established, the products are testing by a committee of experts from the industry for product experience and look-and-feel. Then, the product needs to be assessed for compatibility with sustainable packaging. Next, the founder needs to experience working with the Codex team and decide if this is a mutual fit. The founder also needs to decide if he/she can live with a loss of control. Many founders can't. Finally, comes the financial terms, which can also kill 90 percent of deals."
The company doesn't just focus on acquisitions. If it's determined that the firm doesn't align with a clean beauty brand, but both parties agree it is mutually beneficial to still collaborate, Codex will license their novel ingredients to create a series of product lines based on functionality. "We have hired a team of innovative formulators and they work with the clean beauty brand to implement the Codex product line, and the brand benefits from licensing revenue," she said.
This past June, Sekhmet Ventures, where Barbara is a founding partner, provided Series A funding to Codex Beauty, but she is tightlipped on the figures. "The amount is undisclosed because it is a ridiculous amount to invest in a Series A, but we wanted to have enough funding to do things right: efficacy trials, third party certifications, state-of-the-art packaging, etc. Let's just say that the Series A is what most brands raise in Series B or C."
In spring 2020, Codex will reveal its next acquisition. "We are super excited but still have a ton of science to do," she said. "We're moving to the southern hemisphere and a new continent."